Mission Week
Mission Week this year took place from the 21st – 25th of October and there was great participation by year groups to raise funds to help four of our students to travel to Mission Vale in South Africa this coming February. Monday -TY students helped organise a lunchtime quiz for first and second year students. Tuesday – TY students again raised funds by holding a cake sale at lunchtime. Thursday – saw junior students battle it out with a 'Copper Race'. Other fund-raising events included guess the quantity of sweets in the jar. Over €700 was raised throughout the week. A huge thank you to everyone who participated and a special thank you to Fr. Donagh who gave talks on the work of the Missions to various year groups.
WellBeing Day 2019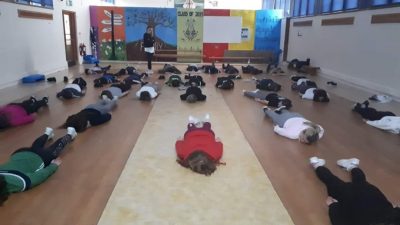 WellBeing Day took place on Wednesday the 23rd of October. Every class took part in various activities throughout the day which varied from drumming classes, set- dancing, darts, art activities, line-dancing, jiving classes, make-up master-class, zumba, beach activities to name a few. The day concluded with a disco led by DJ Diamond! The whole school community had a great day and felt refreshed afterwards. A huge thank-you to Ms King who organised every event for both staff and students to enjoy.
Poetry Aloud
Sixteen St. Joseph's students participated in the Poetry Aloud regional final in Athenry. Each student gave a stellar performance. The successful candidates who progressed on to the national semi-final which took place in  the National Library of Ireland at the end of November were Rebecca Darcy, Grace Kelly and Lorraine Malone. Lorraine succeeded in securing a place in the Final which took place in December – we are so proud of her achievement. A huge thank-you to Ms Thynne for mentoring the students throughout the competition and travelling with them to all the venues.
Above picture: Rebecca Darcy, Lorraine Malone and Grace Kelly. Lorraine Malone 5th Yr Finalist.
November Remembrance Tree
During the month of November the school community took the opportunity to remember a loved one in the Prayer Room with a service led by Sr. Martina. This marked a time of reflection and prayer. Fr. Donagh also led the staff in a remembrance service, many thanks to both Sr.Martina and Fr. Donagh for leading the school community during Remembrance Month.
Retreats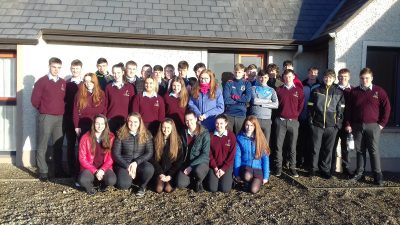 Retreats took place during the month of November for 1st, 5th,6th and LCA students.Fr.Donagh led the Leaving Cert students in the nearby FSJ Centre. Tobair Nua led the first year students and Declan Browne led the fifth year students.Every year  group enjoyed their day immensely. Many thanks to all involved.
Hope Foundation Shoe- Box Appeal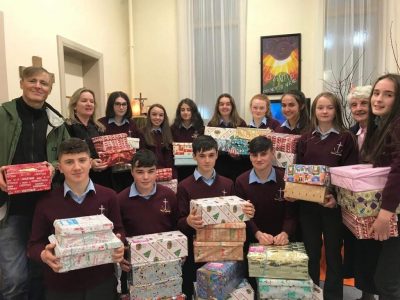 Well done to all the Transition Year students who were busy motivating the school to fill shoe boxes for the Hope Foundation. There was a great response and many thanks to Ms Comber for leading the TY students.
Gaeilge 24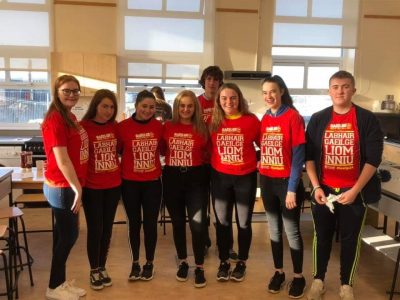 During November students took part in a range of activities to mark Gaeilge24 and had great fun all the while speaking "as Gaeilge". We would like to thank Mr O'Brien for all the work he did in making this day possible and for all he does in developing a love of the Irish language in our school. Many thanks also to Mr McDonagh who helped out on the day.
National Well Read Award
Congratulations to our wonderful students from 1st to 6th year who engaged in reading activities to promote reading for pleasure among our students here in St Joseph's Spanish Point. Our school received the National Well Read Award in Athlone on November 21st. Our Transition Year students represented the school so well and really promoted all our wonderful initiatives so articulately to the public. We are thankful for the hard work they put into their display which received so much attention. A special thank you to Ms Thynne and Ms O'Loughlin for promoting and continuing with this initiative across the school body each and every day!
Meabh O'Malley, Meadhbh Murray, Ava Burke, Nadine Pender TY students with Ms O'Loughlin (Deputy Principal)
TY Enterprise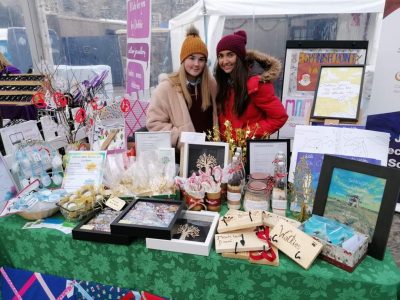 Transition Year students participated in the Trump International Christmas Market in Doonbeg as part of their Enterprise Programme. Students got an opportunity to deal with members of the public in selling their products learning many skills along the way as well as earning sales for their respective companies. Well done to all involved!
Saint Vincent De Paul Food Appeal
Congratulations to class 2C and class 1B for assembling and presenting the much needed food hampers to the local St. Vincent De Paul. A huge thank you to all the TY students, Sr Martina and Ms Comber for organising this initiative and teaching our school community the importance of giving to others this festive season.
Class 2C and Class 1B with Sr Martina in the Prayer Room.
Bank of Ireland Money Smarts Challenge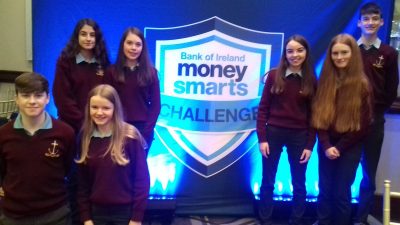 Well done to our second year and TY students who travelled to Castletroy in Limerick to participate in the Money Smarts Quiz. Students were challenged on their knowledge of how to manage their finances. A huge thank you to Miss King who travelled with the students on the day with Ms Collins.
Advent
Throughout the Advent Season, students in St. Joseph's have had the opportunity to spend time in the Prayer Room lighting the Advent Wreath and participating in Advent Prayer Services. They also made an Advent Calendar of Kindness outside the prayer room for the whole school community to adopt throughout the season. Once again a huge thank you to Sr Martina for leading us throughout the Advent Season.
Christmas Carol Service
St.Joseph's Secondary School Annual Christmas Carol Service took place in St. Joseph's Church Miltown Malbay on December 11th. It was truly a  celebration of joy! Students performed magnificent pieces and songs which touched lots of hearts and at times even raised the roof. A big thank you to Sr Martina and Ms Whelan who organised the whole event. Also many thanks to Ms King for organising the First Year Well Being Choir who closed the performance. The night got the whole community into the Christmas spirit.