Analog Devices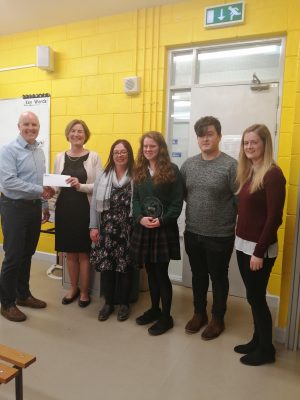 Analog Devices visited Calasanctius College on 12th December. They spoke to three 5th year groups, congratulated Alice Shaughnessy 5th year on her achievements and presented her with her prize to our school!
Christmas Choir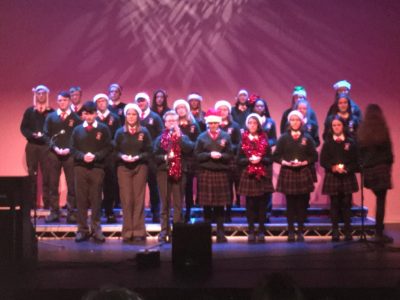 Our Music teacher Caroline Moggan & students from Calasanctius College choir, were one of four participating schools, at the charity "Christmas Human Rights Choir" event at Galway Town Hall Theatre on Sunday 08 December. Funds raised go towards provision of medical & educational needs for children in Zambia. Each school was gifted a handmade piece of craft by local craft workers from the Zambian village. It was a fabulous event.
Christmas Fundraiser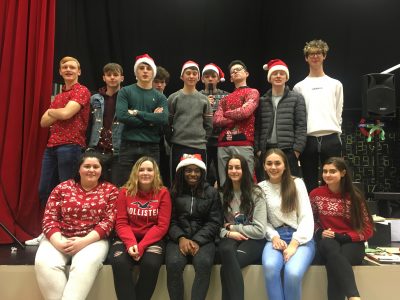 This is the group of 5th year students who organised our Christmas fundraiser. They also organised fun activities such as bingo, table quizzes and Christmas candy cane messages for the entire school!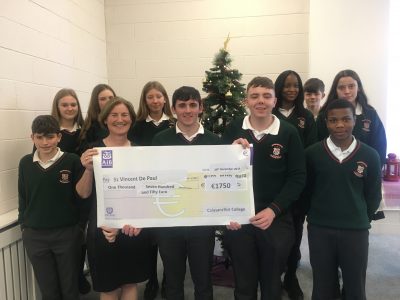 €1,750 was also raised for our local St Vincent De Paul society.
Presentation Day Mass
Below are photos taken from our school mass celebrating Presentation Day 2019.
LC Science Quiz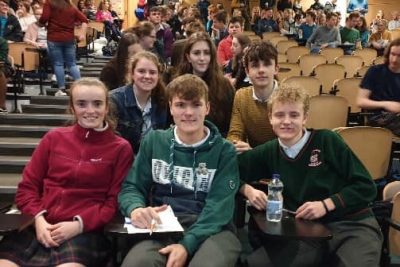 Our Leaving Cert Science Quiz teams did very well in the National Final of ISTA Science Quiz finishing 4 points and 8 points behind the winners! A fantastic achievement!
Leah Connaughton was awarded the UL 40 Scholarship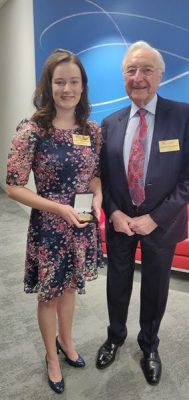 Congratulations to Leah Connaughton who was awarded the UL 40 Scholarship early December 2019, where she is studying undenominated engineering in UL. Leah was also awarded the 2019 Naughton Foundation Scholarship earlier this academic year.
Medtronic Mervue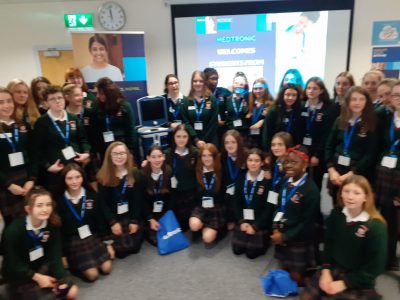 36 of our 2nd year girls were invited to Medtronic Mervue in Galway on 27th November for a fantastic STEM day, introducing them to Biomedical Engineering. Beforehand, only 2 wanted to be engineers, afterwards 16. Outreach matters.
NUIG Academic Achievement Scholarships 2019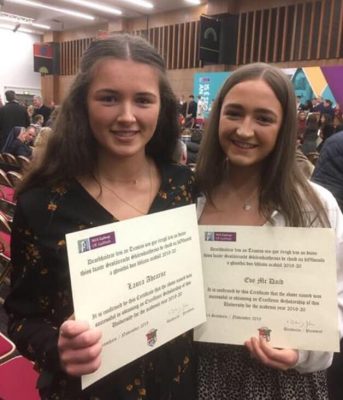 Congratulations to Eve McDaid and Laura Ahearne, recipients of the NUIG Academic Achievement Scholarships 2019.
Under 16 Hockey Champions

Congratulations to our Under 16 Hockey Champions who won 3-0 on penalties in the final. Well done girls.
Calasanctius College Swimmers
Calasanctius College Swimmers bring back to Oranmore the school's largest haul of swim medals to date at the recent Connacht Secondary schools swim finals held in Longford on Sunday 27th October.
4 individual gold medals
2 individual silver medals
3 individual bronze medals
1 Senior medley gold boys relay medal
1 Senior silver boys freestyle relay medal
2 Senior relay bronze medals for the girls in both the freestyle and medley events.
Over 40 Secondary schools from all over Connacht took part in the gala which hosted events in Junior, Intermediate and Senior Categories in all swim strokes .
With very strong performances from all our 14 swimmers, Calasanctius College managed a very respectable 9 individual podium finishes and 4 out of 4 relay podium finishes in the Senior category.
The team consisted of
Robin Pfieffer (Leaving Cert) who won gold in the 100m backstroke , 400m freestyle and 100m freestyle
Paula Crisan (5th year) who won gold in 100m breaststroke Caoilin Kearney (5th year) who won silver in 100m backstroke and silver in the 100m freestyle
Sorcha Kearney (Leaving Cert) won bronze in the 100m freestyle
John Shortt (1st year ) who won bronze in both the 100m backstroke and 100m butterfly.
Other team members putting in super performances for the team and achieving personal bests were Rory Collins (5th year), Jake van de Beek(5th year), Emma Pasauska (Junior Cert) Daniel Robinson (2nd year) Rian Kearney (2nd year), Lucy McPartlin (2nd year) Pola Gizinska (1st year) Annelie Raftery Green (2nd year), Kieran Watterson(1st year).
Senior Boys relay Freestyle team was made up of Rory, Jake,  John, Kieran who won silver..
Relay girls freestyle Sorcha, Caoilin, Paula, Pola won bronze Relay girls medley team – Sorcha, Caoilin, Paula and Emma – bronze.
Relay boys medley team – Robin, Rory, Jake and Rian – Gold.
Robin, Paula and Caoilin with their stellar performances earned a place on the Connacht Interprovincial team and go forward to the national finals to be held next May.
Thanks to Jean Kearney who acted as team manager on the day and to Ger Dowling for all her hard work organising the school team.
Well done to all involved. Congratulations!!
Galway, European City of Culture 2020
On Wednesday 11 December 2019, Patricia Philbin,  the CEO of "Galway, European City of Culture 2020", accompanied by Kate Howard, the organisation's Cultural Producer, gave a talk to the whole Transition Year class in Calasanctius College.
The school was all decked-out to welcome them. At the start of that week, a few TY students went around the school hanging Galway2020 bunting and posting notices on the walls, and we also got the four flag-poles at the main entrance of the school to fly the Galway2020 flag. So when Ms Philbin and Ms Howard arrived they were delighted to see how the biggest event taking place in Ireland this year was being highlighted for all school patrons.
Ms Philbin showed us a promotional video about Galway2020, and in her talk she referred to some of the challenges faced by the executive team to make the event a great success: communication, working to deadlines, dealing with public service groups (transport, Garadi, local authorities, etc), coordinating venues from all over County Galway, and so on.
Ms Howard explained some of the very diverse creative acts and events which will be taking place during the year, and she also showed us clips from the Galway2020 website. It looks like it's going to be a very impressive line-up!
After their talks, we had a Q&A session during which we were able to get better insights into what it takes to organise such a complex and all-encompassing event. We are all now looking forward to Galway2020 even more.
Transition Year Students host Colombian Ambassador at Calasanctius College
On Thursday 9th January Niamh Lynagh (TY Development Education) and our TY students hosted Ambassador Alison Milton whose embassy appointment is Columbia, who will be presenting to Panama and Venezuela within the next few months.
Sergeant Shane Ryan from Renmore Barracks also gave a presentation on Ireland's contribution to United Nations Peacekeeping efforts with 6 tours of duty including Liberia and Lebanon.
They spoke as part of Department of Foreign Affairs and Trade Programme Global Ireland 2020 to give a number of schools an opportunity to host diplomats to speak about the United Nations and their work, including how they got the position.
One hundred and sixty students were in attendance, including all Transition Year students, Student Council members, Green School Committee members and other students who had an interest.
Cora Ní Loinsigh received the United Nations flag and the United Nations charter presented by the Ambassador which will be flown on a school day to celebrate the Organisation's 75th anniversary this year. Ambassador Milton certainly presented a most intriguing insight into her Diplomatic role to the students and staff in attendance.