BT Young Scientist & Technology Exhibition 2020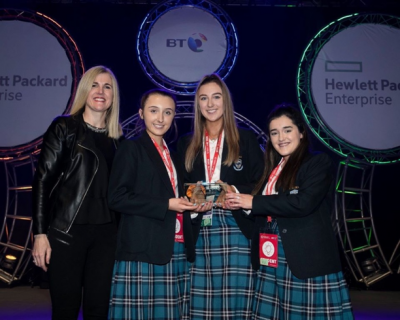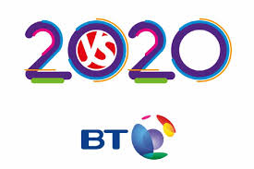 Congratulations to our TY students; Gráinne Nevin, Áine Rooney & Katie Sheridan, who won the Hewlett Packard Enterprise Special Award and also a Highly Commended rosette at the BT Young Scientist & Technology Exhibition in the RDS, with their Biological & Ecological project entitled "Food Eco-Rating". The girls have been invited to Hewlett Packard HQ to give a presentation to the company boss and employees. Teacher: Ms. Shalvey.
Soccer Team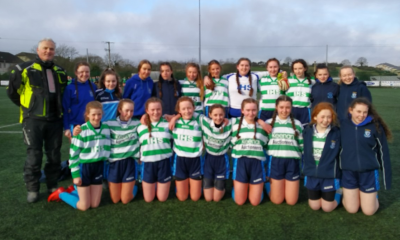 Well done to the u15 soccer team on winning their match against Coláiste Dun An Rí Kingscourt last week. Coaches: Ms. Glennon & Fr. David.
Young Social Innovators project: 'DON'T DIS THE ABILITY'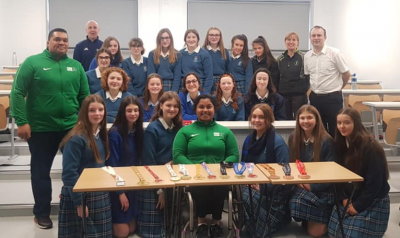 For their YSI project this year, TY Rang Síle have decided to take action on the issue of disability and sport and today had their official launch. The event was hosted in the presence of representatives from the Irish Wheelchair Association, Meath Local Sports Partnership and the project's Brand Ambassador, Britney Arendse from Cavan, who is hoping to represent Ireland at this year's Paralympic Games in Japan. Students are looking forward to raising awareness around the issue of disability in sport, promote social inclusion in sport, and will shortly launch their action plan to help address the issue locally. Teacher: Mr. Stephen McKee
Athletics – North Leinster schools cross country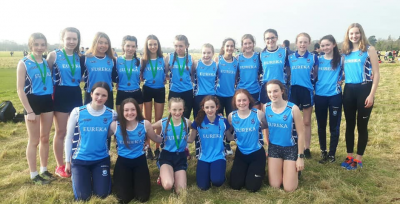 Congratulations to all students who took part in the North Leinster schools cross country today in the Phoenix Park. Well done in particular to Eva Brennan, Aedin Davis & Áine Corcoran who qualified for the Leinster Finals as individuals by coming in the top 15 in their races. The Junior Team won Bronze and also qualified for the Finals in February. A special thanks to Donoghues Coaches for sponsoring our fab new singlets. Coach: Ms. Mimnagh.
Senior Gaelic Football Team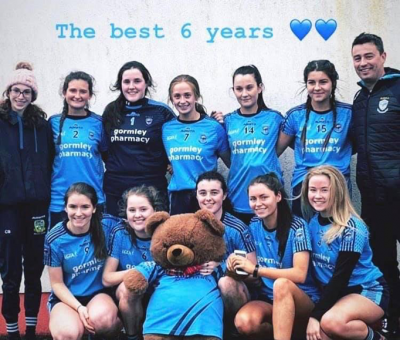 Hard luck to our Senior Gaelic Football team who last week lost out in the Leinster A semi-final to a very strong and eventual Leinster winning Moate Community School. Our girls battled well in the first half, playing against the elements and went in at half time only a goal behind, with the game very much in the balance. However Moate's blanket defence proved to be too strong in the second half, despite the never-ending efforts of our girls. The younger girls on the team will no doubt learn from this and come back strong again next year. For the girls pictured it will be their last time putting on a Eureka jersey and we want to thank them for 6 great years of dedication and commitment to football in Eureka. Photographed here are the 6th year members of the team with their coach, Mr. Wright. Ciara Brady, Ellen O'Donoghue, Emily Jo White, Emma Henry, Seona Lynch, Susie Dolan, Áine Corcoran, Sarah Kerins, Erin Lynch, Emma McDonnell, Chloe Casserly.
UCD Scholarships 2019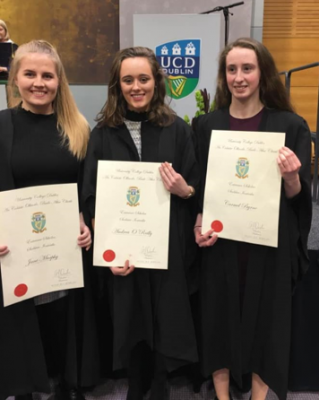 Congratulations to Jane Murphy, Andrea O'Reilly and Carmel Byrne who received UCD scholarships this year.
Kells Credit Union Art Competition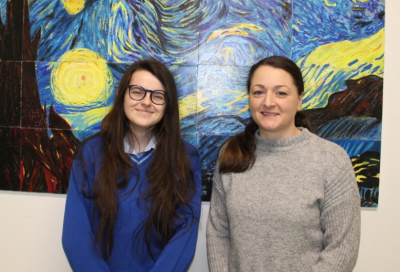 Congratulations to Talitha Cole, TY student, who came 1st in her age category in the Kells Credit Union Art Competition. She also went on to win at Regional Level. Her artwork will feature in next year's Credit Union Calendar. Also well done to Leva Martinkaite, Ciara Sheridan and Claudia Guerrero who were runners up in the Kells Credit Union Art Competition. Teacher: Ms. Glennon.
Rugby Blitz
Well done to our Senior and Junior Rugby Teams who took part in the Leinster North East preliminary blitz which was hosted in North Meath Rugby Club. Coach: Ms. Glennon.