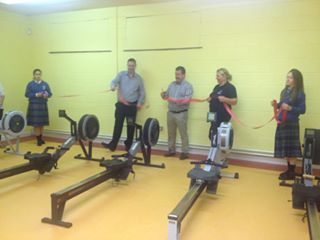 Caritas College, Ballyfermot, Dublin has opened its own rowing room thanks to the Women in Sport/Rowing Ireland's 'Get Going Get Rowing Initiative'.
The room previously used for storage, had its lumpy floor repaired by a local builder so that the five rowing machines could be installed.
A lick of paint and the new rowing room was ready to open its doors, with builder Lar Callaghan cutting the ribbon.
"As a school, we've been involved in rowing for 20 years.
Every student in transition year gets six weeks on the water at the Municipal Rowing Centre at Islandbridge.
"So when we heard that these machines were on offer we were very keen", says PE teacher Mary Ryan.
Apart from using the machies for PE, the school has set up a Wednesday afternoon rowing club, as well as parents' and teachers' clubs.
They also aim to take on other schools in regattas over the next few months.
Looking after the 'Get Going Get Rowing' scheme for Rowing Ireland is former international rower Michelle Carpenter.
"We have 15 schools involved already, and a six-week pilot programme in Carlow, which will see transition year students teaching first year students," she says.
Schools involved include another CEIST school, St  Leo's College, Carlow and Gaelcholaiste Cheatharlach.
Fancy rowing at your school? Contact Michelle at michelle.carpenter@rowingireland.ie
(article courtesy of evening hearald).