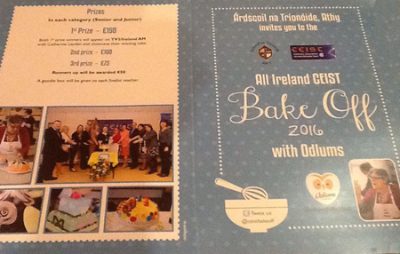 Following on from the success of last year, the CEIST All Ireland Bake Off has now been launched and notification has been sent out to all schools to register for this year's competition.
Odlum's with Catherine Leyden from TV3 continue to sponsor this All-Ireland competition and this year's winners will be featured on the morning show, Ireland AM.
This year the competition has been extended to include a Junior and a Senior section to give scope to a wider group of bakers.
The junior section is an open competition to encourage younger students to develop their creativity and skills.
Cakes for the senior section must reflect the chosen theme for this year's competition – "Our wonderful Irish heritage".
The cake can reflect school, local or national heritage and must use fondant icing as part of the cake decoration.
Tweet us @ceistbakeoff to keep up with what is happening.
The bake off will take place during the week of the 7th of March and is hosted by Árdscoil na Tríonóide, Athy.
Entry forms will be forwarded to schools who return the registration postcard to Ardscoil na Tríonóide by 5th December, 2015.