CEIST Principals' Retreat to Kylemore Abbey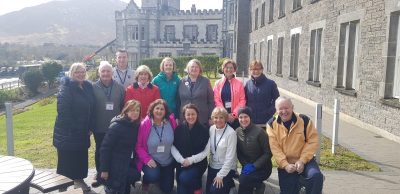 From April 2nd to 4th, eleven CEIST Principals were nourished in their roles as spiritual leaders at a CEIST Principals' retreat at Kylemore Abbey. The partnership of the Alliance for Catholic Education (ACE) in the project allowed for the retreat to be held in the idyllic setting in Connemara and even the hailstones on the first evening looked more inviting over the beautiful lake.
During the three days, presenters Fr David Tuohy SJ, Bryan O'Reilly, and Jonathan Tiernan explored the role of the spiritual leader in an interactive and engaging manner. The Abbess of Kylemore, Mother Maire Hickey, and Sr Karol O'Connell, the "Music Nun", led warm but engrossing presentations about their lives and work. Dr Anne Thurston spoke of how poetry awakens something deep in us and Lorna Gold of Trocaire of "Laudato Si" and what we have to do to save our common earth for future generations. Bishop Tom Deenihan outlined the current landscape of Catholic education in Ireland; the challenges and successes.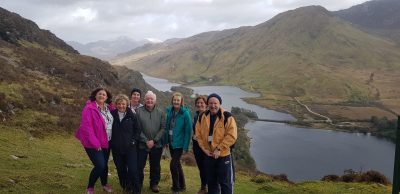 There was also time for good food to be shared together, a climb to the grotto above the Abbey or a walk to the Victorian Walled Gardens. We shared the Eucharist each day and joined the Benedictine Sisters for Evening Prayer. It was a very enriching retreat and when one Principal got back to school to a notice of an imminent WSE, "Clann Kylemore" was at hand to support and give practical assistance, spiritual leaders every one.
Our sincere thanks to Jonathan Tiernan and ACE for the partnership.
After the battened-up heart of winter,
The long fast of spring,
Life had come out to nest in the open;
Again, the shell was chipped open from within.
from Easter Houses  by Moya Cannon