Sacred Heart Student Receives Bandon Opinion Youth Award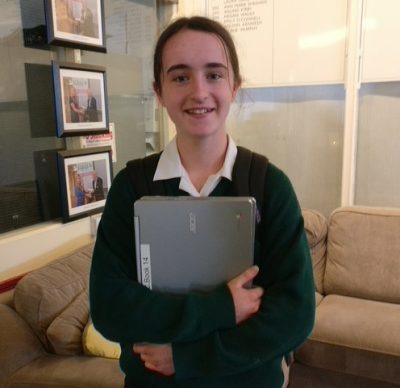 Orlaith Deasy was the recipient of a Bandon Opinion Youth Award for achievement in sport on Friday 5th April. Orlaith is a second year student in Sacred Heart and is very talented young athlete. She was a member of the junior camogie team that brought All Ireland success to the school recently and is a member of the 2nd year basketball team that has qualified for the All Ireland semi final after Easter. Well done Orlaith we are so proud of your achievements.
TY Students Receive Clonakilty Mayoral Accolade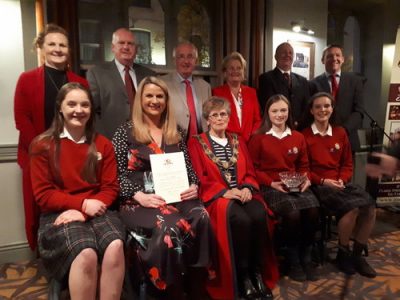 At a ceremony at O'Donovan's hotel on Thursday last the Transition Year students "Coiste Gaeilge SHSS" and teacher Ms. L. Meade were honored for their outstanding achievements in promoting Irish Language and culture at the school which included the awarding of the school's second "Gaelbhratach" as well as the infamous Irish video production "Is aoibhinn liom an gaeilge".
Mayor Gretta O'Donovan presented the students and Ms. Meade with the accolade on the evening.
Comhghairdeas le gach duine.
TY Students get into gear for "Cycle Against Suicide"
We attended the Cycle Against Suicide Congress today In the 3 Arena. The day was full of music and inspiring stories; each with a different approach to mental health with various professionals such as Doctor Bobby Smith, expert in substance abuse in adolescence and Doctor Harry Barry who specialises  in emotional resilience. With performances by The Academics and Kodaline, it was uplifting and everyone had a wonderful time. The valid message received by all from the day was that "it's okay not feel okay and absolutely okay to ask for help". A huge thank you to our fabulous teachers Ms. Galvin and Ms. Lonergan for organising the trip as it was such an enjoyable day for everyone. We are looking forward to the Cycle Against Suicide in 3 weeks, where we will cycle Killarney to Mallow.