As ever, our second term proved be a very busy one. We hope you enjoy reading some of our news.
Pres Takes to the Streets Demanding Action for Climate Change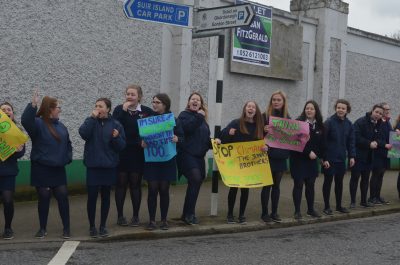 On Friday, the 15th of March, all the pupils and staff of Presentation Secondary School Clonmel took part in the #fridaysForFuture campaign. The school switched off the electricity, while the students gathered their pickets and made a human chain on Convent Road to show their support for Swedish student Greta Thunberg. The 16-year-old rose to fame last year, when she decided to strike for climate change outside the Swedish Parliament every Friday.
The Presentation Secondary School Clonmel was one of many schools in Ireland to join the now global movement on that Friday, demanding action from the Irish government to prevent further global warming and climate change. It was not the first environment initiative the school got involved in. An environmental committee in the school works hard to promote recycling. They welcome the most recent decision of the school to ban all single-use plastics. After the Easter holidays, only re-usable water bottles will be allowed in the school to reduce waste and minimise the effect it has on the environment. The school is passionate about recycling: each room is fitted with labelled bins and signs that tells students what goes in each bin. On April 5th, the school will hold its annual "Green Action Day" which will include a Spring Clean along the river Suir, a bake sale to raise funds for cutlery and other items needed to replace single-use plastics and a table quiz to raise awareness of environmental issues.
Friday's protest was a huge success. It certainly grabbed the attention of many people passing by. It also made the pupils aware of how their actions can affect the planet and damage it. Hopefully, more local schools in Ireland will join the movement and help save the planet. Little changes make a big difference.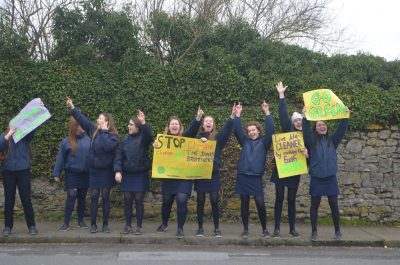 Written by Amy Dempsey (5th Year, Presentation Secondary School Clonmel)
County Enterprise Awards
Seven groups represented us at the County Enterprise Awards in LIT Thurles last week.
We had great success at the event. "Me, Myself and I" designed by four first year students Hazel Brennan, Ada Hennessy, Molly O'Brien and Anniemae Walsh. The booklet geared for teenagers based on Wellbeing, looks at ways of keeping healthy, physically & mentally, for teenagers. It is a mixture of tips on food, exercise, yoga and crafts. The girls won the Junior Category Award and will represent us at All Ireland Finals in Croke Park in May.
Another group "Quotables" (Rihanna Maun & Emily Fitzgerald, two first years) designed key rings and magnets with inspirational quotes won the "Best Interview Award". Well done to all our groups and Ms. O'Neill who coached all teams. Also, a big thank you to Sue Anne O'Donnell Tipperary Enterprise Student Officer
Drop Everything and Read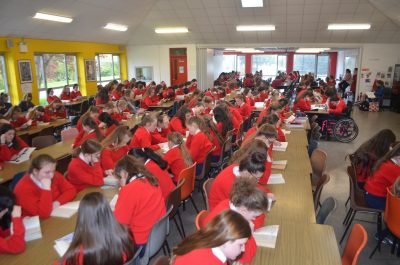 Pres Book Week – Creative Writing Workshop
During Pres Book Week, which ran concurrently with Positivity Week, 1st Year students had the wonderful opportunity to work with local author, Margaret Grant. Margaret ran a creative writing workshop in the library on Tuesday 9th of April where all of our 1st year students had the opportunity to flex their creative muscles and work together on honing their story writing skills.
Pres Book Week – "Free Book Shop"
With a view to promoting literacy and reading for pleasure, Ms Williams' 5th year English students ran a "Free Book Shop" during Pres Book Week. They worked hard since February collecting unwanted books from students and staff, and they organised and ran the book stall throughout the week. Students and staff were then invited to come to the book stall and take a book or two for free! On Thursday 11th April, Ms. Róisín Burke organised a Drop Everything and Read (DEAR) session for all junior students. For 40 minutes students enjoyed some quiet reading time in the assembly hall where they were joined by principal, Mrs. Reynolds!
Easter Prayer Service
On Friday 12th April students and staff walked from the Presentation to St. Patrick's Well to celebrate our annual Easter Prayer Service. Huge thanks and congratulations to the RE Department and the students involved who made this, yet again, another memorable service.
Junk Kouture
While Hotel Minella was rocking with "Stars in their Eyes", our TYs were performing at Junk Kouture Regional final at the University of Limerick. Two of our finalists have qualified for All Ireland final in 3arena."Supernova" designed by Sophie Crotty and Sophie Pyke. "Guerrero De Acero" modelled by Vera Lambert and designed by Aoife McNamara & Hazel Kirwan. In our eyes, all our seven finalists are winners, we hoped they might all get through, but it wasn't to be. Also, well done to Allana Gilbert, last year's winner, who opened the show last night.
Stars in Their Eyes
On Friday March 8th, both Presentation Primary and Secondary Schools Clonmel joined together for a major fundraising initiative "Stars in Their Eyes" in Hotel Minella. The event was sponsored by local company Camida and both schools really appreciate their support towards the event. A packed audience was entertained by twelve acts (six representing Primary and six representing the Secondary School). All twelve acts were just outstanding, and they all entertained a very enthusiastic audience. The winning act "Village People" certainly electrified the audience. It was truly a spectacular event with students from both schools providing entertainment during the night as well. Both schools would like to thank all the companies who sponsored an act or purchased an advertisement in the programme.
Brendan Cummins, MC for the night, gave a master performance with his interaction with the three judges, Aoife O'Keeffe (AOK Dance Studio), Mattie McGrath T.D and Owen Lonergan Tipp FM. The night was excellently produced by Diarmuid Boyle without whose advice, guidance and encouragement we might have floundered. The generosity of the Nallen family ensured that we had access to such beautiful facilities.
Both schools are blessed to have very talented students, staff, parents and members of Board of Management who worked together on this historic successful event.
Positivity Week
Students at the Presentation Secondary School Clonmel enjoyed an action-packed week of activities during Positivity Week in April 2019.The week focused on the physical and mental health well-being of all members of our school community. Events such as Gymnastics, Open Mic in the canteen, inter year dodge ball competition, Computer Competitions and lunchtime disco took place over the week. On Tuesday afternoon, our special guest was Jake Carter. Jake entertained a packed PE Hall with a selection of songs. On Wednesday we had an impromptu disco at lunchtime in the Assembly Hall. The week ended with our "Open Mic" session. Well done to all our student performers and a special appearance from the "Spice Girls" and "The Village People" from our "Stars in their Eyes". After that great entertainment, it was onto St Patrick's Well for Lenten Prayer Service. We reflected as a school community on climate change and the action we need to take to save our planet, our home and through prayer we made pledges to change the way we live. Our thanks to the members of the Student Council and Mr.Martin O'Loughlin who organised the week. Also, to our RE Department for organising the prayer service.
World Piano Day
The 25th of March was "World Piano Day". Mr. Eamon O' Malley, a local musician, organised a wonderful event in the South Tipperary Arts Centre in Clonmel, where people were invited to drop in a play a few pieces on the piano or simply to enjoy a free concert. Nearly 15 students from the Presentation Secondary performed at this event, where they showcased the fantastic musical talent that lies at the heart of the Pres.
Co. Tipperary Track and Field Athletics Championship
We had a very successful day at the County Tipperary track & field championships in Templemore in April. We had our highest number of students ever competing at the final. Over 30 students represented us on the day. Hazel Brennan (Junior 800M), Laura Cooney (Intermediate 1,500M),Cailin Napier (Senior 800M & Long Jump) Sarah Ni Cheallaigh (Senior 1,500M) were all Gold medal winners. Sarah Ni Cheallaigh (Senior 800M) Cailin Napier (Senior 1500M) Caelainn McGrath (Long Jump) and Senior Relay (Aoife Barron, Orla Barron, Caelainn McGrath, Cailin Napier) were all Silver medal winners. Cailin Napier (Senior 100M) and Senior Relay (Maha Aziz, Sarah Ni Cheallaigh, Adagh Johnson, Hazel McFadden) were all Bronze medal winners. Well done to everyone who participated and thanks to David Kenneally (Athletics Coach) and Ms O'Connor (PE teacher) for their assistance with the students on the day.
Co. Tipperary U.15 Ladies GAA Blitz
Well done to our Ladies GAA U.15 who reached the County Final. They beat Cashel Community, Borrisleigh, Ursuline Thurles on their path to the final. Unfortunately, we lost a thriller of a final against Rockwell College. Thanks to Ms O'Connor for coaching the team over the year.