Monday 3rd February 2014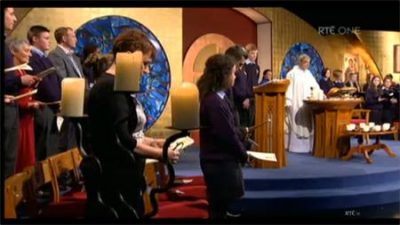 Cnoc Mhuire Granard, Co. Longford students were in the RTE Studio on Sunday morning 2nd February for Mass to mark the end of Catholic Schools Week 2014.
The mass was celebrated by Fr Simon Cadam, along with the choir, pupils and staff of Cnoc Mhuire Secondary School, Granard, Longford drawing to a close Catholic Schools Week.
Fr Simon Cadam also acts in a voluntary capacity as the School Board of Management Chairperson.
Before the Mass Transition Year students Danielle Kane and Ultan O'Hara spoke of the Mercy Sisters great work in the community and the current co-educational school being founded in 1947 by the Sisters of Mercy and the handing over of Trusteeship to CEIST in 2007.
RTE played video of students playing sporting activities where the school have had great successes such as winning the All Ireland Football Senior A Title in 2013.