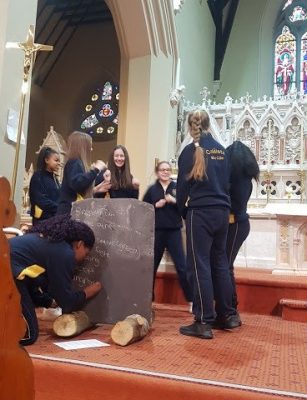 As part of the Ash Wednesday morning mass in our parish my 1st Year Religion Class, Rang Caoilte, were asked to dramatise the Parable of the Prodigal Son. A couple of weeks before this I asked the students to write their own modern version of the parable to use for our dramatisation. The theme was the idea of beginning again with 'A Clean Slate'.
The girls came up with some wonderful stories and together as a class they chose one of them to use. With the help of Frank, our Parish pastoral worker, we worked to put the piece together. The girls performed the dramatisation of the Parable at the end of mass.
As the story progressed, and the many negative attributes of the prodigal daughter were narrated, one student continued to write these onto a piece of slate. At the end, when the prodigal daughter returned home and all was forgiven, the parents in the story proceeded to wipe the slate clean.
The girls did so well and they received many compliments from the local parishioners. Frank is going to compile a booklet of all of the girls' stories which they are very excited about.
by Michelle Dooley RE Teacher Coláiste Bríde Clondalkin