Orla triumphs over adversity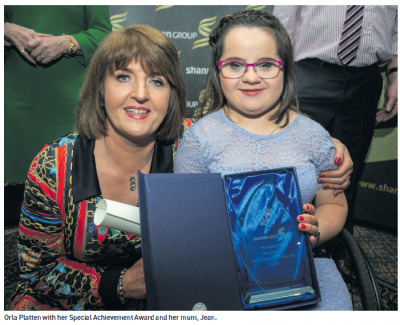 ORLA Platten, a student of Coláiste Muire Ennis, who scooped a special  chievement award at Saturday's Clare Garda Divisional Youth Awards, has been described by her nominator as someone who might have been "born with the heart the size of a walnut" but in reality, "her heart is the size of an ocean".
As I sit with her and her family to discuss this award, one cannot but be moved by the warmth and the love this family share. Orla is brimming with emotion from the recognition she has received and is not shy about telling the world how much the support she has received her from mum, Jean and Jean's husband, Anthony, has meant to her.
Explaining what her daughter has been through, Jean details the hospital visits, consultants and surgeries that Orla has had over the years.
There can be no doubt but that Orla has been through a lot, having undergone 14 major operations, including four heart surgeries, four cervical spine surgeries, a neurosurgery on her spinal cord, as well as four operations on her right hip and one on the left hip. However, to meet her, you wouldn't know she had been through all that trauma. The trials and tribulations of those events in their lives is evident in how Jean recalls them. Immediately afterwards, it is with huge emotion that Orla asks for the chance to say, "I'd like to thank my mam because I love her so much. Thank you for supporting me and I just love you so much."
This, Jean says, "is Orla". "This wonderful personality. She is the first to look after kids if they are upset; she has a lovely nature about her. We are awful proud of you," she said. Orla was born with Down Syndrome and a heart condition and had her first open heart surgery at four months old.
"She was very ill as a baby and when we were discharged after the first three weeks in hospital, the first thing I was told was to find my way back to the emergency department, so that if we needed to get back there in a hurry, we would know where we were going. We were living in Southampton when she was born. She has had intermittent surgeries in her life but every time she gets back on the horse," Jean said.
Having been nominated for her award by her teacher, Gemma Hassett, Orla and Jean said it was so fabulous to be acknowledged in that way. To get the award and to be considered for the national award selection process is wonderful. "I was shocked and I was so delighted I got it. It was a great feeling. When I collected the award, I got a standing ovation," Orla said.
Jean said as a family, "We are absolutely so proud of Orla. We have witnessed every single bit of her highs and lows in her life and we acknowledge every day the bravery and courage she has shown and she has been brilliant. She has gone to a mainstream school and Coláiste have been reat; they are so inclusive." Orla started first year in secondary school in late October because she had major surgery, which was hard because friendships were formed. Despite that, Orla has a great network of friends, who have stuck by her throughout.
Supporting her on the day of the awards were her family; teacher Ms Hassett; Bernie Mc-Dermott, who looked after Orla from the age of four; Bernie Glynn, her SNA; Martina Reynolds, Orla's respite worker, and Noreen Buckley, a psychologist with the Clare children's disability team, who offered her support.
Jean said, "I couldn't stop crying on the day. For us, it was about celebrating Orla's journey and these were the people who have been here."
Her award is currently on the kitchen table at the centre of the house for all to see, with a specially designated area due to be constructed soon in the living room, where it will have pride of place.
Having watched the Oscars earlier this week, Orla said when she heard she was getting an award, it was her Oscar equivalent. Currently in the middle of studying for her Leaving Cert Applied, Orla is hoping to get involved in the Streetwise programme in Ennis once she finishes school.
Orla acknowledged her teacher Ms Hassett for nominating her. "I felt delighted and I'm so glad you are my PE teacher and my nominator," she said, adding that she really enjoyed the day.
Ms Hassett described Orla as "our little warrior on wheels" and said she is a prime example of Joanne O'Riordan's famous phrase "There is no such word as impossible, as to me that reads I'm possible".
Ms Hassett chose to nominate Orla because she has been through so much in such a short space of time.
"She's a miracle really. Orla's tenaciousness to succeed has been infectious around the school. I taught Orla in Leaving Certificate Applied leisure and recreation last year but I have known Orla since she was a young child, who was in halo brace [a steel brace that had to be screwed into her skull to prevent any spinal damage to her vertebrae]."
She said although Orla was in this brace, that was not what people noticed about her; it was her huge smile and greeting that caught everyone's attention. Orla took part in every PE class she could with the utmost motivation and enthusiasm and Ms Hassett explained it was a big moment for her to go on an activity trip to Delphi in County Mayo last year.
"It was her first time away on a school trip and with the help of her SNAs and her classmates, she had a brilliant time participating in all the activities. When I saw all she had to go through, just to be able to go on the trip, get around to get breakfast, try and do activities the same as her classmates, she really impressed me. She never complained once and had us all in stitches laughing. She has the drive of a whole rugby team driving to get over a finish line when it comes to getting things done."
Orla's application now goes on to be considered by the national awards selection board.
Article taken from the Clare Champion. Click here to read original. 
Enterprising students showcase their ideas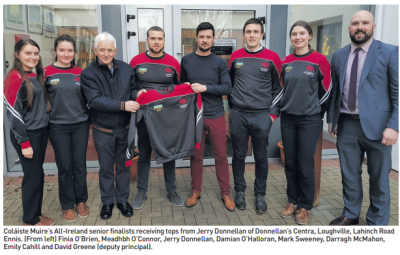 MORE than 400 second-level students from 15 schools across Ennis and Clare will be bidding to secure a golden ticket to this year's Student Enterprise Programme National Final in Croke Park, when they showcase their business ideas at the county final on March 6 and 7 in Treacy's West County Hotel. Hosted by Local Enterprise Office Clare, the programme was launched last September.
The upcoming two-day event will see students from junior, intermediate and senior categories showcasing their businesses, products and services across four categories; food, craft, retail and technology and manufacturing. A panel of local entrepreneurs will engage with the students, before the successful group or individuals are selected to represent Clare in the Student Enterprise Programme National Final on May 3.
"Participating students have demonstrated a wealth of entrepreneurial skills and an acute understanding of how to develop and promote a business idea," explained Pádraic McElwee, head of enterprise at Local Enterprise Office Clare.
"Some exceptional ideas have been developed from ideas to trading businesses over the last nine months," he added. "This is a great opportunity for students to experience what it is like to set up a business and we at the Local Enterprise Office are delighted to be a part of it. It is inspiring to see how students have engaged in the programme and it is great to see the potential that some of these student enterprises have going forward. I cannot wait to see the businesses delivering their best pitch on the day of the final."
Article taken from the Clare Champion. Click here to read original.