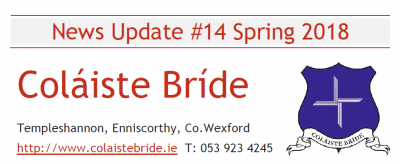 A Chairde,
Welcome to the latest edition of our school newsletter. It was an exceptionally busy second term and this newsletter will give you a sample of some of the many events that have occurred since January. It is this great variety of activities that take place as part of school life that makes Coláiste Bríde the fantastic place it is for both students and teachers.
As we return after the Easter holiday our Sixth Year students have started their Leaving Cert Irish Oral exams and I want to take this opportunity to wish all of these students the best of luck this week and in your upcoming modern language orals and practical exams.
Best wishes to our Junior Certs who will also being undertaking practical exams over the coming weeks. Our TY students are looking forward to the Junk Kouture grand final and we are once again very well represented by designers and models.
Also, buon viaggio to our students and teachers who are in Italy this week for the Transition Year trip!
Kiera O'Sullivan, Principal
Click here to read full newsletter