Our Lady's Castleblayney Students Shine in European Competition
…….As they become MEP's for a day
Students from Our Lady's Secondary School had the unique opportunity to act as Members of the European Parliament for the day thanks to their success in the Euroscola competition. The students won the trip to Strasbourg after making a one minute video advertisement encouraging young people to vote. The students' winning video focused on Brexit and the border. The key point made in the video was that Brexit would cause upheaval along the border. Students also speculated that Brexit could have been avoided had the franchise been extended to 16 and 17 year olds in the UK. It was both a timely and innovative advert that seemed to capture the zeitgeist.
As a result of their successful entry, the students were rewarded with an overnight trip to Strasbourg that evolved into a two night school tour. However, this was no normal school tour. Students spent the last few months working hard after school preparing for panel discussions on a range of issues including the future of the EU, security policy, the environment, migration, youth unemployment and culture. The students' hard work paid off on the day of Euroscola. There were 600 students from 28 countries present but Our Lady's students were to the fore throughout the day. Of the six discussion panels, two were chaired by Our Lady's students – a remarkable achievement. Leah Haughey was elected chair of the Security and Human Rights panel and fielded questions from an audience of 600 on EU Common Foreign and Security Policy. Gabrielle Bunyte, likewise, chaired the culture panel giving a masterful performance outlining the importance of culture for the EU. Other students contributed from the floor. Ciaran McKearney very eloquently put a question to sitting Spanish MEP Pilar del Castillo on the rise of divisive populism in parts of Europe. In a fascinating exchange with a seasoned politician who held cabinet office in Spain, Ciaran showed maturity and composure beyond his years. Meanwhile, Jade Lam spoke in strong terms on the importance of protecting Human Rights in one of the most significant and morally courageous contributions of the day. Many other Our Lady's students similarly spoke out in committee meetings.
The students were all part of Dr Patrick Mulroe's fifth year economics class and he was fulsome in his praise: "These are a brilliant group of very talented students. They have really well thought out opinions and know how to construct a rigorous and intellectually sound argument. They were working with some of the brightest young minds in Europe and demonstrated that they were just as capable as any other group." There were very kind messages of support sent to the students in advance from MEP's Matt Carthy and Mairead McGuinness, Mulroe thanked both for their support. The teachers on the trip Ms Horgan, Ms Clarke and Mr Brohan complimented all the students for their wonderful behaviour and the positive attitude they brought.
We are sure to hear a lot more from this group in years to come. On into the future, who knows but some of them may even succeed Mairead McGuinness and Matt Carthy in Strasbourg! Congratulations to all concerned on an outstanding achievement.
Diary of Euroscola trip – a day in the European Parliament, Strasbourg
by Ethan O'Gorman
Wednesday
Our trip began early on Wednesday morning as we set off from the school at 3a.m. The journey to Dublin was a short one hour journey with everyone brimming with excitement. The airport itself was buzzing with life even at the early hour. After our bags were checked in, we passed through security and into the duty-free area. Once everyone had eaten breakfast we hurried down to the departure gate. Our plane landed in Frankfurt Airport at 10a.m. local time. After we regrouped we had a short wait for the coach which took us down the autobahn to Strasbourg. We arrived at the hotel shortly after 3.30- nearly twelve hours of travelling already! When we were all unpacked, it was back to the bus to rendezvous with our tour guide for a walking tour of the city. We were shown many sites such as the Strasbourg Cathedral, Barrage Vauban and the river Ill. By this time we had worked up quite an appetite and went for food in Flunch restaurant. From there, it was a short walk back to the hotel where we got some much needed sleep ahead of our big day on Thursday!
Thursday
On Thursday morning we were all up bright and early for breakfast at 6.30am. Once we were fed, we set off for the European Parliament. We arrived at the parliament building at 8am and had to pass through strict security and get our badges and programmes for the day. At 9 a.m. we split up into our working groups on key topics such as Security, Human Rights and the Future of the EU. We got to have tea and coffee with the students from other schools before the sessions begun. Then we went to the highly impressive Louis Weiss chamber and were seated in the MEP's seats. Each school was introduced by a student. Gabriel Bunyte spoke about our school and its relationship with the border. The border and Brexit had been the subject of our award winning video. The floor was then opened to the students and we had the opportunity to ask questions of the Spanish MEP Ms Pilar Del Castillo. For almost three hours, students asked questions on topics ranging from data roaming charges to the possibility of an EU army. Once the questions came to a close we were brought to the restaurant for lunch. At two o' clock each working group met in a different committee rooms to discuss a topic. My own group was debating the future of Europe. We conversed with students from Sweden, Croatia, Malta and many other countries learning how they viewed the EU. We then returned to the Louis Weiss chamber for a plenary session where each group presented a report on what they had discussed. There was then an opportunity to question the chair of the meeting. The discussion was then closed. The European anthem was played and the flag of each member state was brought forward by a student from each school. After ten hours in the Parliament we were all hungry and ate some well earned dinner after which we returned to the hotel.
Friday
After the early mornings on Wednesday and Thursday, we had a relatively long sleep on Friday morning. Breakfast was served at 8 a.m.! We packed our luggage and loaded up onto the bus. The next stop was Batorama Strasbourg, for a guided boat tour of the city along the canals. The previous two days had been clear and mild but Friday morning was dull and the rain poured down. However, once we were aboard the boat the weather cleared and we had excellent views of Petite France and the German Quarter. After a thoroughly enjoyable two hours of cruising on the canals the tour concluded. After a brief period of rambling through the stalls on the streets we returned to the bus and set off for Stuttgart Airport. In the airport we ate some food and browsed the duty-free. The flight took off on schedule and touched down in Dublin at 6.15 p.m. Without delay we met our coach and left for Castleblayney. Despite this being a short trip, it was a very memorable one for the twenty eight students and teachers who were involved. To spend a day in the European Parliament and discuss issues that directly affect our lives is a brilliant experience no matter what age you are.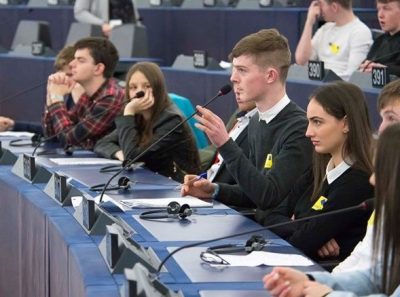 Ciaran McKearney: Ciaran McKearney addresses a question to sitting Spanish MEP, Pilar del Castillo on the rise of divisive populism in parts of Europe.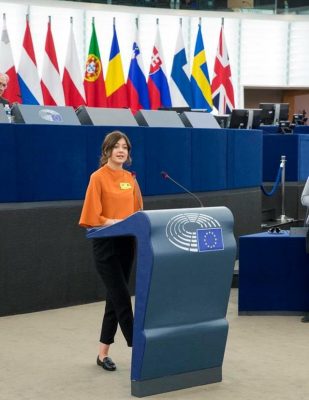 Gabrielle Bunyte: Gabrielle Bunyte chaired the culture panel giving a masterful performance outlining the importance of culture for the EU.
Our Lady's student delivers powerful message in Seanad Eireann
Congratulations to Transition Year student, Ellen Mc Mahon, daughter of Pete and Paula Corracloughan, who delivered in Seanad Eireann last Tuesday 17th April. Díospóireacht na nÓg was organised as part of the Vótáil 100 programme, which this year celebrates 100 years of the women's right to vote. Over 350 students from across Ireland entered the competition and Our Lady's student, Ellen Mc Mahon was successfully selected as one of the 16 finalists to part take in the programme.
On Tuesday last, 17th April, Ellen addressed Senators, TD's, parents and teachers on the following topic: "Has the struggle for freedom, justice and equality been realised in Ireland's institutions, culture and society? Ellen raised a number of important points throughout her speech including how women continue to fight for equality in our world today. "We struggled to secure the same careers as men, yet we still get paid 14% less for doing them. We struggled to be given the same power and authority that men are given, yet only 14% of Irish companies have female CEOs. Clearly, we are still struggling today. However, the solution is not to acknowledge the inequalities. The solution is to take action to combat them."
Teacher, Ms Erin Brennan and all in Our Lady's are very proud of Ellen and as Senator Gabrielle Mc Fadden said "I feel the future of our great country is going to be in very safe hands".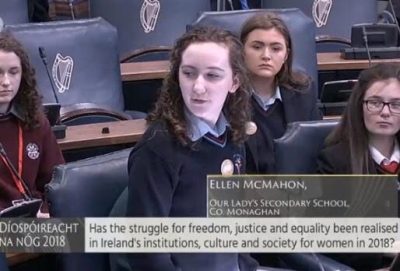 Pictured is TY student from Our Lady's, Ellen McMahon who had the honour and privilege to address Senators, TD's, students and parents in the Seanad last Tuesday as part of the Vótáil 100 programme. Ellen delivered an influential and memorable speech on the topic 'Has the struggle for freedom, justice and equality been realised in Ireland's institutions, culture and society?'
Success for Our Lady's in the National Public Access to Law Competition
……..ensures that these young students will participate in World Invitational Empire Mock Trials in New York in October………….
Huge congratulations to Our Lady's TY Law Module students who head to New York in October to participate in the World Invitational Empire Mock Trials.
Our Lady's Secondary School Transition Year Law Module students were the first placed qualifying school of the four semi-finalists from thirty two schools that took part in the National Public Access to Law Competition that took place in the Criminal Court of Justice in Dublin last weekend. Their success in this competition ensures that they will compete in the prestigious World Invitational Empire Mock Trials competition in New York next October.
The Transition Year students have spent most of the current academic year preparing for this competition in their law module under the expert guidance and direction of local solicitor Mr Paul MacCormack and member of staff Mr Eamon McMahon. This law module and the Public Access to Law Competition give the students an excellent insight into the workings of the Irish legal system as well as developing the student's skills in critical thinking and public speaking.
The students involved included Dara Rudden, Ailbhe Brohan, Frances Horgan, Mia Daly, Anais Maguire, Zara O'Gorman, Sophie O'Sullivan Gray – captain, Katie Carragher, Ben Connolly, Conor Brady – vice captain, Tara Mc Ardle, Adam Dolan, Patrick Clarke, Ryan Buckley, Laoise Lawless, Orlaith Duffy. They were required to defend and prosecute fictitious court cases and beat off stiff competition from 32 schools to secure first place.
Speaking at the school the Principal Mr. Kelly congratulated Mr. MacCormack, Mr McMahon and the students on their outstanding achievement commenting that 'the student's involved in this module have sacrificed an incredible amount of time fine tuning their preparations for this competition and spent numerous weekends and several days during the Easter holidays rehearsing and practicing. Their success at the weekend is a just reward for all their hard work and efforts. The students have seen the value of making sacrifices, hard work and commitment and I've no doubt that the skills they have learned will transfer into other aspects of school life. I would like to pay particular thanks to Mr. MacCormack and Mr. McMahon for their expert guidance and their incredible generosity of time to give our students this wonderful opportunity. This is our fourth success at national level in Our Lady's this year with a 1st placing for Keisha McCann in the National Credit Union Art competition, similar success for Ms. Murray and the choir in the National Showchoir competition and the win for Mr. Mulroe's Fifth Year Economics class in the Euroscola competition that resulted in a trip to the European Parliament in Strasbourg. When you add these successes to the success the school has had at local and national level in recent years in the areas of sport, music, drama, languages and science it speaks volumes for the talents and abilities of our students but also for the dedication and commitment of our staff who always go the extra mile to ensure the students in our school are afforded every opportunity to display and develop their talents. We look forward to supporting Mr. MacCormack, Mr. McMahon and the students as they prepare for the National Law Final with the other three place semi-finalists that takes place in Dublin on May 12th before preparations begin for the World Invitational Empire Mock Trials competition in October.'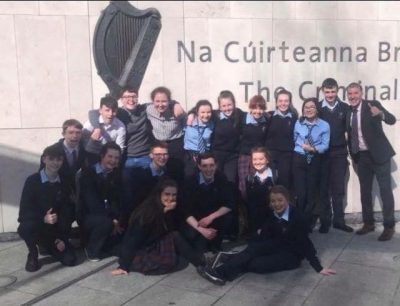 Pictured outside the Criminal Court of Justice in Dublin are the TY Law Module students from Our Lady's who defended and prosecuted their way to a place in the World Invitational Empire Mock Trials which take place in New York in October. This group of students have been expertly guided and mentored by local solicitor, Mr Paul MacCormack and staff member Mr Eamon McMahon and have put in hours of work and preparation to the Law Module and for this competition. Congratulations to all concerned and best wishes with the preparations for the World Mock Trials in New York.