Ready for Take-off!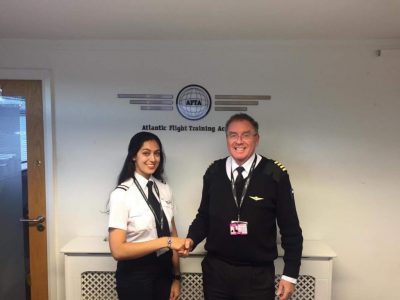 Congratulations to our past pupil Gabriella Chaves (Leaving Cert 2017) on recently acquiring her commercial pilots licence and who starts her flying career with Aer Lingus on 2nd March.  We wish Gabriella every success for the future.  Gabriella, who competed her training with AFTA is pictured with IAA (Irish Aviation Authority) Examiner Philip Smythe. Well done Gabriella. Gabriella visited our school recently to discuss her career path with our Senior students.
Wheelchair Basketball Regional Title
Congratulations to our TY students who competed in the Regional Irish Wheelchair Basketball competition on Monday 3rd of February in Sligo IT. The students beat a strong sided team from Ballinamore to take home the top prize and have now qualified for the All Ireland's on Thursday 2nd April. Wishing all the TYs the best of luck in the next round!
Fundraising
Well done to our Student Council who raised €250 during a non-uniform day earlier this year in aid of NorthWest Stop Suicide and are pictured here presenting the cheque to Emma and Anna from the charity.
Handball Success
Congratulations to Cormac Finn (TY) who represented Coláiste Muire and Connacht on 1st February in the College's Four Wall Handball All Ireland finals held in Kingscourt, Cavan.  Cormac had an impressive win in his semi-final against his Clare opponent which went to a tie break in a game that lasted over an hour however he was defeated in the final against a hugely talented Billy Drennan from Kilkenny. Nonetheless, this is a fantastic achievement and Coláiste Muire are very proud to have an All-Ireland runner up star in our midst!  Cormac previously competed in the intermediate grade Connacht competition which he won defeating his opponents from Drumshambo Vocational School, Rice College Westport and the Bish Galway.
Soccer Success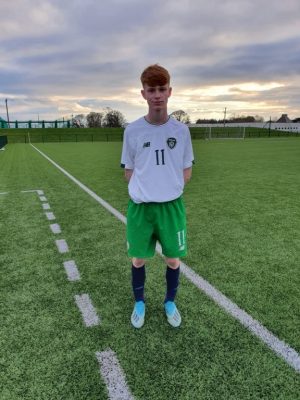 Congratulations to Cian Kilcoyne (6th year) who was called up to the Republic of Ireland u18 home based training camp on Saturday 25th January at FAI HQ National Sports Campus. Cian recently represented Connacht in the All Ireland Inter-provincial competition.  Well done Cian and keep up the great work!
Athletics All-Ireland Title
Congratulations to Elizabeth Tighe (TY) on her success at the National Indoor Junior & u-23 championships held in Athlone I.T. on Saturday 25th January.  Elizabeth competed in the women's Junior 6 hurdles (u20).  Youngest in the race and competing against 16 to 19 year olds, Elizabeth stole top prize in style.  You can watch Elizabeth's success below. Congratulations also go to Shaun Hough (TY) who reached a personal best in the 60m, well done Shaun!
Athletics Success
North West Games are in their 5th year and a huge number of athletic clubs participated again this year in the AIT in Athlone during the Christmas break. Clubs from all over Ireland took part despite this originally starting out as a North west and Northern Ireland event.
Coláiste Muire's Elizabeth Tighe took part in the 60 metre sprints and 60m hurdles, coming in at 4th place in the sprints but sailing to victory in the hurdles.  Congratulations Elizabeth!
Shaun Hough (TY) also took part in the 60m sprints and the long jump.  Well done!
Our CEIST Values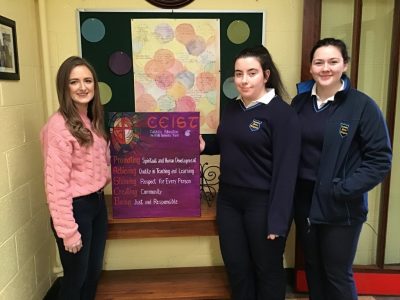 Sincere thanks to our teacher Ms. Hunt for creating a beautiful painting of our CEIST values.  Ms. Hunt presented this to our school on Friday 14th February (pictured below) and is on display outside the school office.
CEIST Bake off!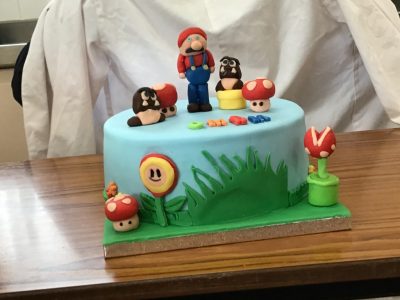 Congratulations to Danielle Lundy (3rd year) who has been chosen as one of 7 finalists in this year's CEIST Bake off following her entry (pictured below) to the competition earlier this month.  Danielle will travel to Athy in Kildare on Friday 6th March to compete.  We wish you the very best of luck Danielle!
Garda Youth Awards
Congratulations to Saskia Davey (5th year) on her receipt of a Garda Youth Award on Sunday 23rd February for work done in her community during 2019. Well deserved Saskia, well done!
Centre for Talented Youth at DCU
Well done to Sean Woods (TY) for completing an Engineering programme at DCU earlier this year.  In January, Sean sat the first-year engineering exams and achieved First Class Honours in Materials Engineering and Second Class Honours in Electronics Engineering. If he decides to study Engineering in DCU he will have the credits from these modules completed already.  This is a wonderful achievement for a student of Sean's age – congratulations! Click here to read Sean's account of his experience.