A Hat-trick of All-Ireland's for Coláiste Muire Ballymote!
In recent weeks, students of Coláiste Muire have reached All-Ireland finals in Table Tennis, Wheelchair Basketball and Enterprise! Congratulations to all involved!
Student Enterprise All Ireland Finals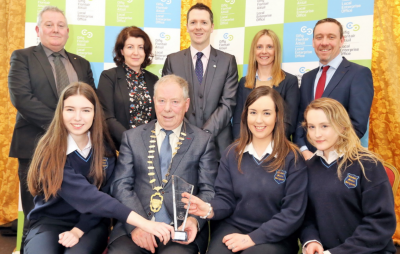 Congratulations to Aoife Loughlin, Casey Cullen & Aoibhe Carty also known as ACA on their recent success at the regional Student Enterprise Finals in Sligo on 8th March. The girls were overall winners in the senior category and will now progress to the All-Ireland finals in Croke Park on 2nd May. Their project is a handbook to encourage numeracy and literacy with exercises suitable for Junior Cycle students catering for all Junior Cycle subjects.
Well done to Michaela Kielty, Nicola Redican and Amy Scanlon who took part with their all natural, home made bath bombs, lip scrubs and lip balms and to 'Alliocht' comprised of Thalia Kelly and Kate Lohan who produced subscription beauty boxes with all Irish products.
Wheelchair Basketball All-Ireland
Our Transition Year students took part in the All-Ireland finals of the Irish Wheelchair Basketball competitions on Tuesday 13th March. They competed in four games, winning one. Well done to all involved, each of whom put in an exceptional team effort. Students were invited to compete in these competitions as a result of their recent fundraising for the Irish Wheelchair Association.
All-Ireland Table Tennis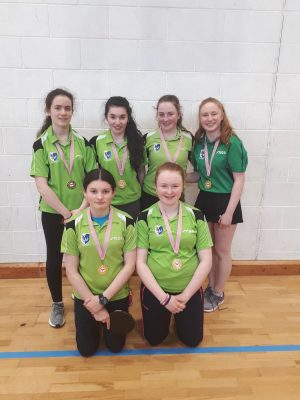 Congratulations to Coláiste Muire's girls Table-Tennis team who won the Connacht Final in Kiltimagh on Tuesday 13th March. They will compete in the All-Ireland final on 26th April. Well done to the boys' team who were placed third in Connacht.
Cathaoirleach Award

In addition, students of Coláíste Muire along with the community of Ballymote were awarded the Cathaoirleach's Award for their work in raising over €14,000 for Pieta House by hosting the first Darkness into Light event in Ballymote in May 2017.
Happy Easter from all at Coláiste Muire – Daffodil Day 2018

Thank you to all students and staff for supporting Daffodil Day 2018 on 23 March 2018!