All Ireland Football Final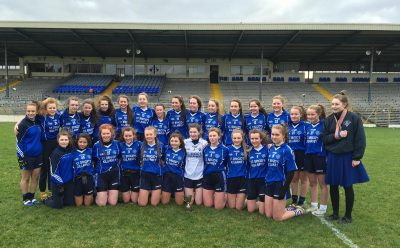 The staff and students of St.Brigid's wish to congratulate the Junior B football team who are through to the All -Ireland Final. The girls played Eureka Secondary School, Kells in Freshford, Co. Kilkenny on Thursday. They claimed a fantastic victory in a thrilling game that went down to the final whistle beating their opponents by one point. The final score was 1-7 to 1-6. They have now claimed their place in the All-Ireland final with the fixture to be confirmed.
The school is very proud of them.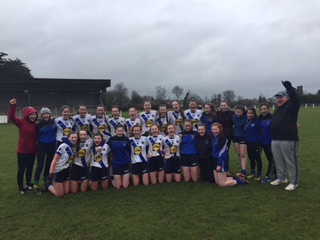 Young Environmentalist Awards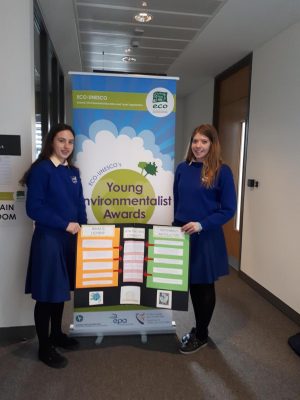 We entered our project about the relationship between air pollution and lichen in the Young Environmentalist Awards 2018. We got through to the semi-finals in UCC. We had a twenty minute pitch with four experts. Our project took a lot of hard work and dedication but it was definitely worth it in the end. We really enjoyed the experience and we learned so much on our journey. We can't wait to see where our work gets us in the future and hope to reach the final which will be held in Dublin.
By Ava D. Moynihan.
CEIST Leadership Conference 2018

On the 13th of March 2018, 3 Senior Student Council members, Aileen Healy, Rebecca Walsh & Áine O'Connor were chosen to represent the school at the annual CEIST Leadership conference accompanied by Ms. Brosnan in St. Patricks College in DCU Dublin.
We departed from Killarney at 06:30am and arrived in Dublin at 09:30. From the station we got a taxi to the college. We were welcomed by members of CEIST and were given a light breakfast before we proceeded into the conference hall where we were given a very warm welcome by the Archbishop of Dublin Mr Diarmuid Martin. He opened the conference with a beautiful prayer. The Chairperson of the WMOF (World Meeting of Families) then gave a very interesting speech about the work of the WMOF. He encouraged students to volunteer at this particular event which takes place in Dublin in August, which we are considering doing as it would be a great opportunity.
We were divided into 5 different groups/rooms, each group being assigned a different coloured wristband. All the students introduced themselves. Various schools made presentations about the work they do in their schools. This gave us an insight into the different clubs and groups they have in their schools.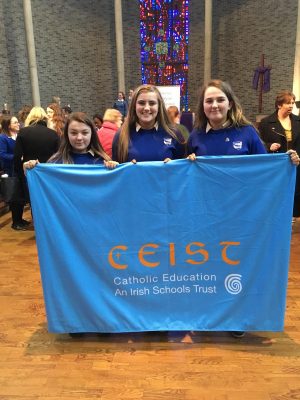 After lunch we headed to the Chaplin where we were privileged to listen to Philip Mulryne tell his story about how he was a very successful soccer player playing for Manchester United and had everything he could ever dream of having things such as lots of money, a fancy car, nice clothes etc. but it just did not make him happy so he decided to give it up and start a new career, he then decided to give up his Ferrari along with all his nice things and become a priest. He was ordained 6 months ago and he now loves his career and what he does. Hearing his story was one of the highlights of our day as it was a truly moving and inspiring story which thought us to always do what makes us happy and anything is possible once you work hard enough.
The conference finished at roughly 3pm so we then got a taxi to the station and awaited our train home, we arrived in Killarney at 20:20.
Overall we thoroughly enjoyed the day and learnt lots of new lessons and are very grateful that we got such a wonderful opportunity.
By Áine O'Connor
LCA1
St Brigid's Go Yellow for Daffodil Day
St Brigid's Presentation Secondary School held their annual Daffodil Day fundraiser on Friday in aid of the Irish Cancer Society.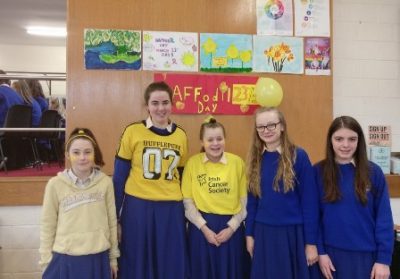 Yellow was the theme of the day to raise awareness of the worthy cause and students and staff wore their most vibrant yellow attire with prizes for the best dressed. The students were quite adventurous in their outfits and a fun-filled atmosphere prevailed through the day.
The school also held a bake sale with mouth-watering pastries arriving from home, much to the delight of everybody.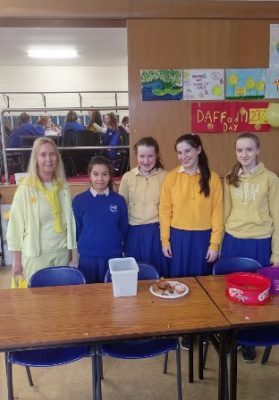 Additionally, a raffle took place thanks to the support of sponsors who most generously donated many prizes.
"None of this would be possible without the enthusiasm of the students, the sponsors and the staff," said St Brigid's PRO Vivienne Buckley.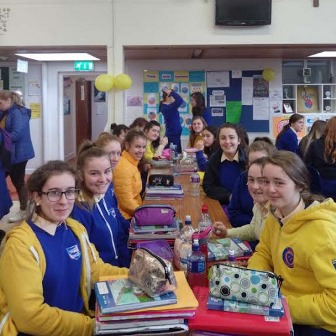 Many thanks to the students who were involved and who volunteered their time to support Daffodil Day. A special word of thanks to the Student Council and their teacher, Ms. Coffey who collected the monies. The proceeds of the events will be presented to the Killarney branch of the Irish Cancer Society who do such wonderful work," she added.