Coláiste Muire Choir
Coláiste Muire Choir sing for President
The Coláiste Muire choir under the direction of Ms Carmel Griffin performed in Glór theatre recently as part of the Clarecare 50 years celebration. President Michael D Higgins enjoyed the Coláiste choir as did every member of the packed theatre. Once again the choir have done us proud! Well done and thanks to Ms Griffin and to all the members of the choir.
Coláiste Muire Choir Perform on RTE Lyric FM for Christmas
The Coláiste Muire school choir have been chosen to feature on Lyric FM's Choirs for Christmas programme on December 20.
The choir can be heard by clicking on the link below singing the song: No Eye Had Seen.
All of the instrumentalists are either students or teachers in the school.
Is fiú agus is féidir!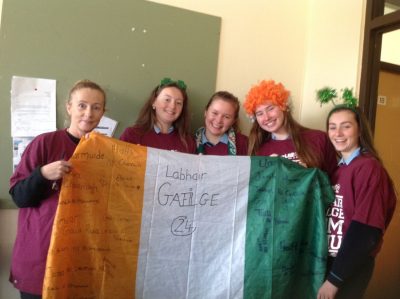 Bhí an lá ag an nGaeilge i gColáiste Muire le déanaí!
Thuas tá Ms Crean-Lynch ó roinn na Gaeilge  le lucht na hidirbhliana agus iad ag iarraidh Gaeilge a labhairt ar feadh 24 uair a chloig!
Thosaigh an lá le bricfeasta Gaelach agus lean sé ar aghaidh lena lán imeachtaí eile ar nós réiteoireachta trí mheán na Gaeilge agus Tráth na gCeist. Bhí rannpháiríocht le sonrú go soiléir i bpobal na scoile ar feadh an lae.
Gaeilge 24 took place on 13 November as part of the Gael Linn Gaelbhratach initiative to promote Irish in schools. In Coláiste Muire, 32 TY students endeavoured to speak Irish for 24 hours.  Students wore t-shirts and badges. A Club Gaeilge has  been set up and is open each Thursday at lunch time. Transition year students have taught first year classes some céilí dances and Irish songs.
Comhghairdeas do lucht na Gaeilge sa Choláiste! Go neirí libh an Ghaeilge a spreagadh sa scoil agus an Gaelbhratach a fháil. Is fiú agus is féidir!
Coláiste Muire Musical Back to the 80's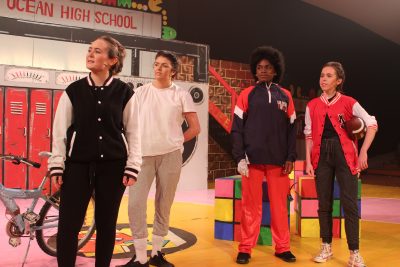 This year Coláiste Muire are performing Back to the 80's as the annual musical. Night performances begin on Wednesday November 28. The show is proving very popular with audiences so far. Cast and crew are giving their very best at each performance. We are very proud of their hard work and wish all involved with this excellent production every success.
European Day of Languages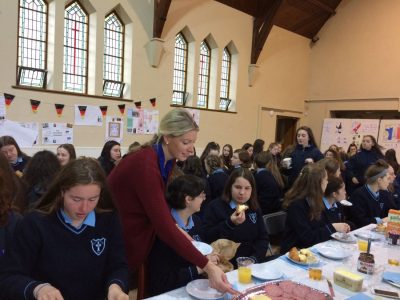 September 26 was European Languages Day. Coláiste Muire celebrated the day with all TransitionYear students taking part in a full day of events to celebrate different aspects of French and German culture. The day began with a typical French and German breakfast after which a poster competition in the target language was held and the day finished up with a French or German film.
Mission Week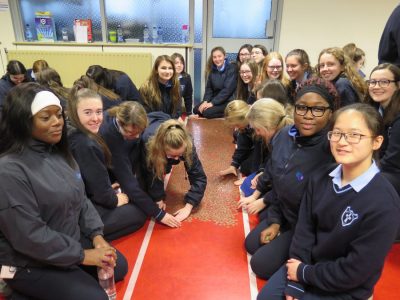 The annual Mission week in Coláiste Muire got off to a flying start with Copper Races for all year groups. This event, where classes compete to collect the most coppers, is among the most successful fund raising event of the week. The events which followed included Class Concerts, cake sales, as well as a Wacky Accessories day, Buzz Club, a No Uniform Day and a Theme Day for Leaving Certs.
The proceeds of Mission week go to Ngutani Kenya, where the Sisters of Mercy have a mission, which gives girls access to further education and training.
Volleyball U16 Irish Development Squad Success
Colaiste Muire, Ennis, have made a historic breakthrough for the county this month, when they captured a first ever All-Ireland A Volleyball title over St. Raphael's College, Loughrea in UCD.
Colaiste, who were unbeaten throughout the competition, clinically completed a famous win in three sets 25-21, 25-15 and 25-14, only a year on from exiting the competition at the semi-final stage to the same opponents. 
This win was well deserved for a special team, who have meteorically risen through the ranks, winning the Junior Shield, Junior Cup, Cadette A and, now, the Senior A title. The girls have two competitions left this year, the Senior Cup and the North-South competition. They have been fantastic role models for the younger volleyball players of our school, and we wish them the best of luck for the rest of the year. 
Gold Medal in Leaving Cert Technology for Coláiste Muire Student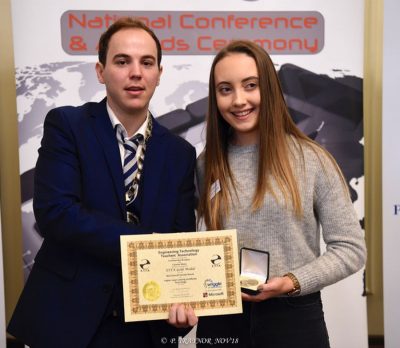 Caoimhe Roughan (leaving Cert 2018) was awarded the Gold Medal by the Association of Engineering and Technology Teachers for achieving the highest result in Leaving Cert Higher Level Technology 2018. Congratulations also to Caoimhe's Technology teacher Mr Aidan Lawton.
Coláiste Muire Senior History students visit Belfast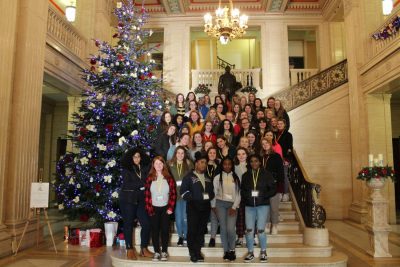 Forty-eight senior History students went on a two-day educational trip to Belfast, 7-8th December, where they visited the Northern Ireland Assembly at Stormont and were met by Alliance MLA Trevor Lunn and SDLP Councillor Johnny McCarthy.
The students also had guided tours of Crumlin Road Goal and the murals in East and West Belfast. They visited the Ulster Museum, squeezed in a little shopping at the Belfast Christmas Market and finished with a visit to Titanic Belfast.
Leaving Cert London Weekend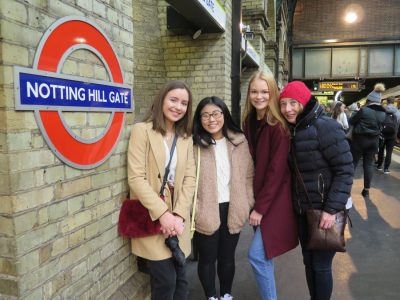 Pictured above are some of the 110 Coláiste Leaving Cert students with Ms Madden enjoying a wonderful weekend November 9-11 in London.  Activities included a cruise on the River Thames, a trip on the London Eye, visits to the Science Museum and to the Victoria and Albert Museum, a West End show (Mamma Mia! or Phantom of the Opera) and walking tours of Notting Hill, Westminster, etc.
The London trip is an annual highlight in the Coláiste Muire Leaving Cert calendar. Thanks to Ms Madden for her continued work in organising this very special trip every year.
Coláiste Muire Ennis TY Students: Euroscola Video Clip Competition Winners!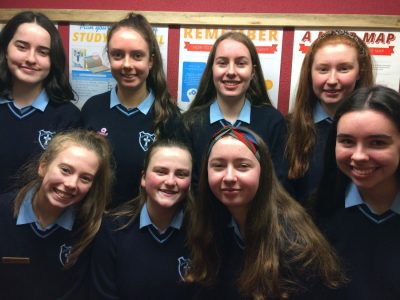 In this year's Euroscola competition students had to create a one-minute video clip on 'My EU Election Campaign'. One winning school was selected from each of Ireland's three European constituencies.
South: Coláiste Muire, Ennis   
Dublin: Mount Sackville
Midlands North West: St. Oliver's Community College, Drogheda
Students were asked to take their inspiration from the big democratic advances of 1918, when women in Ireland won the right to vote, and for the first time a woman was elected to both Dáil Éireann and the House of Commons.  Standing as a candidate in the next EU Elections students were asked to describe the issues most important to them.
The video clips were assessed by an independent judging panel, chaired by the Head of the European Parliament Office in Ireland.
The winning students (24 plus 3 teachers) will travel to the European Parliament in Strasbourg and experience a day as an MEP (21 March 2019). They will join their peers from across Europe engaging in the EU decision-making process through debates, negotiations with their colleagues, voting and adopting resolutions on topical European issues.
Well done to Lily Price , Annie McEldowney , Ciara O'Connor , Orla Commons , Cliodhna Spriggs , Aoibhin O'Donoghue , Aoife McDonnell  & Aoife Buckley .
Carol Service Coláiste Muire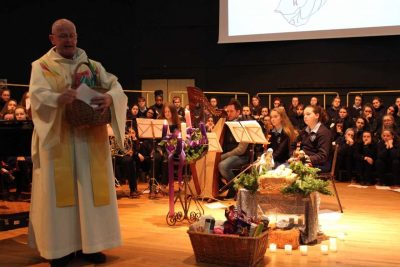 Carol services for the Junior and Senior schools took place in Coláiste Muire. Chaplain Fr Jerry Carey led prayerful services for both the junior and the senior school. The prayers and readings were accompanied by beautiful carol singing and music. Hampers which had been prepared and collected from each class for the St Vincent de Paul were presented.