Christmas Shoebox Appeal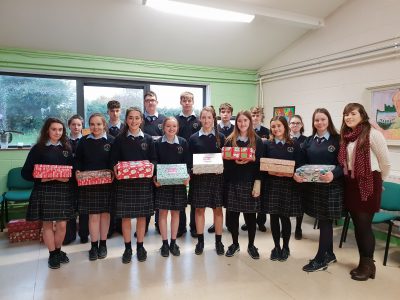 The Shoebox Appeal is an organisation to give the children and young adolescents of Africa and Eastern Europe the opportunity to receive Christmas gifts on Christmas Day.  A few of our classmates and us have been working extremely hard over the past few weeks gathering shoeboxes containing non-perishable items, gifts, toiletries and other accessories to ensure that the children have a Christmas to remember. Not all students in our school were able to make up a full shoebox so we as a group collected some gifts to make up full shoeboxes. We also promoted the Christmas Shoebox appeal and collected all the shoeboxes to be delivered by Ms. Ryan to the local warehouse in Carlow. We really enjoyed this experience and we look forward to being a part of the Team Hope Shoebox Appeal next year.
Written by: Niamh Murphy, Chloe Whelan, Erika Lyons, Jodie Dooley, Emily Whelan, Charlotte Walsh , Orla Byrne.
Futsal – Boys
The First Year Boys Futsal team recently travelled to the National Indoor Arena in Dublin to represent Carlow in the Leinster finals. The boys played against Wexford C.B.S., Coláiste Bhríde Carnew, Coláiste na Mí, St. Mary's Diocesan, Grennan College. All members of the team put in strong efforts but they were unfortunate on the day and did not qualify for the All-Ireland finals. We would like to congratulate the team on their success in getting as far as the Leinster finals.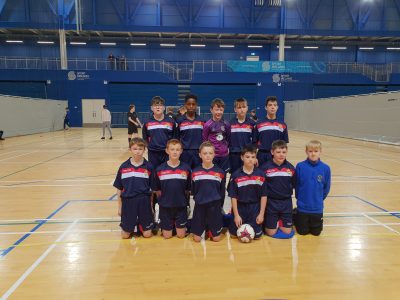 Team: Michael Meagher, Roland Sanni, Seán Buggy (Captain), Cillian Byrne, Alejandro Maximo, Scott Dunne, James Cranny, Alfie White, Luke Hennessey, Lee O'Brien, Adam Norton.
Futsal – Girls
Well done to the First Year Girls Futsal Team who recently represented Carlow in the Leinster Futsal finals in the National Indoor Arena in Dublin. The girls started off with a strong performance against Presentation College, Wexford but found the team hard to break down. They had many shots on target but when the full time whistle blew both teams were left scoreless. The girls found their feet in their second and third games where they overcame Woodlands Academy by 4-0 and beat Scoil Ní Muirí 8-1. Unfortunately, the girls came up against a physically strong team from Beaufort College and lost their match 3-1 against them. The girls put up a major fight in their final match where they drew 1-1 against finalists Loreto Kilkenny. Maith sibh a chailíní! A huge thanks to Ms Ciara Ryan for all of her hard work with both the boys' and girls' teams!
Team: Orla Woods, Aoife Kelly (Captain), Ciara Kelly, Amy Reid, Nina Uwagbai, Maya Brennan, Katie Carroll, Beckie-Lou White, Sarah Nolan
E-Twinning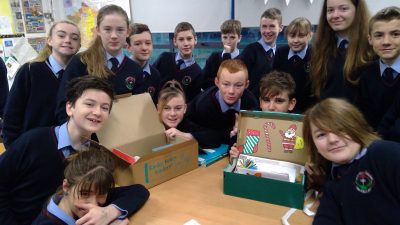 First Year students in Class 1AP were involved in an e-Twinning project in the run up to Christmas with four European schools. Schools from Romania, Spain, Germany, and Poland created Christmas Boxes and filled them with biscuits, sweets, handmade Christmas decorations and Christmas cards outlining the different holiday traditions and celebrations in each country, which were then posted to each participating school . Students in Presentation College created boxes filled with Irish biscuits, small souvenirs and postcards. There was great excitement for Class 1AP when the first two boxes arrived from Germany and Spain.
This has been a great opportunity for students to learn about different cultures and to make new friends in foreign schools.