Coláiste Muire Ennis ATS20/20
Colaiste Muire, Ennis was involved in ATS20/20 European policy experimental research project, aiming to support teaching, learning and assessment of transversal skills in 10-15-year-old students. Ms Finola Howard and Mr Jack Neylon were involved in the classroom pilot, which took place during the academic year 2016/17. They implemented ePortfolios and adopted innovative approaches into participating classrooms. In particular, they focused on reflective practice, digital literacy and goal setting.
Colaiste Muire were selected as a showcase school from a cross section of schools to participate in a short video to exemplify the work done. Further to this Colaiste Muire recently showcased their involvement and experiences at the 'Leadership for Learning' conference with the NCCA entitled 'Key Skills in Action in the 21st Century Classroom' on February 6th 2018. Two students Aela Browne and Maria Jones, with Ms Howard and Mr Neylon proudly represented their school.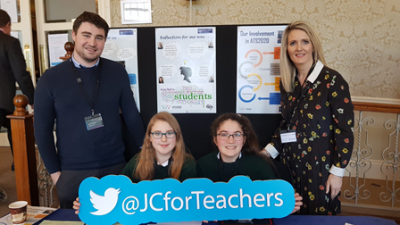 Coláiste Muire Ennis at Green Schools Expo
Green Schools Expo took place in the RDS Dublin on the 22nd of February and the event focused this year on Climate Action and what we can do in our schools, home and communities to combat climate change. The Colaiste Muire Ennis green schools members had recently created a short video on "Greener Travel" and were asked to host a stand at the event displaying the video and to present the travel theme. There were six themed zones at the expo in total, each with a different focus: Water, Transport, Biodiversity, Litter & Waste, Energy and Global Citizenship. Five thousand pupils attended the event in an action packed day full of interactive exhibits with activities and information for all ages. There was a hands on workshop area, a Climate Lab zone, stands showcasing initiatives, programmes and services and a day long schedule of Guest Speakers from the National and International stage.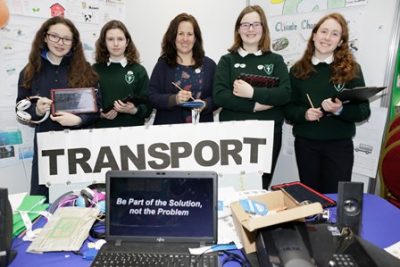 Formative Assessment in TY using ePortfolios Shared Learning Day and Report Launch
From Coláiste Muire Ennis pictured above are Ms. Ellen Jones ICT Co-ordinator, Bríana Fennell, Robyn Maxwell, Ms Niamh O'Regan TY Co-ordinator who attended the launch of a report marking the culmination of PDST's two year "Formative Assessment Using ePortfolios" initiative, at Croke Park Conference Centre on Monday, 22nd January 2018. The report describes the experiences and outcomes of a professional development learning programme involving 24 post-primary schools in the TY setting. Coláiste Muire were one of two schools presenting on the day.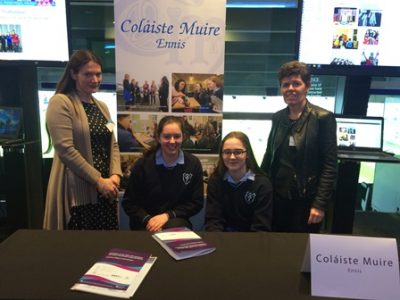 Generation €uro Students' Award team
Well done to the Coláiste Muire Ennis 'Generation €uro Students' Award' team of Muireann Byrne TY2, Aisling Reidy TY2, Jessica Leathem TY1 & Anna Nagle TY2 who progressed to the National Final which was held on 9 March in the Central Bank of Ireland in Dublin. The team scored 87/100 and were one of the top three teams in the country. The Generation €uro Students' Award is an opportunity for students to consider in detail the work performed by the European Central Bank, the Eurosystem and each of the national central banks in contributing to monetary policy decisions and price stability for the euro area. The competition challenges students to take on the role of the Governing Council and predict the interest rate decision for the euro area. Competing students develop valuable life skills including economic reasoning, critical analysis, team work and public speaking. The competition consists of three rounds: an online quiz, an analysis and a presentation to the Central Bank of Ireland at the National Final.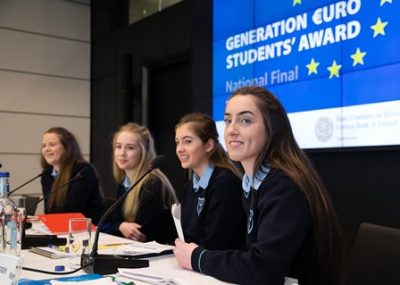 Visit to Zimmer Biomet
A group of 30 Coláiste Muire Ennis Transition students recently visited Zimmer Biomet in Shannon and gained a better appreciation of Engineering. Dermot Stanley and his team gave students a tour of the facility, a demonstration on 3D printing, Unigraphics CAD/CAM 3D modelling of medical device implants. The miniature 3D printer was a particular attraction! Four Engineers talked to students about their career paths and the path they took to reach the point they are at in their respective careers.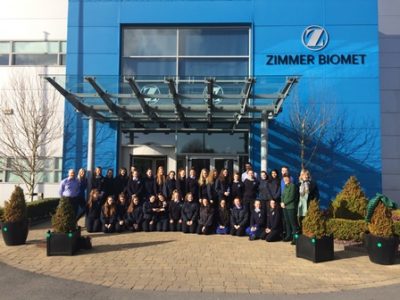 Winners Céilí Band Competition
Coláiste Muire Ennis took part recently in the Céilí Band competition in Féile na hInse and won first prize.
CEIST Bake-Off
Congratulations and well done to Ciara Mulligan, second year Coláiste Muire Ennis who came third in this year's All-Ireland CEIST Bake-off sponsored by Odlums. Ciara demonstrated her wonderful culinary and creative talents to produce her fantastic canine creation! The competition was judged by Odlums very own Catherine Leyden and the standard was very high with amazing talent on display in both the Junior and Senior competition. Great thanks must be given to Ardscoil na Trionoide, Athy for hosting the event. Ciara, her Mum and Home Economics teacher Ms. M. Ryan had a wonderful day.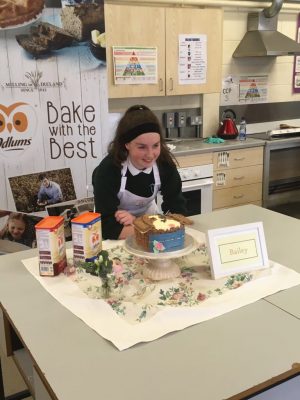 Kemmy Business School Student Junior Cert Awards
Congratulations to 15 students from Coláiste Muire Ennis who received an award for their excellent results in Business Studies in Junior Certificate 2017.
Bond Trader Challenge Success
Coláiste Muire Ennis had six teams of Transition year students who participated in the Bond Trader Challenge in West County Hotel on Thursday March 15. One of the teams pictured above won the competition. Well done to all who participated and congratulations to the winning team.
Fairtrade Breakfast
To celebrate Fairtrade fortnight, all Colaiste Muire first years took part in a Fairtrade breakfast. Fairtrade hot chocolate, juices and bananas were available. Lots of toast was also consumed! As part of Development Education, students learn about the importance of farmers receiving a fair price for their produce globally.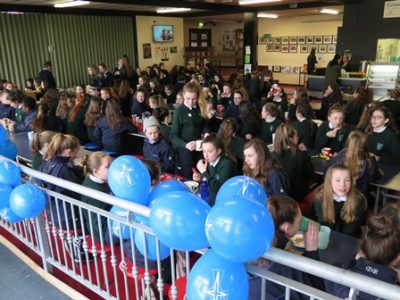 Enterprise Awards
Colaiste Muire, Ennis, Transition year students attended the Clare Student Enterprise Awards in the West County Hotel on Thursday the 8th of March. Students showcased their Mini-companies. 'Scratchibbles' and 'Chill it Coolers' won Best Display stand and Best Commercial idea respectively.