Latest news from Mary Immaculate Secondary School Lisdoonvarna kindly shared with us from John Sims, Deputy Principal.
CEIST Student Leadership Conference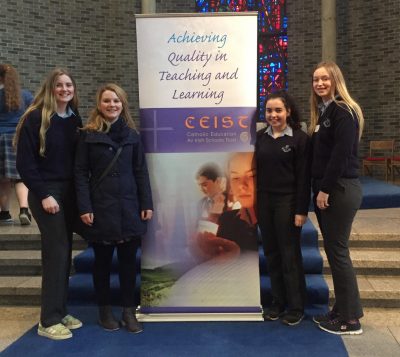 The third CEIST Student Leadership Conference took place this year in St. Patrick's College, Drumcondra on Tuesday, March 13th, 2018. Jessica Kelly, Jane O'Loughlin and Jody Whelan, Fifth year students, represented Mary Immaculate at the event.
Archbishop Diarmuid Martin delivered the opening address to a packed auditorium of CEIST Students and their Teachers. CEIST recognises that the students in our schools today will be the leaders of tomorrow and is committed to playing a part in preparing them for that role. This year's conference gave students a chance to meet with one another, to explore the possibilities of leadership as well as the values associated with being a good leader.
Fr. Philip Mulryne shared his inspiring personal story in the afternoon, which was followed by David Kennedy and his team from the World Meeting of Families Team. This team aimed to give a sense of what to expect next August at the international event and CEIST will be back to all schools to offer students a volunteer opportunity.
It was noted that the energy and joy that buzzed about the conference hall and workshops was remarkable. There is no doubt that CEIST schools are places of faith, care, kindness and excellent teaching and learning, all values so integral to the CEIST Charter.
Féile na hInse
Comhgairdeas do na daltaí ó Scoil Mhuire gan Smál i Lios Dúin Bhearna a ghlac páirt i bhFéile na hInse in Inis le déanaí. Bhuaigh an grúpa ceoil a gcomórtas ar an 10ú Márta. Bhí an moltóir an sásta leo agus dúradh go raibh draíocht ag baint lena gcuid ceoil! B'iad na daltaí a bhí i gceist ná Emma Kelly, Sally King, Aimee Burke, Sarah Nagle, Kate Considine, Laura Haugh, Órlaith Petty, Lucy King, Caoimhe Burke, Aine Hegarty, Katelin Burke, Maeve McMahon, Leah McNamara, Sadhbh Blood Comhgairdeas leo ar fad!
Girls Volleyball Team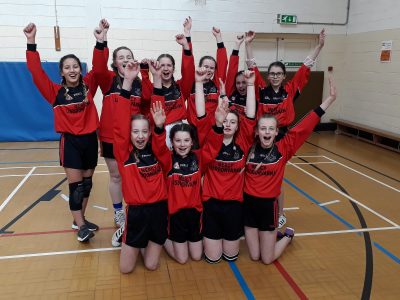 Our junior girls team travelled to Mountrath Co. Laois for the shield playoffs on March 21st. They won two out of three of their games. They lost the first game to Ard Scoil Mhuire, Ballinasloe but went on to win the following 2 games against St. Mary's Secondary School Glasnevin and Mountrath Community school Laois. The final game was very close and went to three sets and a nail-biting finish.
Members of the team on the day were : Nataya White (capt), Ashling O'Donoghue, Jessica O'Donoghue, Myahh O'Connell, Beth Clarke, Shauna O'Kane and Ella Mullins. Lynn McCormack, Aine Hegarty and Rachael Howley were absent due to illness on the day and were missed. Many thanks to their coaches Leigh O'Connell and Mary O'Donnell.
John Paul Awards
This year, the Pope John Paul II Award in the Diocese of Galway, Kilmacduagh and Kilfenora had its 7th Annual Award Ceremony. Nationally it is celebrating its 10th Anniversary. Over that time, the Award has recognised over 20,000 young people's contribution to their faith and community.
14 students from Mary Immaculate participated in this Award:
Gold Award: Jane O'Loughlin, Seán Urquhart and Katie O'Brien
Silver Award: Jessica Kelly, Niamh Garrahy, Richie Johnson, Róisín O'Donoghue, and Niall McNamara
Bronze Award: Ciara Costello, Jody Whelan, Ashling O'Connell, Olivia McGann,
Eoin Burke and Thomás McCormack. They took part in Parish and Community work and also a pilgrimage to Inis Oirr. Their mentors for the John Paul II Award were teachers Shane Slattery and Lisa O'Doherty.
Three students were present at the award ceremony in St. Mary's College, Galway on 26 November 2017. The awards were co-ordinated by Shane Slattery and Lisa O'Doherty.
School Sleepover
For yet another year, the school participated in the "schoolmates sponsored sleep over night" in aid of Focus Ireland for the homeless in Ireland. This took place on Friday 10th November. In order to make the experience more real the whole group slept in the school hall without any heating. The event was supervised by staff members: Mary Burke, Leona Leonard, Mona Hynes, Sally McNamara, John Sims and John O'Loughlin. We would like to thank our Peer Mentors who volunteered their time; Owen Kelly, Niall McNamara, Sean Urquhart, Niamh Garrahy and Róisín O'Donoghue. Sharing, bonding, fun and fundraising for a good cause was our main aim for hosting this event. €605 was collected for Focus Ireland.

BT Young Scientists and Technology exhibition
Ten projects were accepted for the 2018 BT Young Scientist & Technology exhibition, which was held in the RDS in January. It was the 29th year that John Sims had mentored students for this competition. This year again the school had success in the competition. Cindy O'Leary, a second year student, was awarded the second place prize in the junior individual biological and ecological sciences category. He project was looking to see if mussels (Mytilus edulis) found in Ireland contain microplastics. In her research, she looked at mussels both found in the wild and farmed. She found microplastics in both types of mussel.
The other students that represented the school so well were: Ian and Amy Woods, Cealan O'Neill, Kate Considine, Katie Thomas, Jessica Kelly, Fearghal Burke, Meabh Meehan, Ella Mullins and Aoife Dowling.
Our First Year students also visited the RDS on Friday 12th January 2018 to whet their appetite for future participation in the competition.
Young Environmentalists
Mary Immaculate have entered two projects in to this year's ECO-UNESCO Young Environmentalists competition. A group of second year students has entered one project and a number of TY students is entering the second one. All the entries are judged and some are selected to go on to the second round. In this round, the project teams must pitch their project to a panel of judges. If they are successful in this round they are chosen to take part in the in the showcase which is held in the Mansion House in Dublin in May.
The two teams from the school have been selected to pitch their projects at the Eco-Den in NUI Galway on 11th April 2018.
The second year group has designed a number of games to help in the education of young people with regard to environmental issues. The TY project is looking a community sustainability.
Catholic Schools Week 2017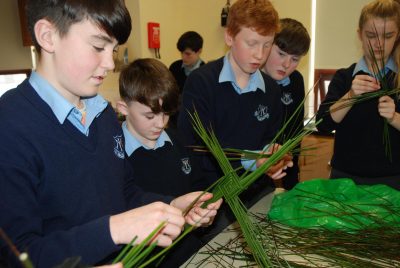 Catholic Schools Week ran from the 29th January to the 4th February. Mary Immaculate is very proud of its Catholic tradition. Pope Francis is to celebrate Mass in the Phoenix Park on Sunday August 26th. This year's Catholic Schools Week asked us to reflect on the theme "called to be a family of families" in preparation for the world meeting of families. A variety of different activities took place in the school throughout the week. Emma Kelly, Aimee Burke, Aoife Dowling and Katelin Vaughan took a lead role in reflective readings. The aforementioned Ty's are participating in the Pope John Paul award scheme this year.
The photo show students working on St. Brigid's Day Crosses. They proudly carry on this rich tradition which brings together craft, skill, local resources and the fun of working to create such a powerful symbol and reminder of our Christian heritage.
CSPE beach clean-up in Fanore
St. Anthony's CSPE class organised a beach clean-up as part of an Action Project for their Junior Cert. The students visited Fanore beach to raise awareness of the growing problem of ocean pollution. They promoted the event using multimedia, including local poster campaign and social media drive. They cooperated with the Clare County Environmental office and An Taisce to make this outing a success.
Success in North Clare Mental Health Essay Competition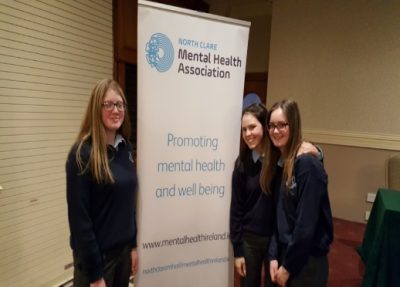 There was success in the North Clare Mental Health essay writing competition for three students from Mary Immaculate Secondary School. The school is delighted with the prize winning achievements of our students who had the opportunity of showcasing their literary talents as well as highlighting mental health awareness in young people.
Congratulations to Katelin Vaughan, awarded Second Place, Kate Considine and Aoife Dowling awarded Runner Up prizes. The five second level schools of North Clare took part in the competition. Well done to all the students who took part and their teacher, Ms. Bradshaw.
Certificate of Achievement
Congratulations to Kate Considine on receiving a Certificate of Achievement for her excellent results in Business Studies Junior Certificate 2017 from The Kemmy Business School, University Limerick in conjunction with the Business Studies Teachers' Association of Ireland.
Wheelchair Basketball
The Transition Years from Mary Immaculate participated in the Western Regional Final of the All Ireland TY Wheelchair Basketball Championships which was held in the Kingfisher NUIG on Thursday 22nd February.  Our TY's raised over €1100 in aid of the Irish Wheelchair Association last November. Post primary schools from Clare, Galway, Limerick and Sligo competed in the regional final. While we were unsuccessful in qualifying for the All Ireland Championship, the students all played their part on the day and did themselves and their school proud.
Certified Irish Angus Beef School Competition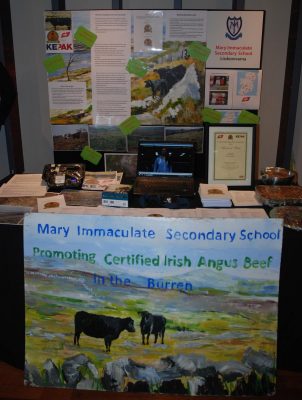 A team from Mary immaculate Secondary School in Lisdoonvarna took part in the Certified Irish Angus Beef Exhibition which was held in Croke Park on 14 March 2018. This was the second year a team from the school entered the competition.
They had entered the competition at the end of October by submitting a 3 minute video outlining their project. From these entries, they were selected for interview by a panel of judges in January. From these interviews, 28 schools were chosen to attend the exhibition in Dublin. Here the group was judged again with judges from Kepak, ABP, Irish Farmers Journal, Tesco Ireland, Irish Angus Producer Group, Teagasc, Bord Bia, UCD, UCC. From the exhibitors five will be chosen to receive 5 Angus X calves which they would rear up to 20 months. The winners will have to record and report regularly on the progress of the calves. The announcement of the winners will be made in the coming weeks.
The members of the group are Amy Woods from Ballyvaughan, Katie Thomas from Doolin and Séamus MacNamara from Lisdoonvarna.
The project from Lisdoonvarna is looking at how suitable Angus X cattle are for raising in the Burren especially using winterage. If successful, they would be running a number of events such as cookery demonstrations and holding information meetings for interested farmers. They have produced recipe leaflets using Certified Irish Angus Beef.
If they are selected to receive the calves, they will be reared on the farm of Roger and Lorraine Woods in Ballyvaughan.
Transition Year Production
The Transition Year students have stayed with their tradition of staging shows and have produced "Little shop of Horrors" under the direction of Lauren Dunne, Finola Costello and Mark Mulqueeney. There were four performances in total, two matinees and two evening performances. A most enjoyable and entertaining production generating some cherished memories and magical moments. Well done to all. Many thanks to the Art teacher Conor Burke, and the art students in helping to prepare the sets for the Transition Year show.