ECO-UNESCO Young Environmentalist National Finals 2018
T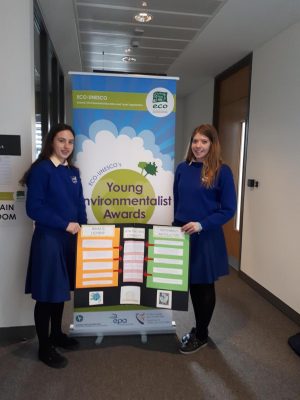 wo Students from St.Brigid's Presentation School Killarney have reached the National finals of the ECO-UNESCO Young Environmentalist Awards with a project entitled "Lichen and Air Quality: Is the Air Quality in our area poor and how can we tell?".
Transition year students Ava Moynihan and Mairead Bennett recently completed the semi-final stage at the Munster ECO-Den held at University College Cork. They impressed a panel of Expert judges by pitching their Eco-action project to secure a place in the Finals, which take place on May the 22nd at the Mansion House in Dublin. There was great excitement in the School when the project was shortlisted for the finals, where they will join 80 other groups from all over Ireland.
Air pollution is one of the biggest threats to our generation and this Young Environmentalist project helps to raise awareness on this topic. To inform school students, the girls held presentations about Lichen and Air Quality during Science classes. In addition to this, they also held a poster competition for the first year students, which allowed them to utilize their creative skills while learning something new. Finally, the girls held a nature walk for students, from which they collected data and produced their results. The students themselves hope that raising awareness in their School community will have a positive effect on the wider environment.
How you can help?
Ava and Mairead are calling on the public to vote for their project for the People's Choice Award 2018; an award decided by online public poll. Voting is open from the 7th to the 18th of May on www.ecounesco.ie (Click "Young Environmentalists Awards" logo and click on the St. Brigid's Photo/project).The winner will be announced at the finals.
The ECO-UNESCO Young Environmentalist Awards is Ireland's biggest all-Island celebration of youth ECO-Action. Since 1999, the ECO-UNESCO Young Environmentalist Awards has recognized and rewarded the environmentsl actions of thousands of young people aged 10 to 18 who are working to protect, conserve and enhance our environment through local environmental action projects, making a difference to their lives and the lives of others locally and globally.
Billy Vincent Award 2018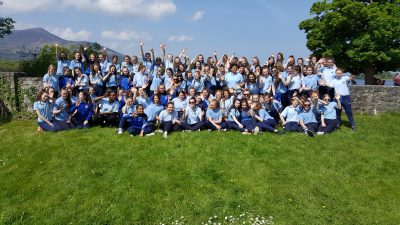 Second year students enjoyed the sunshine at Ross Castle as they embarked on a physical challenge to walk over 10km to complete the final part of the Billy Vincent Award 2018.
TY Trip to Cahirciveen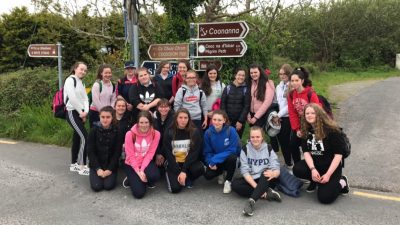 Photos below are taken from the overnight stay in Cahirciveen for Transition Year students. On this trip the TY's enjoyed  coasteering, visited the Skelligs Chocolate Factory and received a tour of the Valentina Life Boat. The students had an action -packed two days of adventure and fun! The trip is the finale of excursions for the St.Brigid's Transition Year students of 2018.