St. Mary's SS, Newport retain the title Bank of Ireland FAI Schools First Year 'B' Girls National Cup Final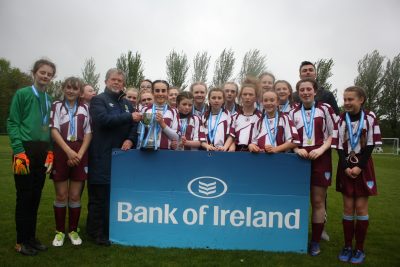 St. Mary's SS, Newport 4-1 St. Laurence College, Loughlinstown
Robyn McNamara (2), Abbie Lenihan (12, 40), Ailin Rochford (52), Isabella Connors (47)
MARY'S SECONDARY SCHOOL, NEWPORT secured their second consecutive title in the Bank of Ireland FAI Schools First Year 'B' Girls National Cup following a confident display against Leinster stars St. Laurence College of Loughlinstown in the AUL Complex yesterday afternoon (May 11).
A brace in each half ensured the honours for the Tipperary crew with Robyn McNamara, Abbie Lenihan and Ailin Rochford getting on the scoresheet as well as Isabella Connors netting of the Dublin side.
The Munster ladies got the perfect start to proceedings with a goal two minutes in as McNamara slotted past Rebecca Prenter from close range.
The Newport lead was doubled ten minutes later as St. Mary's Captain Abbie Lenihan converted with a neat finish.
The decisive blow in this contest came ten minutes from time as the pacy Lenihan latched onto a fine ball from Flynn to produce a fantastic solo run down the centre of the park to ping the ball past the Loughlinstown 'keeper to grab her second and Newport's third of the afternoon
However it was a credit to the St. Laurence girls who kept plugging away and their hard work was rewarded when Isabella Connors scored with three minutes remaining to take the tally to 3-1.
The icing on the cake for Newport came when Ailin Rochford converted in injury time to ensure the title for Darren Harrington's charges.
When lifting the Cup, Captain Abbie Lenihan paid a special tribute to their teacher, Ms O'Connor who sadly passed away last week and attributed the win in her memory.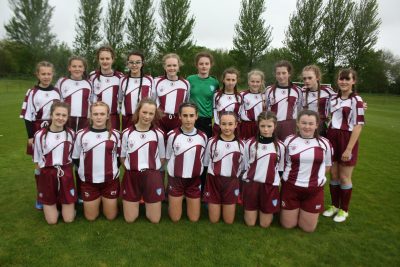 MARY'S SS, NEWPORT | Aoife Kennedy, Mollie O'Hora, Eve Berry, Ellie Kennedy, Caragh Flynn, Robyn McNamara, Sarah Jane Flynn, Ailin Rochford, Abbie Lenihan (Captain), Danah Roche
SUBS | Ciara Mackey, Ria Walsh, Rebecca Bradley, Eryn Ryan, Aisling O'Gorman, Katie O'Brien, Sadbh Lenihan
TEACHER | Darren Harrington
LAURENCE COLLEGE, LOUGHLINSTOWN | Rebecca Prenter, Chloe O'Callaghan, Ava Gibson Doyle (Captain), Keeley Keogh, Alicia Mulligan, Alisha O'Dowd, Lily Murphy, Karla Loughrey, Emma Sinnot, Chloe Mathews, Isabella Connors
SuBS | Lacey O'Connor, Naoise Fitzpatrick, Abbie Stubbs, Demi Prenter, Sarah Culloty
TEACHER | Peter Murphy
REFEREE | Brian Cleary (Dublin)