Saffron Science Competition Winners – European Space Centre
Transition Year Saffron Science team at the European Space Centre. Teachers. Teacher: Mr. Lynch & Ms. Shalvey. Congratulations to our Transition Year Saffron Science team: Emma Jane Mc Keon, Alannah O'Reilly, Crea Shine, Megan Carroll, Lia Mc Namara and Kaileigh Flood who are this year's Saffron Science Competition winners! A huge thanks to their Leaving Cert mentors: Carmel Byrne, Clodagh Kelly, Eva O'Byrne and Clionadh Ball, who guided and assisted the team in the production of the winning video entry. The group have won an all-expenses paid fully escorted tour to the European Space Centre with Saffron Travel on 18th – 20th January 2019, for 20 Students and 2 Teachers. Click here to watch YouTube video
BT Young Scientist & Technology Exhibition 2019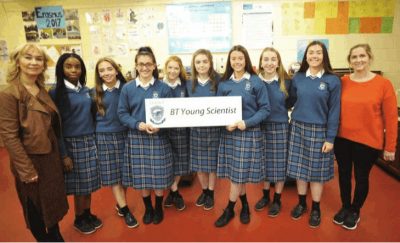 Congratulations to Ms. Wright and her teams who have qualified for BT Young Scientist & Technology Exhibition. Well done to ALL: EmmaJane, Katie and Ruth won a highly commended prize in their highly competitive category.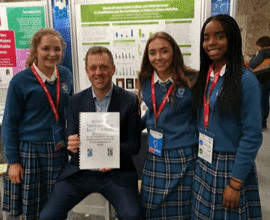 Group 1: Thumbs Up. A Scientific Investigation into texting style and its relationship worth finger strength, and frequency in localisied pain.
Ruth Smyth
Katie Conachy
Emma Jane McKeon
​Group 2: An Investigation Into The Physiological Changes That Occur When Playing 'Fortnite'
Crea Shine
Dara Yore
Faye Donaghy
Group 3: Should All Teens Switch To Black and White Screens?
​Eimear Sherwin
Daniella Onunkwo
Aine Matthews
Catholic Schools Week 2019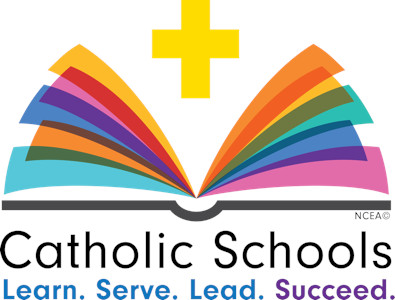 The theme for National Catholic Schools Week 2019 is "Catholic Schools: Learn. Serve. Lead. Succeed."
MONDAY: A Living Tradition.
TUESDAY: Welcoming Diversity
WEDNESDAY: Grandparents Day
THURSDAY: In Service of our community
FRIDAY: Supporting Faith
Junior Certificate Excellence in Business Studies Awards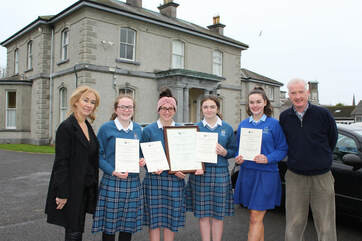 Pictured receiving Maynooth University Department of Economics Finance and Accounting Sponsored Certificates to recognise their achievement in attaining an 'A' Grade in the 2018 Junior Certificate Business Studies Exam are: Caroline O'Reilly (Principal), Eimear Sherwin, Ruth Smyth, Emmajane McKeon, Claire Halpin and Mr John Daly (Business Department).
Congratulations and well done to the girls on achieving Excellence in their Junior Certificate 2018 Business Studies Exam and to Maynooth University Business Dept. on their very generous sponsorship!!
Comórtas Díospóireachta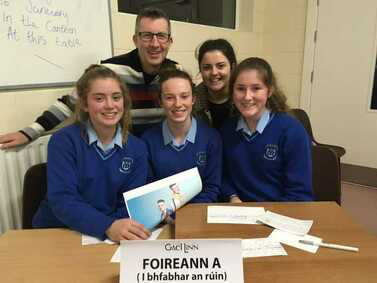 Comhghairdeas arís lenár bhfoirne díospóireachta, a ghnóthaigh áit sa gcéad bhabhta eile de chomórtas díospóireachta Ghael Linn a reáchtáladh i halla na scoile níos luaithe um thráthnóna.
D'éirigh lenár bhfoireann sóisear áit a ghnóthú tar éis dóibh argóint láidir a dhéanamh i bhfabhar an rúin – "Tá an bhliain scoile ró-ghearr". Ba iad Kate McCrystal, Ciara Corcoran agus Caitríona Flynn a bhí rannpháirteach.
An rún a bhí faoi chaibidil ag an bhfoireann sinsear ná – "Bhí sárbhliain againn in Éirinn anuraidh". Ba iad Ciara Draper, Louise Cullen, Orla Casserly agus Áine Corcoran a bhí i mbun cainte in aghaidh an rúin seo.
Is cinnte gur éirigh leo go léir a dtuairimí a chur trasna go slachtmhar. Tá moladh mór tuillte acu – ach obair bhreise ar an gclár anois ag ullmhú don chéad bhabh ta eile.
Microsoft DreamSpace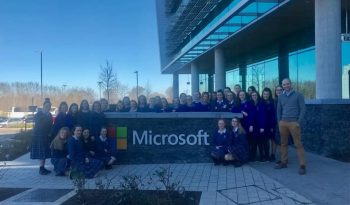 Forty TY students visited Microsoft DreamSpace at Microsoft's European Headquarters in Leopardstown, Dublin. The students were brought on a short tour of the premises, home to over 2000 employees. They were then taken through the variety of uses of modern technology, including an introduction to Artificial Intelligence and Mixed Reality. The students took part in pre designed tasks that involved the use of filming, using 3D paint, and coding, using Microbit. Microsoft's Executive Vice President, Peggy Johnson, was visiting from the US, also popped in for a visit and a brief demonstration from the girls. All the girls seemed to really enjoy the day and hopefully got a taste for life in the tech industry and the possibilities that exist within the industry, particularly for young female graduates. Teacher: Mr. Whitty.
AILO
Congratulations to Rhiannon Farrell (TY) who has qualified for the AILO National Final in DCU Glasnevin on Wednesday 20th March.
This year 1,235 students took part. in the preliminary rounds and the top 100 students in the country are invited to the Final in DCU.
Butler's Chocolate Factory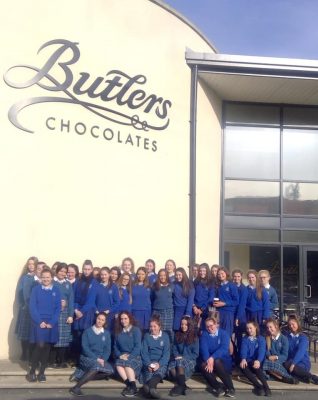 5th Year Students visited Butlers Chocolate Factory on St. Valentine's Day, to carry out a Sensory Analysis of Chocolate as part of their Leaving Cert Home Economics Coursework. The girls watched a movie on the history  of chocolate and took a walk around the interactive chocolate museum.  During the day the girls got a tour of the chocolate factory where they were given a chocolate demonstration and decorated their own chocolate to take home.
Teachers: Ms. Malynn & Ms.Conaty
Rugby Blitz
Some of our students participated in the North East Rugby Blitz in Drogheda which was organised by Leinster Rugby. The girls competed in tag rugby, junior contact and senior contact.
Basketball Regional Winners
Well done to the 1st and 2nd year Basketball teams on two great victories against Drogheda. Both teams have secured a place in the Regional Semi Final in March. Excellent team performances against all four teams in the pool. Teachers: Ms. Wright & Ms. McCormack.
Rang Eoghan YSI visit the Dáil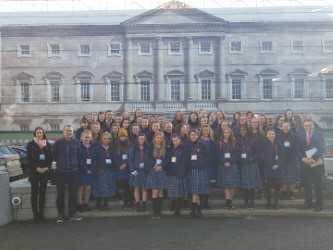 Rang Eoghan YSI class went to Dáil Éireann on Wed 31st of January to meet with Senator Lorraine Clifford Lee to talk about their YSI project "Our Conversation about Menstruation".  Lorraine is lobbying for free sanitary products to be made available in public places throughout Ireland. Teacher: Ms. McCormack.
LCA – Hotel Catering & Tourism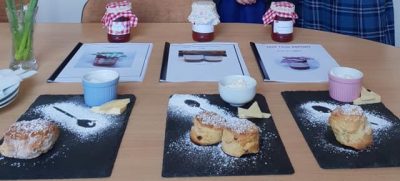 Well done to Kathy Calnan, Eva Geraghty and Cara Rountree, who completed their Hotel, Catering and Tourism Interview. Over the last few weeks, the girls have studied the principles of preservation and have successfully produced three types of preserves to sell to family and friends.  Well done girls! Teacher: Ms. Malynn.
TY YSI launch "Never Home Alone" Project on Loneliness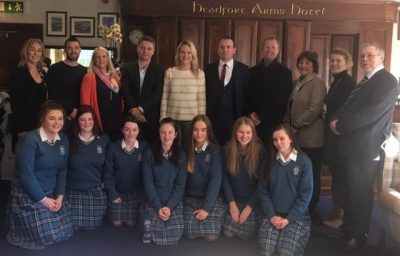 TY Rang Fionn today launched their YSI project aimed at tackling loneliness and social isolation in the community with a hugely successful Coffee Morning in the Headfort Arms Hotel, Kells. The Coffee Morning was run as a fundraiser for Third Age; who are a senior citizens charity based in County Meath. Students wish to highlight loneliness and the negative impact it has on the lives particularly of older people in the community and have put together an 8-week programme to try and make a difference locally. Entitled 'Never Home Alone' the 8-week programme will see TY students take part in various activities with older people to help connect the generations and address the issue of loneliness and associated mental health problems. We are very appreciative of the support we are receiving from Age Friendly Ireland; Meath County Council; local Gardaí, members of the Meath Older Persons Council, Prosper Meath, Third Age, local and national Public Representatives and indeed the entire community. A special thanks to the Headfort Arms Hotel for their very kind hospitality in hosting our Coffee Morning. Teacher: Mr McKee
Safer Internet Day (SID)
Safer Internet Day (SID) is an EU wide initiative to promote a safer internet for all users, especially young people. It is promoted in Ireland by the PDST Technology in Education and Webwise. The Theme for Safer Internet Day is "Together for a Better Internet". Safer Internet Day 2019 was celebrated on Tuesday 5th February. Ava Reilly & Lucy Smith will be interviewed on LMFM with Sinéad Brassil on her new 11-1 Show. There were various activities carried out during the week including a poster competition.