Ezio Lupo Bursary Competition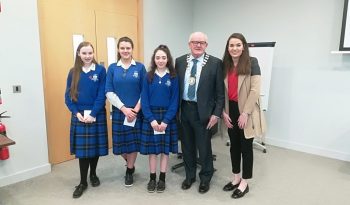 Well done to 2nd years Alice, Aleksandra and Katie, who came runners up in the Ezio Lupo Bursary Competition recently, they represented our school with pride. Many thanks to Ms Hickey for her support and encouragement!
Odd Sock Day for Wellbeing Week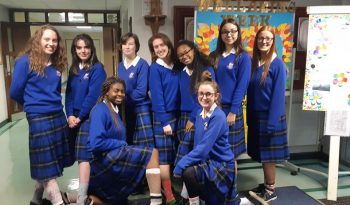 Our Wellbeing Week started on 21st January with our Odd Sock Day with lots of colourful, creative entries were on display on our corridors throughout the day!
CAMHS Workshop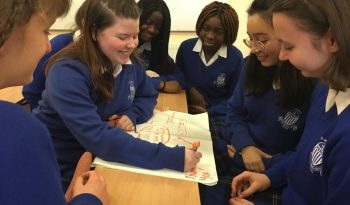 Many thanks to Niamh Murphy and Anna Monaghan from the Meath Child and Adolescent Mental Health Service who hosted a workshop with our 3rd Years as part of our Wellbeing Week.
Wellbeing Walk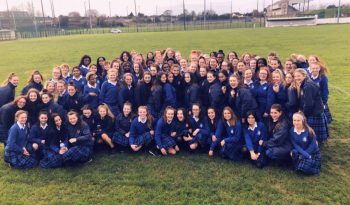 Our 3rd and 6th years enjoyed a Wellbeing Walk as part of Wellbeing Week, with hot chocolates afterwards! Thank you to our team of staff and students who have made this week of Wellbeing a huge success.
3D Donate to DSPCA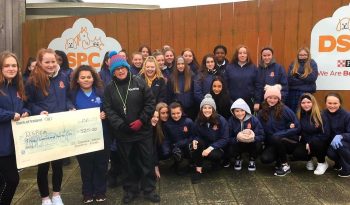 Well done to 3D who held a fantastic bake sale recently to raise funds for the Dublin Society of Prevention of Cruelty to Animals. As part of their CSPE action project, the class visited the DSPCA centre in Rathfarnham to learn more about the work the society does and were delighted to present them with the funds raised, €320. Thanks to all who baked and gave generously to support this worthy cause, and to their teacher Ms Brady for facilitating.
Maynooth University Business Awards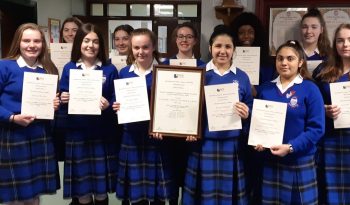 This year, eleven of our students achieved an A grade in their Junior Certificate Business Studies exam: Rachel, Anusha, Aisling, Reidin, Zuzanna, Niamh, Rawan, Ella, Katie M, Katie S and Megan. Business Studies at Junior Certificate level is the only non-core subject with two examination papers totalling four and half hours – excellence does not come easily and all the more reason to  congratulate students and their dedicated teachers!
Each year, the Department of Economics, Finance and Accounting, the School of Business and the Department of Law at Maynooth University celebrate the achievements of students in the Junior Certificate Higher Level Business Studies exam. The event is organised in conjunction with the Business Studies Teachers' Association.
TY Trip to Rome
Written by: Eimear (TY A)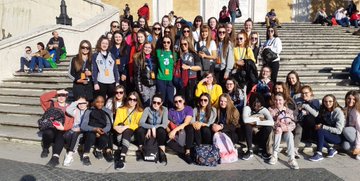 On February 6th, at 6.20am, we left Dublin Airport to travel to Rome. We were all so excited for our big trip away. After our three-hour flight, we finally landed in Rome and were hit with the heat! We started our day with a four-hour walking tour of Rome. We visited many sights as part of this tour, including the Spanish Steps, Trevi Fountain and the Pantheon.
Over the next couple of days, we visited the Vatican, St Peter's Basilica, the Sistine Chapel, the Colosseum, Roman Forum and Palatine Hill. On our last day we visited the Catacombs of Saint Sebastian. We also did some shopping!
Overall, we had a really enjoyable time and Rome is a beautiful city we hope we can all visit again.
A Million Dreams
Written by: Ruth (TY B)
Transition Years have been working really hard preparing for our musical 'A Million Dreams'.
The musical is our own version of the very popular film 'The Greatest Showman'. The musical has been written by Mr. Burke and with the help of Ms. Hickey, Ms. Kerrigan and Ms. Walsh, it is really coming together.
We started the year off with auditions and thankfully casting was easy because talent is abundant in TY! Now that the cast have been chosen, we are all busy learning lines and perfecting the songs. With the help of Ms. Toher our choreographer, we promise an outstanding show.
We are currently being fitted for our costumes and are very excited about performing. We are running a competition in TY to design a poster for advertising and the cover for our musical programme, so to all the artistic and creative girls are also hard at work with this!
Don't forget to pencil in the dates of the show for your diary: Tuesday 30th April and Wednesday 1st May at 7.30pm in the Phoenix Theatre.
We are all so excited and are really looking forward to seeing you there.
Gúna na Boinne in Junk Kouture Regional Final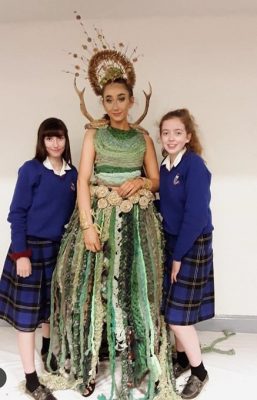 We are delighted to announce that one of our TY entries for Junk Kouture has won a place at the regional final! Over 1,400 entries were submitted and our Transition Year student won one of the coveted 395 places. Well done to the girls Hannah Dempsey, Anna Gibbons and Nicola McElroy and their entry Gúna na Boinne. We wish you the best of luck in the competition!
Mercy Navan Junk Kouture
Written by: Sarah (TY B)
Back in September, we started Junk Kouture by joining the two TY classes, splitting into groups of three, and pitching our ideas. For Junk Kouture, you need to make a dress or outfit entirely from materials which would otherwise be thrown away. Old scratched CDs, old curtains, broken trampolines, used baby bottles, ring tabs from hundreds of cans, bottle lids and potato sacks were all used in different dresses from our class.
Each team had to make a headpiece and shoes to go with the dress. We entered eight teams in total into the competition. One team, 'Gúna na Boinne', got through from the judges vote, and the rest of the dresses were given the chance to get through via a lifeline vote. We are looking forward to the Regional Final in Castlebar on March 7th and hopefully the National Final on May 2nd.