Below is a report from Sr. Jyoti of PCS Delhi  re their recent visit to Ireland including Sr Jyoti's attendance at the CEIST Conference.
Ireland Trip 2018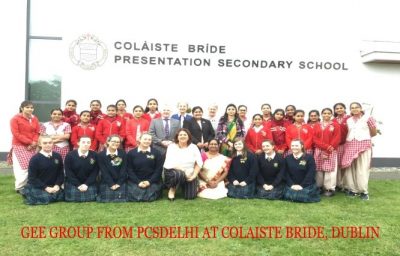 We come across many events in our life but some leave footprints and memories to cherish for a long time.My trip to Ireland with 19 students from class 8 to 12 and two teachers was such a wonderful and enriching experience that it still continues to linger long after we have returned.
I feel extremely privileged to have been part of the Global Education Exchange Program 2018 with Coláiste Bríde, Presentation Secondary School, Clondalkin, Dublin. This exchange program was for 11 days, from 23rd September to 4th October. We were welcomed by Sister Anne Nevin, Ms. Marie Therese Kilmartin (Principal, Coláiste Bríde) and the student counsel at the airport in Dublin. We stayed at Maldron Hotel which was just 10 minutes walk  from the school and it  was most comfortable and convenient.
With a well planned itinerary in our hand and experienced and caring teachers to accompany and guide us every day, it was an amazing trip for us from the beginning to the end.  The bus tour of Dublin, visit to  the places like Trinity College, The Book of Kells, Viking Splash, Cirque Berserk-Bord Gais Energy Theatre, Dublin Zoo, Glendalough in Co Wicklow – the Garden of Ireland, Round Tower, St. Kevin's Monastery, Dundrum town, Killarney – Co Kerry, etc., remain very fresh in my mind. Our two nights stay in Gleneagle Hotel at Killarney and travel to the ring of Kerry beside the Atlantic Ocean cannot be compared with any other place.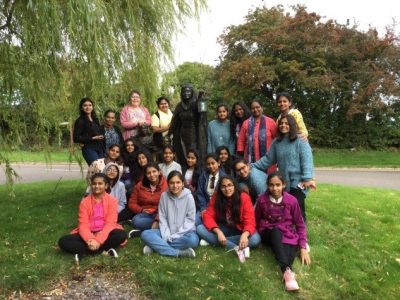 We learnt a lot about the education system in Ireland. Students got opportunities to attend Irish, Spanish, Art and other classes along with the students at Coláiste Bríde. They made friends and exchanged a lot of unforgettable memories. Students also got a chance to present a cultural program which was a great hit with the Irish students. They took part in YSI (Young Social Innovators), an outreach project and spent time interacting with the student counsel.
Although, we keep with us so many amazing memories, the biggest blessing for us was the trip to Ballygriffin and Cork where our founder Venerable Nano Nagle was born, lived as a child, walked the lanes of the city and tirelessly worked for the education of the poor children.  Walking through the same lanes, we all felt her spirit in the air and peace in the place where she rests now. The Church where Nano prayed at the end of her daily work, her tomb, the museum and the sharing with the sisters there were enlightening and very enriching.
I also had an opportunity to attend a conference in Athlone, Ireland organized by CEIST (Catholic Education an Irish Schools Trust) I was a special guest from India and was accorded a warm welcome amidst many dignitaries. The main topics of discussion were Worldwide Global Schools, vision of CEIST schools, teamwork and relationship building at senior Management Level. It was a very good exposure to the world education forum.
Like all great travelers, I have seen more than I remember and remember more than I have seen. What makes it memorable is that everything we saw and did was meaningful, significant and colourful. We were all contented and thankful to God for having given us this memorable experience and taking care of us throughout our journey. We are grateful to Sr Ann Nevin and Ms Marie-Thérèse Kilmartin for making all the arrangements for our  comfortablestay and visits.  We are also grateful to Sr Miriam and team and my community for allowing me to have such an enriching experience.