Nicole Marinos – Grand Boston Scientific Medical Devices Award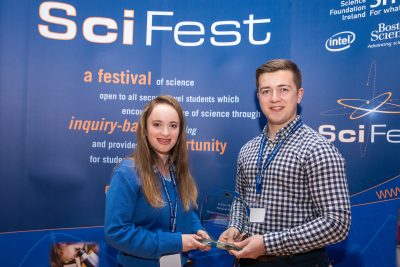 Nicole Marinos, a Transition Year student at Christ King Secondary School, competed at the SciFest 2018 National Final on November 9th.
SciFest  is an all island STEM (science, technology, engineering and mathematics) initiative which fosters active collaborative and inquiry-based learning among secondary level students.  It continues to grow year on year with over 10,000 students participating in local and regional SciFest STEM fairs across the country just this year.
37 projects qualified from the regional fairs to compete in the SciFest National Final which was held in the Marino conference centre in Dublin. At the final Nicole was awarded an Excellence in STEM Award and the prestigious Grand Boston Scientific Medical Devices Award. Nicole designed a visual communication device to help patients successfully complete their MRI scan. Nicole developed the project over the past 15 months working both with the MRI Department in the CUH and researchers from Nimbus CIT. Congratulations Nicole.
Leanne Murphy – European Junior Boxing Champion
Transition Year student Leanne Murphy  had great success in the boxing arena recently. Leanne is captain of the Irish Junior Boxing Team and won a Bronze Medal at the recent European Championships in Russia. Leanne is a member of Togher Boxing Club. She received a great welcome home on her return to Christ King.
"I Have a Dream" – Christ King School Show
Christ King Music Department and Transition Year Students presented "I Have a Dream" on the 28th, 29th and 30th of November. The show featured the music of ABBA and was a great success and loved by all.