Léargas Quality Award for Junior French students at Our Lady's
Congratulations to Miss Daly's second year French class who have recently won a National award for their participation in a Language project collaborating with European schools. The project was completed through the target languages of French and English. Students used digital technologies to collaborate with schools from France and Germany comparing Easter traditions in each country. Students worked in groups with French and German students to compare various elements of Easter traditions in each culture.
This proved to be a fascinating cultural and educational endeavour. In addition to learning about other cultures, the participating students from the class enjoyed the opportunity to utilise their French language skills and to put into practical use their everyday class learning. The National eTwinning Quality award was presented to Ms Daly and her French Class by the Léargas organisation in recognition of the students' excellence in various categories such as the use of ICT, pedagogical innovation and collaboration between partner schools.
Well done on a fantastic achievement for our budding French students and their teacher, Ms Daly.
International Success for Our Lady's at the Llangollen – Eisteddfod International Music Festival
Congratulations to Our Lady's Secondary School Spraoi group, under the direction of Music teacher, Ms Cara Murray, who achieved 3rd place in the Dancing in the Street section of the Llangollen – Eisteddrod International Music Festival which took place in Wales. The Llangollen International Musical Eisteddfod is a music festival which takes place every year in July in Llangollen, North Wales. Singers and dancers from all over the world are invited to take part in over 20 high quality competition with over five thousand singers, dancers and instrumentalists from around 50 countries performing to audiences of more than 50,000 over the 6 days of the event. This year performers including The Kaiser Chiefs, Toploader, The Hoosiers, and Alfie Boe, to name a few, took to the same stage as our students.
Spraoi are a versatile group of performers from Our Lady's, Castleblayney, drawn from 1st Year to 6th Year. They play all genres of music and were very privileged once again to be representing Ireland in the international competition. This year the group performed in local schools, in the town square and on many smaller stages as well as the International Pavillion Stage. The main opening ceremony was performed by C.B.E. Terry Waite and a message of peace was performed by all nations participating. Our Lady's students represented Ireland in two categories at the festival and were awarded a 3rd place in the Dancing in the Street competition having being outdone by two groups from India. Positive comments from the judges included: "this group provided such energy and life whilst balancing this with haunting melodies and voices."
Speaking at the school during the week, Principal, Mr. Kelly congratulated the students on their outstanding success remarking it was well deserved for all their hard work and efforts. "When you take this success of our talented musicians and dancers along with the success of the choir securing 1st places in the National Showchoir competition and the Navan Choral festival it has been a remarkably successful year for this particular group of students". Mr. Kelly paid tribute to the outstanding work of Our Lady's music teacher Ms. Murray whose vision, energy and drive is instrumental in so many of Our Lady's musical successes. Mr. Kelly also thanked those teachers and parents who travelled to assist and support Spraoi at the competition in Wales remarking that this continuous and ongoing support is greatly appreciated by staff and students.
Leaving Cert Class of 2018
The Principal and staff of Our Lady's Secondary School were delighted to welcome back the Leaving Cert Class of 2018 to a reception in the school last Thursday 30th  August.  Leaving Cert results… college places….debs… there was much to talk about and discuss.  In what can best be described as an atmosphere of congratulations and celebration, these young people took time out from their busy college preparations to once again meet their teachers with whom they had worked so closely for the last six years.  The staff, for their part, took the opportunity to offer congratulations to this group of students who had achieved outstanding results, many attaining personal bests.
Speaking at the school during the week Principal, Mr Eddie Kelly commented on this year's excellent Leaving Cert results, "as a school we are absolutely delighted with this year's Leaving Certificate results as all of our students across many different levels achieved above and beyond what they had expected. We are extremely proud of all our students as they leave not only with a set of excellent Leaving Certificate results but have necessary traits & characteristics that will ensure they will be successful as they move into next phase of their lives".
These results allow them to pursue courses in Economics & Finance, Business & Law, Primary School & Secondary teaching, PE & Biology, International Arts, Performing Arts, Engineering, Architecture, Occupational Therapy & nursing to name but a few, and puts them up there with the best in the country.  Like their predecessors, this fine group of young people, leave a very strong legacy behind them in their sporting, literary and theatrical pursuits and achievements and have left their mark on the school with their friendly, generous and balanced natures. Any school in Ireland would be proud of such fine ambassadors.
As many of the students head off to take up their college places over the next few weeks, there is an air of anticipation and expectation although tinged with a little sadness, as one student put it 'they were leaving their second home, in leaving Our Lady's'.  This year's group, like other years, head off in large numbers to DCU, UCD, DIT, Trinity, Maynooth, IT's, St Pat's, & MIFET to name but a few.
As we bid farewell to this class, preparations are already being put in place by Guidance Counsellor,  Mr Geraghty, for the current 6th Years to attend the Higher Options Conference in the RDS mid September and so the cycle begins again.
High Achievers at Our Lady's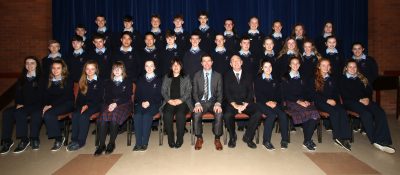 Pictured in Our Lady's Secondary School are the 36 students who achieved a Grade C or higher in all honours subjects. A special word of congratulations goes to Tara Quinn who attained 8 A's, 1B and a Distinction in Higher English. The students are pictured here with Principal, Mr Eddie Kelly, Deputy Principals, Mr Finbarr Brohan and Ms Jane Treanor. Congratulations to the following:
Jodie Mc Quillan, Joseph Mc Naney, Jack Dunlop, Andrew Duffy, Vincent Chen,Chloe Caulfield, Emils Zeps, Gavin Mc Skeane, Barry Mc Crarren, Daniel Madden, Dylan Kerr, Ellianna Fox, Connor Eccles, Caoimhe Brennan, Tara Quinn, Liam Og Mulligan, Kornelia Ligudzinska, Cillian Hanratty, Dylan Gleeson, Maria Duffy, Katie Ward, Caoimhe Sheridan, Justine Perez, Cormac Mc Cusker, Emma Hanratty, Taryn Clarke, Louise Murphy, Katie Mohan, Michaela Mc Geough, Mia Mackie, Laura Christie, Melissa Carr, Aoife Burns, Jordyn Callan, Joshua Ward (absent from photo), Oisin Ward (absent from photo)
Stars meet at the 'Castleblayney celebrates Big Tom Festival'  – Our Lady's Choir and Eamonn Toal
Award-winning choir at Our Lady's Secondary School were delighted and very privileged to perform at the 'Castleblayney celebrates Big Tom Festival' last weekend. Giving their rendition of one of Big Tom's all time favourites, 'Four Country Roads', the choir were part of the entertainment at the opening of the Music Wall of Fame on McGrath Road.
The choir, who last year secured 1st places in the National Showchoir Competition and the Navan Choral festival were also delighted to meet with Castleblayney man, Eamonn Toal who represented Ireland in the Eurovision in 2000, whose performance earned 6th position for Ireland.
All in all a star-studded weekend with Castleblayney music legends being honoured and Our Lady's choir relishing being part of the history being made at the weekend.
International Recognition for Erin & Our Lady's
Erin Hamill, a Fifth Year student at Our Lady's Secondary School, Castleblayney, was the toast of the school in recent days having received her international cap for the Under 17 women's team this summer. Erin has been a prominent player on basketball teams at Our Lady's during her time in school and international recognition is a just reward for her hard work and commitment to the sport. Erin is daughter of Brendan and Nuala Hamill from Tullynahinera, Castleblayney and the school and local community extend their congratulations to Erin and her family upon her success.
Erin was part of the Under 17 Women's International team who were training this summer and was capped in games in July in Tralee against the Scottish under 18 side. She has started the school year in excellent fashion playing major roles in the under 19 girls being 3 from 3 in games this season.
Speaking at the school during the week, Principal Mr. Eddie Kelly congratulated Erin on her latest success "I'm delighted that Erin's ability, hard work & commitment have been recognised at such an elite level. Erin is an extremely talented player but also displays the necessary dedication and commitment required to perform and succeed at such a high level. She is a most cooperative and unassuming student and is an excellent role model for her peers and the younger students in the school. We wish her every success in her preparations over the coming weeks and months"
Irish Initiative at Our Lady's – An Gaelbhratach
Our Lady's Secondary School are delighted to participate and be involved in a Gael Linn-led initiative ' An Gaelbhratach'  this year. This programme seeks to promote the use of Gaeilge in the school community and to create an awareness of and interest in all things related to our Mother tongue. It can culminate in the achievement of an 'Irish Flag' by the school.
While the initiative is being spearheaded by the Irish department in the school, they will be seeking to bring all the partners in education on board, including parents and the Board of Management. As part of the program, three members of the Coiste had a training session in the Carrickdale Hotel on Wednesday 19th September.
No doubt we will be hearing lots more from these young Gaeilgeoirís!