Lourdes Trip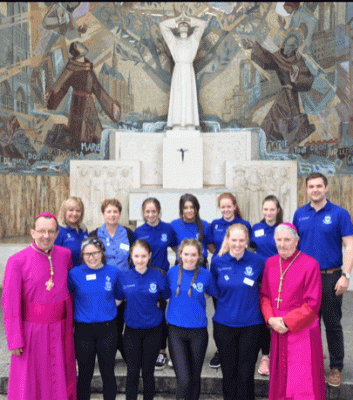 Pictured with recently retired Bishop of Meath, Bishop Michael Smith and his successor Bishop Thomas Deenihan is a group of students from Eureka Secondary School Kells, who have just returned from Lourdes as part of the Meath Diocesan Pilgrimage 2018.
Emma Henry, Susie Dolan, Orla Hamill, Aoife Coonan, Áine Thorpe, Eva McCullen, Katie Mai Farrell (all 5th Years) and Rebecca Foley (6th Year) volunteered as part of a Youth Ministry Initiative in their school, to assist hospital pilgrims over their five-day visit. The girls were accompanied by their teachers Ms. Gabrielle Harte, Mr. Martin Devine and by the school secretary Ms. Jennifer Reilly who is long associated with the Diocesan Pilgrimage.
The students immersed themselves in the Lourdes experience, giving selflessly and generously by assisting the hospital pilgrims, attending the various ceremonies and masses including International Mass, visiting the grotto where our Lady appeared to St. Bernadette and the baths where pilgrims can bathe in the healing spring water. The students very much appreciate the support and encouragement shown by  Pilgrimage organisers and helpers and extend their thanks to all involved.
Eureka Talks
Eureka Secondary School was delighted to welcome guest speakers Senator Lorraine Clifford-Lee and Cllr Sarah Reilly to their school on Friday 7th September to discuss local and national politics with their 5th and 6th Year 'Politics and Society' students. Both speakers talked about their experiences and encouraged the girls to consider politics as a viable career path. Students engaged in a 'Questions & Answers' session and found it most worthwhile.
This is the first of many 'Eureka Talks' planned for the year. Next week Minister for European Affairs, Helen McEntee T.D., will talk on 'Ireland, Brexit & the EU'. 
TY Students Visit Áras an Uachtaráin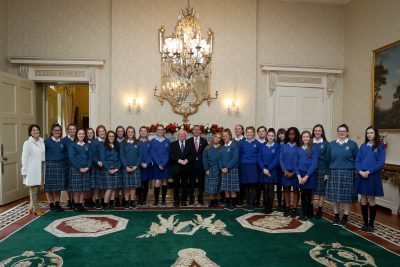 TY students were invited to visit Áras an Uachtaráin on Thursday 20th September, to view the presentation of Credentials by new Ambassadors to Ireland. They met President Michael D. Higgins, received a guided tour of the state rooms and were offered light refreshments in the state dining room.
Teacher Ms. McGuinness was accompanied by Damien English, Minister of State for Housing and Urban Development.