Sports and Wellbeing Day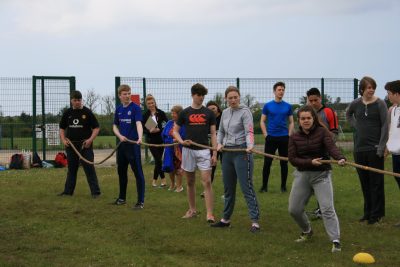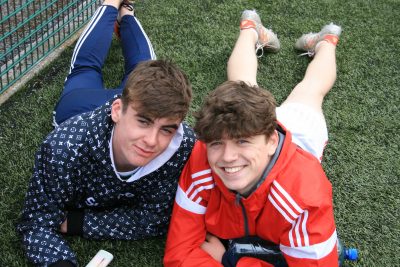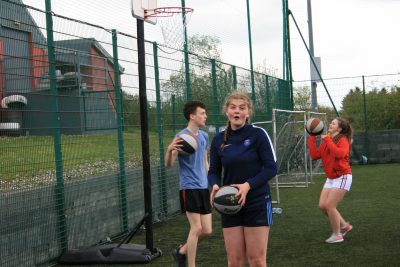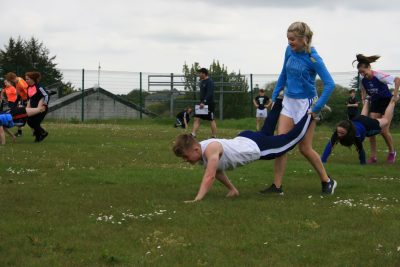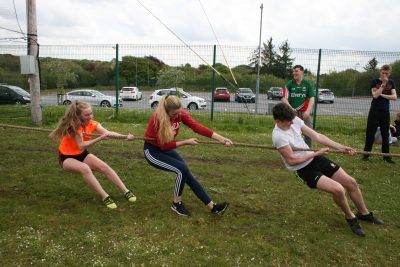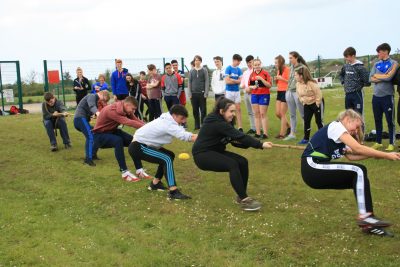 Students of Mary Immaculate and staff believe that emotional wellbeing is positively associated with participation in sport and recreational activity among its school community.
To this end, students and staff had a very active day taking part in a variety of activities including: Penalty Shootout, Tug of War, Tag Rugby, Wheelbarrow Race, Basketball shots.  There were Senior and Junior teams each exhibiting a healthy competitive edge as points were being awarded depending on the position of the team in each event.
Emerging as Senior Sports and Wellbeing victors was team E: Katie Thomas, Robert O'Connell, and Arthur Collins.  Senior Team E Leaders were: Jody Whelan and Ken Scheunemann.  Emerging as Junior Sports and Wellbeing victors was also team E:  April O'Callaghan, Ailbhe Haran, Luke Randall, Gerard Howard, Peter Collins, Bláthnaid Marsh, Holly Neylon. Junior Team E Leaders were: Róisín McNamara and Daniel Fogarty.  The mental and physical health of all involved was given a boost and the Lord blessed proceedings with some very fine weather.
Ninth Annual Student Award Ceremony
The ninth Annual Student Award Ceremony was held at Mary Immaculate Secondary School on 24th may 2018.
This award ceremony is designed to encourage and challenge each of the students to be the best possible person they can be.  It is about doing your best in a respectful and inclusive way and in so doing creating a sense of community.  It is also about having your efforts and contributions to school life recognised not just this year but over all the time you have graced the corridors of Mary Immaculate.
As well as presenting the student of the year awards and the CEIST and Hughie Kivlehan awards there were a large number awards to students in a wide range of areas including attendance, business, art, English literature, science, Feile na hÍnse, music, charity fundraising and sport.
Junior Cycle Profile of Achievement
Last year, in June 2017, our Junior Cert students, i.e. our present TY students, made history when they sat the new Junior Certificate in English with improved learning experiences for students especially in the area of classroom based assessment and oral presentation.  At the annual awards ceremony Mr. O'Loughlin, the principal, presented the students with their Junior Cycle Profile of Achievement (JCPA).
The JCPA is a new kind of award.  It will replace the Junior Certificate. It reports on student achievements across a broad range of areas of learning in junior cycle such as personal and social development, cultural, pastoral, scientific, entrepreneurial, participation in musical, school liturgies, membership of Students Council, or membership of school's sport teams.
Mary Immaculate Secondary School students are successful in the Certified Irish Angus Beef School Competition
There was great rejoicing when a team of students from Mary Immaculate Secondary School were informed that they were successful in the competition and will be receiving five Irish Angus calves at the ploughing competition in September. On the 14th May 2018 the students attended their first event which was held in Cahir. The students visited the local ABP factory where they were given a detailed tour of the factory. They also visited Dovea Genetics near Thurles where they met the calves for the first time. They also attended presentations from Kepak, ABP, Irish Angus Producer Group and Tesco Ireland.
They had entered the competition at the end of October by submitting a 3 minute video outlining their project. From these entries, they were selected for interview by a panel of judges in January. From these interviews, 28 schools were chosen to attend the Certified Irish Angus Beef Exhibition, which was held in Croke Park on 14 March 2018. Here the group was judged again with judges from Kepak, ABP, Irish Angus Producer Group, Irish Farmers Journal, Tesco Ireland and a number of other organisations. From the exhibitors, six have been chosen to receive five Irish Angus calves, which they will rear up to about 20 months. The winners will have to record and report regularly on the progress of the calves. They will also be running a number of events in North Clare over the next two years to promote Certified Irish Angus Beef to both consumers and producers.
The members of the group are Amy Woods from Ballyvaughan, Katie Thomas from Doolin and Séamus MacNamara from Lisdoonvarna.
The project from Lisdoonvarna is looking at how suitable Irish Angus cattle are for raising in the Burren especially using winterage.
The calves will be reared on the farm of Roger and Lorraine Woods in Ballyvaughan. Roger and Lorraine Woods are the parents of Amy.
Very successful month for Mary Immaculate in Science competitions
Students at Salters festival of Chemistry in UCC
Mary Immaculate secondary school has been involved in four different science competitions in the past month. We started off at SciFest@LIT. Here we had four projects entered. One of our projects won the senior category of the life sciences section. It also won the Abbott Runner-up Best Project Award. The project was entitled "Expansion rates of Japanese knotweed (Fallopia japonica) in North Clare". This project was carried out by TY student Amy Woods from Ballyvaughan.
The other projects at the event were: Katie Thomas – "The effect of acidic seawater on Coralline algae and different seashells", Kate Considine – "How much do dirty car headlights affect driver visibility?" and Aoife Dowling – "Did the opening of an Aldi store in Ennistymon affect the shopping patterns of people in North Clare?". Well done to all the students and their mentor John Sims.
A team of 4 first year students took part in the Salters' Festival of Chemistry which was held in UCC on the 2nd May 2018. The Salters' Festivals of Chemistry are an initiative of the Salters' Institute, whose aim is to promote the appreciation of chemistry and related sciences amongst the young. The Institute is delighted that the Royal Society of Chemistry is working in partnership with them again this year.
During the day each team solves two different challenges using chemistry. The first challenge is a two hour challenge which is the same for all Festivals of Chemistry held in Ireland and the UK. This challenge is set by the Salters' Institute. The second challenge is set by each of the organising universities. They also attend a practical chemistry workshop.
This year the Lisdoonvarna team took third prize in the Salters Challenge. This was a very good achievement as there were 25 schools taking part. The students involved were Ailbhe Haran, Gavin O'Brien, Jack Lynch and Aishling O'Donoghue. They were accompanied by science teacher John Sims.
The school also entered three projects in SciFest@GMIT. Here again one of the projects won one of the main awards. Fearghal Burke won the Maths in Science Award for his project on "a statistical analysis of Irish winning lotto numbers". The other entrants were Ian Woods woth his project entitled "The effect of weather, vegetation and topography on the movement of cattle in a winterage in the Burren" and Ella Mullins & Maebh Meehan with their project entitled "V-notching of lobster in Galway Bay-success or not?".
Two teams from Mary Immaculate Secondary School were successful in making it to the ECO-UNESCO Young Environmentalist Awards Showcase, which was held in the Mansion House in Dublin on the 22nd May 2018. Only 80 teams from 240 entries made it to this event.
The second year group has designed a number of games to help in the education of young people with regard to environmental issues. The TY project is looking at community sustainability. The students were accompanied to the event by their mentors John Sims and Mona Hynes. Well done to the students for their commitment to preserving the environment. An enjoyable day was had by both students and teachers. 
First Year Ladies Football Blitz
Mary Immaculate Ladies Football First Year Team participated in the Annual First Year Blitz in Eire Óg GAA Grounds on Wednesday May 16th 2018. They were runners up in their group games against Scoil Mhuire Ennistymon, Spanish Point and Coláiste Mhuire before competing in the B Shield Final against St Caimin's Community School Shannon who went on to secure the title in a well fought game. Well done to all involved.
 Ladies Soccer Success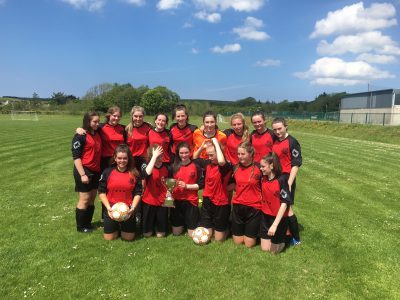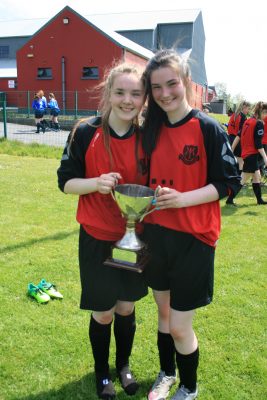 Mary Immaculate Secondary School took on St. Flannan's in the Clare Secondary Schools Cup final on Wednesday 23rd May.  It was an action packed game with both sides displaying magnificent skill and talent over the course of the game.  St. Flannan's went 2-0 up before Mary Immaculate replied with two goals in quick succession to level the game.  Half time saw the score 4-2 to Mary Immaculate, however St. Flannan's quickly reduced the deficit to 4-3 before Mary Immaculate pushed on again with another goal to make it 5-3. St. Flannan's battled hard and managed to score again just before time was up leaving the full time score 5-4 to Mary Immaculate.  A hugely entertaining game played in great conditions and glorious weather.  Well done to all involved.