Presentation to retiring Principal John O'Loughlin
Jessica Kelly, Chairperson of the Student Council, presented John O'Loughlin with an apple tree, for his home garden, on the occasion of his forthcoming retirement from Mary Immaculate Secondary School. A second apple tree was planted in the recently established well-being space in the courtyard.
Julie Morton, on behalf of the Parents of Mary Immaculate, presented John with a gift for this contribution to education in Mary Immaculate.
John, who was appointed principal in August 1993, thanked the parents and students for their good wishes, appreciative words and gifts. He congratulated Deputy Principal Mona Hynes on her appointment.
Climate Action Day Friday 24 May 2019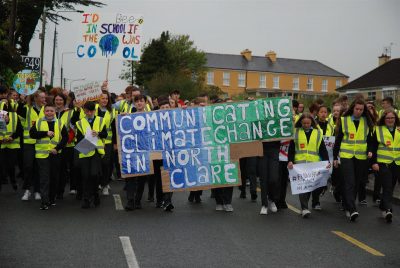 On Friday 24 May 2019 Dr. Lorna Gold launched the school's Wellbeing Garden space for students and staff use.
She did unveiled a limestone sculpture by Jethro Sheen and the TY Young Environmentalists featuring the Cliffs of Moher, the Dolmen, Burren fauna and flora.
After the official opening of the school's Wellbeing garden students took part in Climate Action March to the Pavilion Theatre where Mary Immaculate's Young Environmentalist students made a presentation of their Young Environmentalist Projects "Communicating Climate Change" and "Creating a Wellbeing Garden in our School", Guest speakers at the event were Dr. Lorna Gold of Trócaire and Seamus Walsh, Head of Climate Observations for Met Éireann. In attendance also from Met Éireann was Evelyn Cusack. A most informative morning.
In the afternoon students Fionn Shannon and Rachel Carter, together with Deputy Principal Mona Hynes and teacher Maggie Garrihy, had an opportunity to meet the King and Queen of Sweden who were visiting Lisdoonvarna and tell them a little bit about the possible effect of an increase in sea levels will have on the coastal villages of Clare by 2090.
School Awards 2019
This year marked the tenth student Award ceremony. The Department of Education and Skills Whole School Evaluation earlier this year WSE-MLL praised Mary Immaculate for its breadth of awards focussing on the holistic development of the students in a range of curricular, co-curricular and extra curricular activities.
I wish to extend my congratulations to all students who have received an award for their contribution to school life, for their Christian care and concern and for the excellence of their learning and achievements in Mary Immaculate for the school year 2018-2019.
This year I am delighted to welcome back to Mary Immaculate Ms. Rose Hynes
Rose Hynes, past pupil, presented the main awards. John O'Loughlin, in his welcome of Rose said that "It gives me great pleasure to welcome Ms. Rose Hynes, member of our Past Pupil Class of 1970." He went on to outline some of her achievements.
"Rose is from New Quay Co Clare. Having completed her Leaving Certificate in Mary Immaculate Lisdoonvarna she then studied law in UCD and qualified as a lawyer. She has had a very varied career to-date. Initially, she worked in the area of corporate tax including with the European Commission in Brussels. Subsequently, she became a partner in an Irish law firm. After a number of years she joined Tony Ryan's GPA in Shannon. GPA was then the largest aircraft leasing company in the world. Rose was a member of the senior management team in GPA for many years.
Today Rose is Chairman of Origin Enterprises plc, an agri services company, which is listed on the Irish and London Stock Exchanges.
She is also Chairman of Shannon Group plc and is on the board of Total Produce plc, Eir and a number of other companies. She is a non-executive director of the UL Governing Authority and is also a director of a number of aviation entities.
Rose is also a former Chairman of Bord Gais/Ervia and former non-executive director of Bank of Ireland, Fyffes plc, Concern and Aer Lingus. She has also won several business awards.
Rose has a keen interest in sport and is a former Irish interprovincial squash player. She played squash over many years firstly for Connaught and then for Munster.
We will have more details on the student awards in the next newsletter.
Young Environmentalist Awards
Two groups of students from Mary Immaculate were successful in being invited to present their project at the National Finals of the Young Environmentalist competition held in Dublin on Thursday 23 May 2019.
Our Senior group, guided by teacher John Sims, entered a project on 'Creating a Wellbeing garden in our School'. This was in the Category titled "ECO-HEALTH and Well-being" which had 9 projects.
The students project was 'to create a well=being green area in our school because there was no green space available in our school. We really felt that young people should be given a space where they can relax surrounded by nature. We are an inclusive and caring school and we felt that it is important to recognise this by creating the wellbeing area. We created a tiled mosaic and painted scenery from our local Burren area onto the walls. We built raised planters in which we planted several different flowers and plants. We also planted a herb boxes and worked with the Home Economics teacher on the use of the herbs we are growing. We have benches for people to sit on. We feel it is important to have somewhere that is positive, encouraging and life giving. It is putting into action the call from Pope Francis in his letter to each of us in LAUDATU SI or PRAISE BE TO YOU on Care for our Common Home."
Our Junior group, guided by teacher Maggie Garrihy, entered a project in the category Climate Change. There were 40 projects in this category and our Junior group won their category with their project titled "Communicating Climate Change" The students investigated the effects of climate change in North Clare. They went on to explain "There is a lot of media coverage about climate change globally, we wanted to gather evidence from experts working in the field of climate change and relate this to our local area. We collected videos of the extreme weather experienced. We invited a guest climatology expert from Met Éireann Seamus Walsh who explained the state of Ireland's climate and the impacts of climate change for Ireland. Pat Cronin, an archaeologist told us of a discovery of a submerged coastal cave with stalagmites and stalactites which he and his team had dated to help estimate the rate of sea level rise locally. We interviewed a Burren Beo representative who made suggestions on how farmers could cut down on their carbon footprint and adapt to adverse weather. We commissioned a 3D map of Clare to allow us to visualise coastal areas which may be negatively impacted by sea level rise to the end of this century. We have made a video together about climate change in North Clare. See link below. We will be hosting a gallery event in the Pavilion Theatre Lisdoonvarna on the 24th May. This event will coincide with the Global Climate Action Day and all of our fellow students are marching from our school to the Pavilion raising awareness of the necessity of Climate Action NOW. We hope to make the issue of climate change more relevant to the people of North Clare".
Sports and Wellbeing Day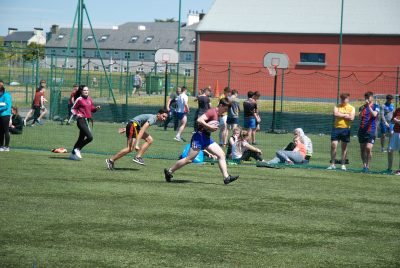 Mary Immaculate's' students and staff believe that emotional wellbeing is positively associated with participation in sport and recreational activity among its school community. To this end students and staff had a very active day taking part in a variety of activities including: Penalty Shootout, Tug of War, Tag Rugby, Wheelbarrow Race, Basketball shots and Hurling & Camogie shots. There were Senior and Junior teams each exhibiting a healthy competitive edge as points were being awarded depending on the position of the team in each event. Emerging as Senior Sports and Wellbeing victors was team E: Killian Blood, Lucy O'Growney, Cian Howley, Saoirse O'Brien, Katie Thomas, Harry Wainwright, Róisín McNamara and Eve McMahon. Emerging as Junior Sports and Wellbeing victors was also team I: Darren Flaherty, Aisling O'Brien, Oscar Zhou, Maebh Meehan, Sadhbh Blood, Dawid Partyka, Poppy Slevin, Aidan Kelly and Seán Stack.
A big thank you to Mr Malone, Mr Slattery, Mr Conway, Mr Burke, Mr Gomes, Ms Griffin, Ms Slattery for organising the event.
Also, a big thank you to all the staff who coordinated and supervised the event throughout the day with further thanks going to Sally McNamara and Caroline Browne for monitoring the sponsorship cards and calculating the relevant points to the teams based on the amounts raised.
Thank you to Mr. Mulqueeney for sound and the DJ legend John Egan from second year.
Thanks to Brendan Shannon and Gerard O'Loughlin for their assistance with the set up.
To Seamus and Sara from the Pavilion Theatre thank you.
Thank you to the Parents Association and Deputy Principal Ms. Hynes for organising the healthy food and refreshments provided by Pat Haugh from Supervalu Ennistymon for the fruit and Eleanor Kennedy from Centra Lahinch for the bottled water thank you.
To all the students who took part, for your co-operation, participation, enjoyment, and for your care of the environment by your recycling of waste.
The mental and physical health of all involved was given a boost and to crown a wonderful day the Lord blessed us with some very fine weather.
Salters' Festival of Chemistry
A team of four first year students took part in the Salters' Festival of Chemistry which was held in UCC on the 1st May 2019. The Salters' Festivals of Chemistry are an initiative of the Salters' Institute, whose aim is to promote the appreciation of chemistry and related sciences amongst the young. The Institute is delighted that the Royal Society of Chemistry is working in partnership with them again this year.
During the day, each team solves two different challenges using chemistry. The first challenge is a two hour challenge which is the same for all Festivals of Chemistry held in Ireland and the UK. This challenge is set by the Salters' Institute. The second challenge is set by each of the organising universities. They also attend a practical chemistry workshop.
This year the Lisdoonvarna team were Olliver Vaughan, Alice Davoren, Joanna Kelly and Aiden Kelly. They represented their school well and learned a lot of chemistry. They were accompanied by science teacher John Sims.
| | |
| --- | --- |
| Salters Festival of Chemistry at UCC | |
Success at SciFest
Mary Immaculate Secondary School entered two projects in SciFest@LIT. This was held at the Limerick campus on the 30th April 2019. Leah McNamara and Jessica O'Donohue took part in the competition with a group project "Snail communities in three habitat types in the Burren". They won the first prize in the junior life sciences category.
Maeve McMahon who was researching how a trainable Weka could be used in seashore research was the second entry from the school. Her project title was an "Evaluation of the use of software as a tool to count populations of different shellfish on seashores". She was awarded second place in the junior life sciences category. She also won the Environmental Award for her project.
Two TY students presented their projects at SciFest at the Institute of Technology Tralee. Dylan Egan's entry was a project entitled "LifeSaver – A New Automatic Lifejacket Inflation System". He is investigating the possibility of developing a new trigger mechanism that could be used on all types of lifejacket. For his efforts, he was awarded the Intel Award for the Best Technology Project at the event.
His classmate, Róisín McNamara's entry was entitled "An examination of ash die back in the ash trees in an area of the Burren".  She looked at the profile of ash trees with ash die back in the Burren and compared them with uninfected trees.
Wellbeing Green area for Mary Immaculate
A group of 18 TY students carried out a Young Environmentalist project by creating a wellbeing green area in the school. Because the school is hemmed in on all sides there was no green area in the school. There was a small paved yard beside the school hall that the students got permission from the principal, John O'Loughlin, to develop into their wellbeing garden.
There were a few benches and tables in the area which they repaired and painted. These have been integrated into the garden.
As the yard was paved all planting had to be done in planters. They built large planters and painted them bright colours. They got help from a local woman, Maureen Davoren, who advised them on suitable plants and helped them plant the boxes.
There was a partly finished tile mural on one wall of the yard. They finished this. On three walls they painted scenes from the local area. They are also painting a positivity tree on another wall.
The students worked very hard to finish this area in time for students to use it during state exams. It will be a nice retreat between exams. The Leaving Cert class were so happy to see this area developed they presented the group with a whitebeam tree to be planted in the school.
Mr. Sims, their mentor said the following about this TY group. "Every member of the team put massive effort into creating this area in the school. Many worked long evenings and at weekends to make sure it was finished. They were an amazing group to work with."