New Beginnings for Eureka Secondary School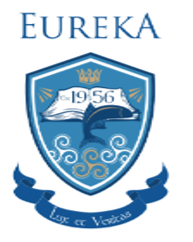 A day like no other – the students and staff leave Eureka House for the last time and move to the new site for Eureka Secondary School. A Candle of Light ceremony linked the old with the new. Principal Caroline O'Reilly locked the doors of the old Eureka House and led the girls up through the town to the long-awaited new Eureka school campus on the Cavan Road. After a farewell ceremony in the old school led by Fr. David with hymns and music from the school choir, the excited students shrugged off the rain and left the school grounds to walk up through the town of Kells to their new grounds. They let out the loudest of roars as they walked through the gates for the first time. After a brief blessing and ribbon cutting at the entrance the girls rushed in through the electric sliding doors to see the state-of-the-art building.
There were gasps of excitement and delight as the girls were taken on tours of their new home and saw the stylish interior and landscaped outdoor areas. Of particular interest was the hi-spec fitness room and massive gymnasium where Principal O'Reilly gathered the girls to continue a blessing ceremony that began in the old school just an hour earlier. "It's like the long goodbye, it's over 18 months since we had our first farewell party and we're still having our farewell party and this is the students farewell party today, but it's a great day, we're very excited", said Caroline. "Of course there's great sadness to be leaving Eureka House. All the years the girls have been coming here since 1956, thousands have passed through the doors. A beautiful site, a beautiful old building but we are looking forward to the new and the modern. It's like everything, change comes, and we are looking forward to it". 
Click below to watch a video of the celebrations on the day.
Safer Internet Day (SID)
Safer Internet Day (SID) is an EU wide initiative to promote a safer internet for all users, especially young people. It is promoted in Ireland by the PDST Technology in Education and Webwise. The Theme for Safer Internet Day is "Together for a Better Internet". Safer Internet Day 2019 was celebrated on Tuesday 5th February. Ava Reilly & Lucy Smith will be interviewed on LMFM with Sinéad Brassil on her new 11-1 Show. There were various activities carried out during the week including a poster competition.