Mary Immaculate Shining a Light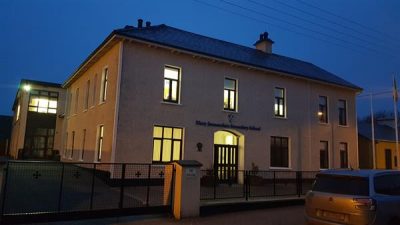 People of all ages, from all parts of Ireland, took part in the #ShineYourLight campaign in a gesture of hope and solidarity tonight during the Covid-19 pandemic.
Mary Immaculate Secondary School Shone a light of Hope and Solidarity for all fighting this pandemic Covid 19, which is affecting each and every person in our society. Let us come together in light this Holy Easter Saturday night where we can express solidarity with each other while we remain separated from friends and family. Let's also remember and thank our key frontline staff for their ongoing heroic work throughout this crisis. Light reaches across all boundaries and as we watch the light flicker, we pray we will see a glimmer of hope, in this time of uncertainty and separation.
Young Environmentalists
Two second year students have tasted success with their  project in this year's ECO-UNESCO Young Environmentalists competition. They are Alice Davoren and Emily Cullinan. Both students come from the Kilfenora area of North Clare. They had entered a project in the BT Young Scientist and Technology exhibition in January. In that project, they discovered that the use of greywater that contains wash-up liquid or soaps and shampoo to water plants had a negative effect on the earthworm population in the soil. Because of their findings, they wanted to highlight this environmental issue to the wider public.
A young environmentalist project needs to have an action element to it and they are trying to educate the public about this environmental project. One way they are doing this is through their website: www.mindtheearthworms.com.
To make it to the final they had to go through two rounds of judging. The entries submitted are judged and some projects make it through to the Eco Dens. These are held throughout the country and the students make a presentation to a panel of judges. From these Eco Dens the projects are selected to the final showcase which is held in Dublin. From the almost 500 entries this year, only 150 were chosen to take part in the finals.
This year due to the Covid 19 restrictions, the students had to submit a video as well as their written project. The finals were streamed online on 21 May hosted by 2FM DJ, Tara Stewart. It was with great joy that the two students involved heard that they were given the junior water award. In introducing the award the presenter said that they were "a really passionate group who have made great efforts to save the earthworms from greywater"
The winners receive a certificate and a trophy specially made by Creative Shed in Kildare. They are made of a mixture of bog oak and other locally sourced wood. It is hoped that these can be presented to the winners in person in the autumn.
The principal of the school, Ms. Hynes, congratulated the students and their teacher Ms. Sims.
Leaving Cert online graduation and student awards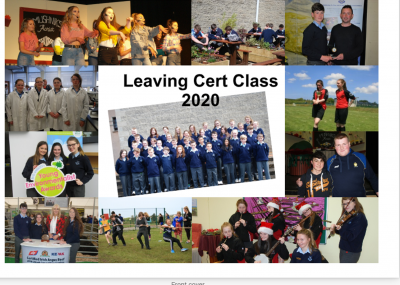 The Class of 2020 at Mary Immaculate Secondary School graduated in an online ceremony which was held on the 26 May. The theme of the graduation ceremony was resilience. A number of video presentations were shown. These includes messages from all the staff as well as a surprise video greeting from Doireann Garrihy from 2FM. After the opening comments by the year head, Ms. Gallery the principal gave her address.
Principals Address
"Parents Staff Students your Class of 2020. It is an honor and a privilege to speak to you as your Principal. It is a surreal moment in all your lives. You are, and will always be, incredibly special to our school.
We will never, ever forget the Class of 2020 and the unique and wonderful human beings you are. I know you will be the most memorable Leaving Cert graduation group I will every address.
I will remember you because you are such a pleasant, heartwarming and kind, group of individuals. Independent minded, resilient and strong. You have all shown great courage throughout this crisis. Resilience and courage, which are the themes of your graduation today. You epitomize these and hope as well, all our hopes.
With this Gathering today, you have so generously invited us into your lives and spaces, for the briefest of moments.  In doing so, a truly special moment has been created, One that all of us can enjoy and share.  For this, we are grateful.
We are navigating new paths. We are in many ways leading the way, a new way. We have dug deep and unearthed our possibilities and glimmers of our full potential have emerged.
We are more than we can ever imagine.  Nothing is ever impossible.  Believe that you can achieve your dreams; you can reach for the stars and live your life freely.
And in doing so, inspire, care for one another, do good, give back, turn the other cheek, hold your hand up, apologize, shake of that chip of hurt from your shoulder, learn to befriend, learn to stand stronger, trust more, be kind, light a way for others, a way that is caring and respectful to all, especially yourself.
We now know, nothing in this life is straightforward. You have learned in this brief time, that you must adapt to life's unexpected surprises. Plans are just plans, not necessarily the way things are going to be.
This gathering provides us all with an opportunity to acknowledge this, and give thanks for our togetherness and our will to continue to connect and be a school community despite all the challenges present and in our way.
This moment of being present and focusing on nothing else but celebrating you, and all you have achieved, this is our precious gift today.  You are what makes everything worthwhile.
As Ms. Gallery spoke so beautifully in her opening address "may you stay forever young." In addition, let your hearts be open, be adaptable, yes this is our new normal, live it, focus on what is good about today.  Savor this time. It will pass, and the future will be full with opportunity.
Over the last few months especially, I have been praying for you. I just want you to know we are so proud of you, and what you have done, over these last few months in particular; you have inspired your teachers with your good humor, your kindness to one another and your courage. We have also heard your fears and your frustrations. Your disconcerting moments.
However, during these difficult weeks you have kept each other going. What we have learned today is that even the most difficult and challenging times can produce joy. Therefore, we hope you enjoy this time of remembering and of celebrating.
I know this is one chapter of your life, not the whole story. You are unique and brilliant, living through very strange times.  Continue to inspire one another and your families.  One thing we can all remember is not to take things that are plentiful, for granted."
Ms. Hynes quoted an extract from a poem composed by a Maori woman Nadine Ann Hura called Mother Earth.
"God bless you all here today. May God's Presence be with you always and watch over and mind your lives".
Finally, she thanked all those who contributed so selflessly to the online graduating ceremony.
​Awards
The second part of the ceremony was the annual awards ceremony. The awards for Leaving Cert students were announced online. The first award presented was the Senior student of the year award​. This was presented by the 6th year year-head, Ms. Gallery to Kate Considine.
The Mercy Award was presented by Mr. Sims to Amy Woods. The Hughie Kivlehan Award​ was presented by Ms. Conneely to Rian Flanagan. This year it was decided to present the CEIST award ​to two students. The Principal, Ms. Hynes, presented the award to Emma Kelly and Aimée Burke.
Details of further L. C. awards will be given in future CEIST newsletters.
As well as being presented with certificates and awards, the Leaving Certificate classes are always presented with St. Christopher medals. This year we are also presenting each Leaving Certificate student with a photobook of photos taken of them throughout the past six years.
The awards for the rest of the school will be announced in the autumn.
SciFest
This year the SciFest@college competition is being held online. The students submit their written project and a short video for the judges to examine. Students entered four projects from Mary Immaculate secondary School. The projects entered are:
Dylan Egan with his project entitled "Teachers and Technology: Breaking Down the Barriers". His project was an Investigation into the main factors preventing post-primary teachers from integrating Information and Communications Technology (ICT) into their routine in the classroom. With schools closed and teaching continuing online this project is very relevant to the current situation.
Alice Davoren and Emily Cullinan have entered a project entitled "The Grey Area within Greywater". In this project they looked at the effect greywater has on the level of nutrients in the soil, on plant growth and earthworm population. Having developed an educational program for educating people about the negative effects of the use of greywater, they won the junior water section in the Young Environmentalists competition.
Jack Rush and Matthew Irwin have a project entitled "The heads up on headphones, are they damaging teenagers hearing?" In the project, they looked at whether the type of headphones and earbuds used by teenagers to listen of music with affects the risk to their hearing. The advice they would give is that at higher volumes all types of earphone can damage your hearing, so turn down the volume.
Shauna O'Kane has also entered a project. The title of her project was "Bits or bitless, that is the question?" In the project she looked at whether horses display discomfort when using a bit as against using a hackamore and if their performance is affected by it.
It is hoped that the results will be announced in Mid July. We wish all the students involved and their teacher, Mr. Sims the best of luck in the competition.
Continuity of Learning Teaching and Wellbeing at Mary Immaculate
For all involved in education, this has been a challenging period as we strived to support the learning and wellbeing of students while out of the school environment and where teaching and learning approaches have had to change. This is not an easy time for teachers, students and their families. It is particularly difficult for students who are marginalised, students with special educational needs, students whose families are experiencing stress and uncertainty, and students preparing for this year's state examinations.
Maintaining the wellbeing of students, supported by families, is of the utmost importance at this exceptional time. Some students may be coping well with staying at home, social/physical distancing and completing schoolwork at home whereas others may be struggling with these changes. There will be continuing challenges in the weeks ahead as students miss their friends, school and their extra-curricular and social activities.
The Department of Education and Skills required teachers to continue to support their classes remotely until the official end of the school year.
Since March 13th, 2020, our teachers at Mary Immaculate have been supporting students through a combination of sharing work on office 365 and providing live and pre-recording online video classes using TEAMS.
We have strived to maintain a sense of normality for students to ensure that they continue to progress in their learning, despite being outside the classroom. Daily routine for students, is particularly important. This is critical to ensure that the momentum of learning is not lost.
We fully appreciate that not all families have the facilities to engage with online learning and it is very unfortunate that this issue is replicated all over the country. Issues with internet service and computer access are a problem for some and this may be affecting some student engagement in every school. To alleviate some of these problems we at Mary Immaculate have posted work, loaned computer tables, emailed and phoned students to ensure our best was done to support all our students in a range of alternative ways throughout this time.
Wellbeing Garden
Over a year ago, the then TY students developed a wellbeing garden in the school. This was apart of a Young Environmentalist project. As well as being for the wellbeing of the school community, it was also for the wellbeing of nature. I thought I would include a few photos of it to cheer people up. It is looking good thanks to the caretaking staff looking after it in the absence of teaching staff and students. Let the bees and the birds enjoy it until we return.