A Mercy Wellbeing Week at Mary Immaculate
All over the world, hundreds of schools are celebrating Mercy Day. And it's even more important than ever for us to take some time this year to pause and reflect on what being a Mercy school means to us all.
Each class IN Mary Immaculate will have a simple reflective service in the coming days to stop and give thanks for all that is good. We thank the Sisters of Mercy for their service, their vision and legacy to education in North Clare especially. They have thought us that the greatest joy comes from helping others and being generous with our time and skills to promote those in need.
During these very challenging times, when we're busy minding ourselves and one another, it's really good to take a step back and to relax as a CEIST school, founded in the Mercy tradition to ask questions about what our faith teaches us about who we are and what we're called to be and called to do.
First and Second Years are having personal development retreat days this week with An Tobar Nua.  They are looking at unlocking potential and building resilience.  Mindful of Covid 19 and the impact it has had on our students wellbeing, we are using these days to allow them to take strength from each other and from God, and to make a space for reflection and positivity in their lives.
Catherine McAuley put it this way in one of her letters, written in 1840:
In the midst of all our tripping about our hearts can always be in the same place centred in God'.
BT Young Scientist and Technology exhibition
There was joy for a number of students at Mary Immaculate Secondary School today when the results of the screening process was announced to say what projects made it through to this year's BT Young Scientists and Technology exhibition in January. This year unlike other years, the exhibition will be a virtual event. The school entered seven projects for the competition with five being chosen to take part in the competition in January. The successful projects are:
Fionn Rush: "Does The Availability of Food Affect The Movement of Periwinkles (Littorina Littorea)", Anna Mae O'Driscoll: "Is Visitor Footfall Affecting Lichen Growth On Limestone Pavement In The Burren?", Ciara McDonnell: "House Searching By Hermit Crabs", Oisín Jackson: "An Investigation Into The Differences In Height of Adjoining Clints In Limestone Pavement In The Burren" and Ella Mooney: "Does The Level of Nutrients In Seawater Affect The Abundance of Ulva Lactuca?"
They are continuing their research under the guidance of Mr. Sims. We wish them all the best in their work and look forward to seeing the finished product in January. All the students involved this year are first year students.
SciFest Awards
In SciFest, second-level students showcase STEM projects at a series of one-day STEM fairs traditionally held regionally at 16 venues in the Institutes of Technology, TU Dublin, DCU and St Mary's College, Derry. This year SciFest@College took place online.
Four projects from Mary Immaculate Secondary School entered the competition at LIT Moylish, with all four winning awards. On project qualified for the national final of SciFest.
The awards were presented to the winning students last week in the schools wellbeing garden. Principal Mona Hynes expressed her delight with the success of her students.
Alice Davoren and Emily Cullinan will be taking part in the National Finals of SciFest with their project entitled "The Effect of Greywater on Soil Nutrients and Earthworm Population". In order to take part in the finals they had to submit a report on their project and a display poster. They also had to submit a two minute on their project which the public will get a chance to vote on in the STEM Outreach Award. They will be interviewed online by a panel of experts on November 3rd.
This year's SciFest National Final is virtual. It will take place on a specially designed online platform from Thursday 19 November to Saturday 21 November. The platform will be live from Monday 16 November to Friday 27 November providing an opportunity for the public to view the finalists' projects, vote for their favourite project in the STEM Outreach Award and test their scientific knowledge in daily competitions.
Busy Bees at Mary Immaculate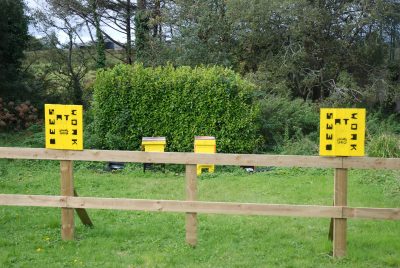 Just a note on our newest arrivals, the other busy Bees of Mary Immaculate of the winged variety. To note, one third of our bee species are threatened with extinction from Ireland, this is mainly because we have drastically reduced the amount of food (flowers) and safe nesting sites in our landscapes. However we at Mary Immaculate have addressed this issue in a small way, by introducing our very own bees in a safe controlled manner in carefully crafted hives, within a safely secured grassy surround.
Many thanks to our resident Bee Keeper, Mr Gomes who has spearheaded the introduction of Bees to Mary Immaculate. Currently they are thriving and it is hoped will be a fantastic educational resource for all students in the coming years ahead.
TY Trip to Inis Oirr
30 transition year students enjoyed their first trip of the year to Inis Oírr on Thursday. When on the island, the students rented bikes and cycled to the well-known shipwreck 'The Plassey' and the castle 'Caisleán Uí Bhriain.' Students engaged in sketching and learning about the two historical sites as part of the Creative Engagement programme. Many thanks to their Teachers Ms Arthur, Ms McMahon and Ms Browne for accompanying them on this trip.
Self-help Africa Appeal
In February 2020 two students from Mary Immaculate Secondary School were invited to attend the Self Help Africa 'Science for Development Award' showcase event, which was to take place on Wednesday 11th of March. They were Alice Davoren and Emily Cullinan with their project entitled "The grey area of greywater". The event was to be hosted by Irish Aid at The Department of Foreign Affairs, Iveagh House on St Stephens Green, Dublin 2. However due to Covid 19 it had to be postponed.
Self Help Africa's Development Education team run this annual showcase event to champion the great work conducted by students and their teachers. The 'Science for Development' showcase follows up on the great work that was done by many of the project teams during the BT Young Scientists' event each year. All of the invited projects have a focus and relevance to solving development challenges faced across the globe. The students have an opportunity to engage with SHA programme staff, invited guest speakers from other organisations, NGOs and of course, their peers.
This year it was decided to hold an online version of the Self Help Africa 'Science for Development Award' showcase event. This was held on Wednesday 23 September. The students took part using Zoom. There were a number of speakers and the students who were invited to take park showed a video on their project as well as answering any questions on their research. The two girls did Mary Immaculate proud.
Alice and Emily will also be taking part in the finals of SciFest, which will be held online in November. Well done girls