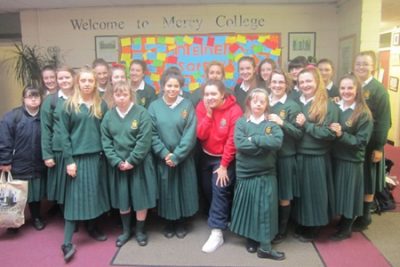 Pictured above #Up2Us Anti-Bullying contest winners – Mercy College Coolock
Big Congratulations from CEIST to Mercy College Coolock on winning the inaugural Up2Us Anti-Bullying Contest 2014.
The #Up2Us campaign is all about young people taking the initiative, themselves, to do something about cyber bullying.
The main objective of the #Up2Us competition is to reward groups doing the most to make their communities more inclusive places by combatting bullying and cyber bullying, in particular.
The standard of entries to the competition was extremely high and judges were very impressed by the multi-faceted approach taken by the students from Mercy College Coolock to raise awareness around the issues of internet safety and bullying.
Raise awareness around cyber bullying and internet safety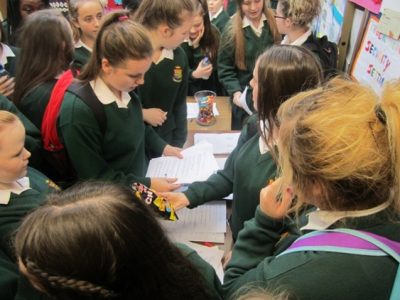 Not only did the Mercy College girls create a video (see below) on the risk of cyber bullying and on the precautionary steps students should take to avoid being cyber bullied but they also organised a week of exciting awareness raising events to coincide with Safer Internet Day.
From giving presentations at assembly time to running competitions, from conducting a survey to holding a Random Acts of Kindness (RASK) day these girls did it all!
The students beat off some strong competition from another CEIST school, Presentation College Carlow, St Mary's Holy Faith in Killester, Derrinturn Foroige Club and Bishopstown Community School, all of whom were Highly Commended by the judges.
Prize is a mini music festival
To celebrate winning the #Up2Us Anti-Bullying Contest the Mercy College students can now look forward to hosting a Mini Music Festival, starring singer songwriter, Gavin James, in their school in September as their prize.
Click here to view article which describes in detail the activies undertaken by Mercy College Coolock.
This link provides more details on the competition.
(Special thanks to Webwise for providing article and photos)