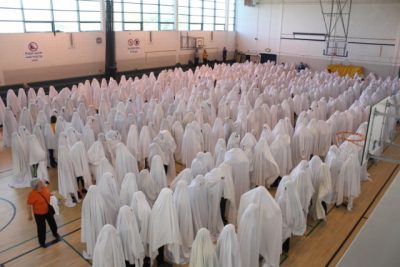 MERCY Mounthawk Secondary School celebrated news that they had broken a Guinness World Record last week.
On March 24, 560 participants dressed from head to toe in a one-piece white bed sheet with two cut out eye pieces in the school gym to break the record of having the most number of 'ghosts' in one location and raise funds for the Kerry Branch of Arthritis Ireland.
The event was a collaboration between the Kerry Branch of Arthritis Ireland, Mercy Mounthawk Secondary School and the ITT Creative Media Students.
They got notice from the Guinness Book of World Records people last week that they had broken the record.
Kerry Branch of Arthritis Ireland, a registered charity with the sole responsibility for people living with arthritis, used the event to raise awareness and highlight the ghostly nature of living 24/7 with this chronic and invisible condition.
The previous record stood at 263 which was set by 'Ghostbuster' fans launch of the remake of the 1984 classic in Singapore on June 13, 2016.
Posted by Dermot Crean of Tralee Today
Click here for Full article