Basketball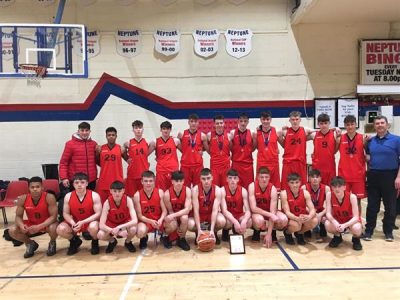 Congratulations to Mt St Michael U19 Boys Basketballers who won the County Final recently.
BT Young Scientists Exhibition
Mount Saint Michael students will display and present the four projects chosen for the BT Young Scientist exhibition. Transition Year students have been putting the final touches to their research over the holidays and are currently presenting their findings daily in the RDS Dublin.
Alyssa Mannix's Project is titled: "A More Efficient Energy Transfer Medium, Fibre Optic Cables" Alyssa investigated the effectiveness of transferring energy as light impulses over distance.
Darragh Nagle and Oisin O'Sullivan project is "Dispelling the Plague of Fake News Effortlessly". Darragh and Oisin investigated how to compile and disseminate public information more effectively.
Katie-May Cole-Mariotti, Áine O'Sullivan and Tara Keating are exploring the topic of "Hail, Rain Or Shine? How Does This Leave Our Beaches?" This examined the effect of single weather events on the rate of sand deposition and erosion on our beaches.
Ellen O'Donovan is investigating "The Relationship between Perceived Stress and Diet in Second Level School Pupils: Is a good diet associated with low perceived stress?"
We wish them every success in the competition and once again Mt St Michael are delighted to have their students work chosen to compete in this prestigious event.