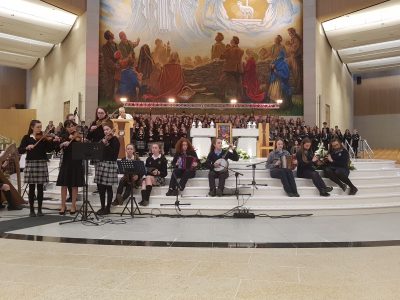 On Thursday 10th May 2018, 300 students from Presentation College Headford, Presentation College, Athenry, Presentation College Currylea, Tuam and Calasanctius College, Oranmore joined forces, coming together for a joyous celebration marking the tercentenary of Venerable Nano Nagle, foundress of the Presentation Sisters in the wonderful surrounds of Knock Basilica.
The original seed of an idea originated in Presentation College, Headford and with great persistence and enthusiasm and in cooperation with the outstanding Music department in PCH, Ms. Ita Cunningham and Ms. Siobhan Shaughnessy, elaborate plans were soon in place.
With the repertoire perfected, instrumentals fine- tuned and dances carefully choreographed, the stage was set for the historical figure of Nano Nagle to be honoured and our 'Pres' heritage and identity be celebrated! Former Rose of Tralee Maria Walsh and Presentation College Headford alumni acted as MC and what unfolded was an evening full of energy, joy, exuberance; mixed at times, with great emotion, nostalgia and melancholy as we retraced the steps of Nano Nagle from her early life of privilege to her years of selfless service to the poor of Cork and beyond.
Songs as diverse as Lady of Knock, Heroes, Rule the World and the Presentation anthem One Step Beyond- Who Will Light the Lantern? rang out from the excellent 240-member choir to the accompaniment of the 70 strong orchestra, with ballet and Irish dancing punctuating the chapters of this powerful Presentation story that deserved to be told.
Guests of Honour were the Presentation Sisters who made the journey from the four corners of Ireland to share in the evening's festivities. Also, present was Sylvia Jordan (nee Nagle), resident of Breaffy, Castlebar and great-great-great grandniece of the venerable Nano, Dr. Marie Griffin CEO and Bernard Keeley, Board of Directors CEIST.
Special thanks to Fr Richard Gibbons, PP in Knock who very kindly made the magnificent surroundings of the Basilica in Knock available and Una Nolan, Director of Music in Knock for her support and assistance in ensuring the success of the event. Sincere thanks to the management, teachers and students of all four Presentation schools; notably Ita Cunningham and Siobhan Shaughnessy (Music department, Presentation College, Headford); Cathal Moore (Principal, Presentation College, Athenry ) and his colleague Helen Farrell; Neasa Cosgrove (Principal, Presentation College Currylea, Tuam ) and her staff Ursula Heffernan, Una O' Brien, Shauna Mannion and Megan Lohan and, Cora Ni Lionsaigh and Sarah Molloy (Principal and Deputy Principal, Calasanctius College,Oranmore) and teacher Louise Kiernan who gave so generously of their time and talents to ensure the success of this unique event.
Special mention must be given to Aisling Mc Alpine, Deputy Principal, Presentation College, Headford whose vision and tireless commitment to this project allowed us all to be part of a unique moment in time.
The future of our Presentation identity is in safe hands and the question has found the answer: Who Will Light the Lantern?
Videos
Full video of the event can be seen on youtube from links below.
Showreel video
Full concert
Radio Interview
Listen back here to a feature on Midwest Radio's Faith Alive programme on the life and legacy Nano Nagle and the Nano 300 celebrations
http://presheadford.ie/feature-on-our-celebration-of-nano-nagle-on-midwest-radio/
Pictures
Full pictures of event can be viewed below: