TY's Wrap Presents for Connect FRC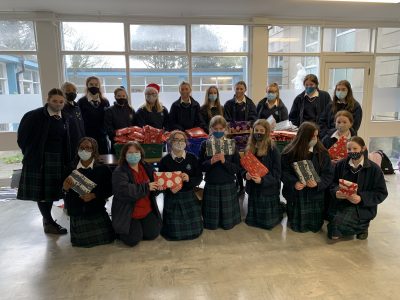 Transition Year students assisted Connect FRC( Transition Year students assisted Connect FRC( Family Resource Centre) in sourcing and wrapping presents for their Christmas Event. Over 100 presents were wrapped for the families who will need them most for the Christmas Period.
Christmas Shoebox Appeal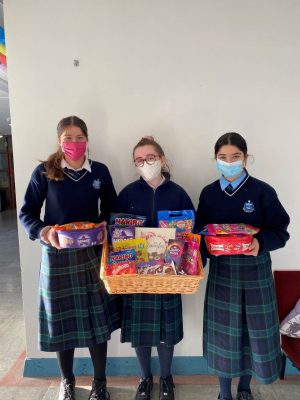 This year Greenhills #ChristmasShoeboxAppeal was run differently and in line with the protocols set out by Team Hope. Due to the effects of Covid-19 restrictions, it was not possible to send gift-filled shoeboxes from the school this year. Schools were asked to make donations instead.
Our Student council held raffles for each year group where students had the chance to win a hamper. Tickets were purchased and money was raised. €1400 was raised which purchased 70 shoeboxes. Well done to all.
Greenhills Virtual Run to Lapland
Last year, Our Lady's College, Greenhills began the task of raising money for a badly needed upgrade of our sports facilities within the school. These facilities are an essential part of school activities and also cater for the wider community within the town, for sport and community gatherings. The main focus of the efforts will be towards the construction of a new Astro Turf Pitch which will encourage students to get involved in various sports, while also catering for the wider community.
In continuing with the fantastic efforts made by students, teachers and the wider Greenhills Community, students and staff took on the challenge of running from 'Greenhills to Lapland'.
Each person who participated in the challenge was asked to complete 5km in order to accumulate the 3499km from our school to Santa's House in Lapland.
All students and their families were encouraged to take part in this unique event that not only raised much needed funds, but also encouraged community participation and  promoted health and well-being among young people and their families. This year we also looked to those in need. Students donated to SVP and ten percent of the money raised was donated to SVP.
All who contributed will be definitely be on Santa's good list.