Literacy Week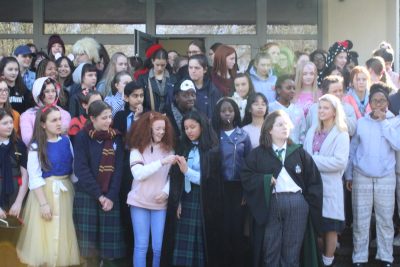 Our Lady's College, Greenhills held its annual literacy week on the week of the 2nd of March.
Literacy activities included:
Drop Everything & Read
Poem Competitions
Workshops with Roddy Doyle  & spoken word poet Colm Keegan.
Film in the Library for junior & senior students
Power Point on the correct use of the apostrophe
Book Reviews
The week concluded with teachers and students dressing up as a character from their favourite book/novel.
Drogheda Inter Schools Cupcake Competition 2020
Recently thirty-two students, who worked in pairs, took part in the Drogheda Inter schools Cupcake Competition, hosted this year by Our Lady's College, Greenhills, with the help of the Home Economics teachers, Ms Anne Byrne and Ms Noirin O' Sullivan. Students arrived from various schools in the Drogheda area including St Mary's, Colaiste na Hinse and The Sacred Heart. Each school previously held their own in-school competition to determine who would go through to the inter schools competition.
On the morning the bakers found their workstations and began preparing for the competition. After half an hour everyone was ready, and the clock started. The boys and girls were given an hour and a half to bake and decorate a minimum of 6 cupcakes. Silence descended over the two kitchens and concentration levels were high. Great detail was put into rolling and moulding fondant and preparing buttercream, as a watchful eye was kept on the cupcakes sitting in the oven. Soon time was up, and the bakers set out their wonderful creations beside each other, displaying them to their liking. Then everyone was ushered out of the kitchen for refreshments and the judging began. The judge, Bernadette Black, from Coulter and Black Cake Design judged the flavour, texture and decoration of the cupcakes. She chose eight pairs to go through to the final the next day. Everyone who took part in the competition was awarded a Certificate of Participation.
The following day the bakers, eight pairs, returned to Our Lady's College for the final. Hours of practice came down to these two hours. The students went through the same meticulous tasks of piping and moulding with extra attention to detail, as one dodgy cupcake could lose them the competition! After the judging had finished everyone crowded into the kitchen, anxiously anticipating the results. Ms Bernadette Black commended the contestants on their meticulous work and announced the winners. In first place were Sarah Fox and Ellen Mathews from Greenhills. Their prize was a €100 one 4 all gift card Greenhills also came second with Amy Bellew and Emily McGreal, awarded a €50 one 4 all card. The Sacred Heart won third place and received a €30 one 4 all gift card. A special 'thank you' to Coulter and Black Cake Design and Eurospar Drogheda for sponsoring the event.