Double All-Ireland Win for Pres Castleisland Entrepreneurs for Second Consecutive Year
Presentation Castleisland scooped the top prize in the Intermediate Category at the Student Enterprise National Final in Croke Park on May 3rd. Kelly-Anne Nix and Katelyn Curtin took 1st  Place ahead of 22 other county champions to claim the top prize in their category with their enterprise 'Crios Mhadra', a three-point car safety harness for dogs. Also, on the day, Presentation Castleisland's second entry at the National Final, 'Eary Fix' comprising of Katie Walshe, Emma Keane and Ciara Cahill, with their dual-purpose 3D printed ear piece for tradespeople, took the National Intellectual Property (IP) Awareness Award in the Junior Category. For the second consecutive year, Pres Castleisland has won First Place at the National Final. Last year, 'Complete Cáman' won 1st Place in the Junior Category along with the IP Awareness Award. This year, 'Crios Mhadra' won 1st Place in the Intermediate Category, with Eary Fix taking home the IP Awareness Award in the Junior Category. To even have two groups, of the three that went to Croke Park from Kerry, from the one school, is a massive achievement, as reaching the National Final meant the girls were in the top 1% of student entrepreneurs in Ireland this year. Over 22,000 second level students entered and only 222 students made it to Croke Park as part of 78 teams on show. A phenomenal achievement for a school to win back-to-back All-Ireland titles.
Presentation Secondary School Castleisland celebrates its Annual Awards Night
Presentation Secondary School Castleisland on Monday 13th May last celebrated its annual awards night in St. Johns Hall. This is a yearly tradition in Presentation Secondary Castleisland and true to form it was an immensely enjoyable night where students of all ages received awards, medals and certificates, for their hard work and dedication to education, extracurricular activities, school spirit and volunteering efforts.
There was a wide spectrum of achievements noted on the night including:
The Student of the Year Award
First Year – Anna McSweeney
Second Year – Laura Walsh
Third Year – Cerys Rider
Fifth Year – Joyce O'Connor
Sixth Year – Aisling Teahan
Sports Awards Junior –  Jane Lawlor    Sports Award Senior – Gemma Kearne
Lourdes Award –  Moira O'Leary, Oonagh O'Keeffe, Roisin Downey, Roisin Brosnan
Subject Award winners
Gaeilge – Laura Walsh & Eibhlis Brosnan,
French – Jessica O'Leary, Joanna Moynihan, Caroline Blanchfield, Saoirse McKenna, Abbie Kelliher, Sarah Mason, Aoife O Leary, Katie Walsh, Aoife Fleming, Alannah O'Leary.
French Exchange- Aiva Herbert, Roisin Brosnan, Marlyn Cahill, Aine Sheehan, Jessica O'Leary, Kayla O'Connor, Emma O'Regan, Nell Nolan, Brid Moriarty, Millie Luck
Spanish – Siobhan Brosnan (Y5)
Science BT Young Scientist – Siobhan Brosnan (TY), Ellen Dennehy, Cáit O'Mahony
Stem Awards – Ciara Casey, Latelyn Laide, Jennifer Culloty, Mya Griffin, Anna McSweeney, Neave Tugwell, Annie Moriarty, Nora Anne Hartnett, Rebecca Reidy, Ciara Cahill, Katie Nolan, Sarah Keating, Muireann Walsh, Zara O'Connor, Aine Murphy, Muireann Rahilly, Aoife O'Leary, Julia Curtin, Jessica Riordan, Blathnaid Casey.
Music – Hannah Herlihy, Laura Daly, Jessica O'Leary
Home Economics – Fiona Brosnan, Katie Cotter, Shauna Cronin, Megan Enright, Tara Enright, Hannah Herlihy, Abbie Kelliher, Sophia McGaley, Joanna Moynihan, Amy O'Sullivan, Emma O'Sullivan, Laura Walsh, Amy O'Sullivan
Digital & ICT Champions – Cáit O'Mahony, Ava Flaherty, Fiona Brosnan, Cara Fleming, Danute Voveryte, Aoife O'Leary, Katie Walsh, Aoife Fleming, Alannah O'Leary
All-Ireland Linguistics Olympiad Award – Siobhán Brosnan. Caitlin Curtin, Kelly – Ann Nix.
Enterprise Awards – Emma Keane, Katie Walsh, Ciara Cahill, Aoife O'Leary, Sarah Mason, Blaithnaid Casey, Lauren O'Connor, Áine Murphy, Kelly-Anne Nix, Katelyn Curtin.
The Junior Cycle Silver Medal – Siobhán Brosnan (TY)
The Leaving Certificate Gold Medal – Anna Lynch
Clement Award – Andrea O'Connor
Rita Award – Rebecca Daly
CEIST Award – Rosie Scanlon
Seamus Falvey Award – Áine Barry
Notre Dame Award – Alison Ward.
There were also many guest speakers on the night including Anthony Garvey, who officiated in the launch of the 2019 School Year Book; Irish Ladies Rugby Captain and past student Ciara Griffin who spoke passionately about hard work and perseverance; Elaine O Keeffe from Bank of Ireland and Thomas Hayes from the local Enterprise Board who presented the Enterprise Awards; and Katie Larkin from Astellas who spoke about the importance of women in STEM. Also Johnny Tiernan from Notre Dame ACE (Alliance for Catholic Education).
The night was capped off by past student, business woman and famous children's book author Anna McQuinn, who spoke enthusiastically about the opportunities which were awarded to her by attending Presentation Secondary School Castleisland, and how the ethos of the school and the pioneering efforts of the Presentation Sisters and the socio-economics of the time guided her to follow her passion and pushed her to be successful.
Presentation Castleisland is Picture Perfect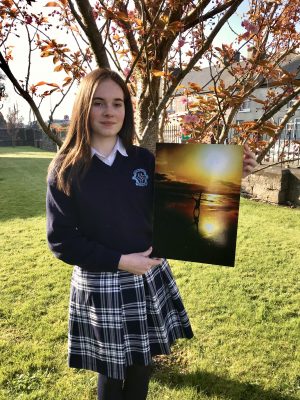 Presentation Castleisland's 2nd year student Rebecca Daly is picture perfect after last week being awarded 2nd place throughout Ireland in the prestigious MHI (Mental Health Ireland) Art and Photography competition.
Working on the theme of the competition '5 ways to Wellbeing' Rebecca took a photograph of her sister Emma doing a cartwheel in Banna Strand. Her photograph was then submitted to the competition last October, and in January the school received notice that her entry had been shortlisted and would be on exhibition in St. Patrick's Cathedral in Dublin in March.
On March 28th Rebecca was thrilled to be awarded 2nd place Ireland in her category. Furthermore, last year's winner has chosen Rebecca's photograph to appear in the MHI's 2020 calendar. Rebecca is a very talented Art student in Presentation Castleisland where her artistic abilities are regularly celebrated.
Pres takes on Google
Four students from Presentation Secondary School, Castleisland along with their teacher Ms. Leen were chosen to visit Google Headquarters in Dublin on the 8th February as part of the School's Digital Champions Project. Cáit o Mahony, Ava Flaherty, Fiona Brosnan and Cara Fleming are Presentation's Digital Champions whose aim is to create an interest in STEM and develop an aptitude for ICT in secondary schools.
This project is organised and run by the Department of Communications, Climate Action and the Environment as part of the National Digital Strategy.  It enables students to develop their creativity, critical-thinking and communication skills and encourages the productive use of technology by students. Prior to the trip to Google Presentation's Digital Champions attended a training day in Thomond Park in Limerick where they learned app-development and video-editing skills.
The trip to Google which included a campus tour and a series of informative workshops on various topics culminated in individual interviews and career advice for students interested in a career in digital technologies. The students must now complete their project, creating ICT instructional videos to distribute to the school community and present their findings at a showcase event in May.
Presentation Castleisland Win Unique Basketball League and Cup Double
The under 14 basketball team from Presentation Castleisland won the under 14 A, schools basketball league on Sunday 12th May in UL, defeating rivals Portlaoise 34/17. This completed a unique double as in February the team defeated the same opposition in the cup final in the National Arena, Tallaght. The cup win was also a double as the school won the cup the previous year, in 2018.
The girls achieved the win the hard way as on the Saturday 4 of the panel were on duty with the Kerry football under 14 team (who also won their blitz). The rest of the panel dug deep and put in some mighty performances to win 2 of 3 pool games and qualify for the national quarter finals as pool runners up. The opposition was to be a pool winner and the team that beat the Pres girls in the Kerry semi-final, Mercy Mounthawk. After a Titanic struggle, with both teams playing tough man to man full court defence, Presentation Castleisland won 14 points to 8.
The semi-final was against the Bower, Athlone. The Bower beat Presentation by 10 points in a pool game on Saturday. This time Presentation won 34/28, a 16 point turn around. A feature of this game was the tremendous shooting by one of the Bower girls who scored 18 points, including 4 three pointers.
The final was in fact one of the easiest game of the weekend as the Pres girls raced into a 15 point first quarter lead and were never threatened after that, winning 34/17, with all players contributing positively to yet another win at National level. That wrapped up a great season for the school winning two national titles and one regional title, won by the second year team.
Transition Year – 'The Complete Irish Play-ish'
Transition Year students from Presentation Secondary School and St. Patrick's Secondary School Castleisland completed their drama studies in style with the performance on last Friday night of 'The Complete Irish Play-ish' under the stewardship of Ms Margaret O'Sullivan. The performance featured abstracts from a number of Irish plays which included Sive, Philadelphia Here I Come and Playboy of the Western World to name just a few. Therefore, the array of characters and cast on stage was unrivalled. From observation of each individual scene a common theme, one of love and forced emigration, emerged much to the delight of the audience present. With the support of teachers from both schools students have undertaken the challenge of performing this show with enthusiasm and effort over the course of the last number of weeks. The talent evident on stage on Friday is testament to the hard work and dedication of all involved. It certainly appears we will see a number of Presentation and St. Patrick's Transition Year class of 2019 on stage in the future!
Transition Year Graduation 2019
On Tuesday May 28th students, parents and teachers of Transition Year students from Presentation Secondary School and St. Patrick's Secondary School Joint Transition Year programme came together to celebrate the achievements of the class of 2019. 58 students in total undertook the year and it is testament to the success of the joint programme that similar numbers from both schools will enrol this coming September 2019. The awards night featured input from Principal of Presentation Secondary School Katherina Broderick and Principal of St. Patrick's Secondary School Denis O'Donovan in addition to the co-ordinators of the programme Ms Karen O'Connor and Mr Tim Long. Additionally students were invited to speak to the audience about their personal experience of Transition Year. From the West End in London to West Kerry on Gaeltacht expeditions, the students' input gave an insight into the many activities and achievements of the current cohort. Achievements ranged from qualification for the BT Young Scientist finals in Dublin, regional success in the fashion competition, Junk Kouture and Bronze GAISCE certification. The group also engaged in fundraising efforts for a number of local charities in addition to volunteering their time with An Ríocht, the Knocknagoshel Halloween Festival and Castleisland's annual Indoor Market. All 58 students received a catalogue of certificates ranging from SafeFood qualifications to Emergency First Aid certification. The award for 'Diligence and Contribution' to Transition Year was presented to Jason Brennan of St. Patrick's and Alanna Glennon of Presentation Secondary School. St. Patrick's Dara Culhane received the 'Spirit of Transition Year' award with Presentation's Lauren Butler achieving the overall 'Student of the Year' award. Well done to all.

Presentation and St. Patrick's Joint Transition Year Class of 2019.
FR L-R: Caoimhe Horgan, David Scollard, Maria Daly, Cian Ring, Lauren Butler, Jason Brennan, Alanna Glennon, Dra Culhane, Danute Voveryte, Sarah O'Mahony, Guy Watson, Siobhán Brosnan.
Row 2: Dan Daly, Cáit O'Mahony, Gearóid Coffey, Aisling Kearney, Darragh Griffin, Bryan Daly, Laura O'Shea, Tadhg Broderick, Amy Walsh, Ian O'Neill, Ellen Dennehy, Miguel Gantes Albarracin.
Backrow: Lisa Flynn, Padraig Hilliard, Ava Flaherty, Jack Tobin, Sarah Mahony, Colm Roche, Gráinne Walsh, Brian Culloty, Emma Walshe, Eoghan Kenny, Nathan O'Callaghan, Lina Harlander, Declan McCarthy, Grace Daly, Gráinne O'Connor, Sergio Astoga Segovi, Dane Hewitt, Rehel Bentlage, Ronnie Mallon, Nicola Hausler, Ciara Sheehan.