Fianna Fáil leader Micheal Martin Visits Presentation De la Salle College
Presentation De la Salle College was delighted to welcome Fianna Fáil leader Micheal Martin to the school recently along with Carlow general Election candidate Jennifer Murnane O' Connor. Mr. Martin wished to visit to school to meet with students and staff as he was in the Bagenalstown area for the day supporting Senator Murnane O' Connor as she canvassed ahead of the formal announcement of General Election 2020. Mr. Martin addressed the assembled students and spoke in great detail about the importance of developing self-belief and self-confidence in today's world. He emphasised the potential that these students have and how they can contribute to their local, national and international communities both now and in the future. John Keane, school principal, thanked Mr. Martin for highlighting the importance of this and explained that this is what the staff in Presentation De la Salle College are consistently highlighting to the students and encouraging them to trust in themselves and be the best that they can be. It was noted that the immense dedication of the staff provides opportunities for students to engage in a wide range of activities that enable them to contribute to their local community.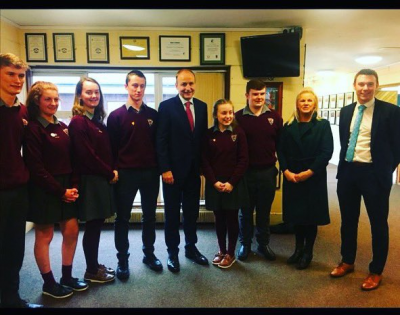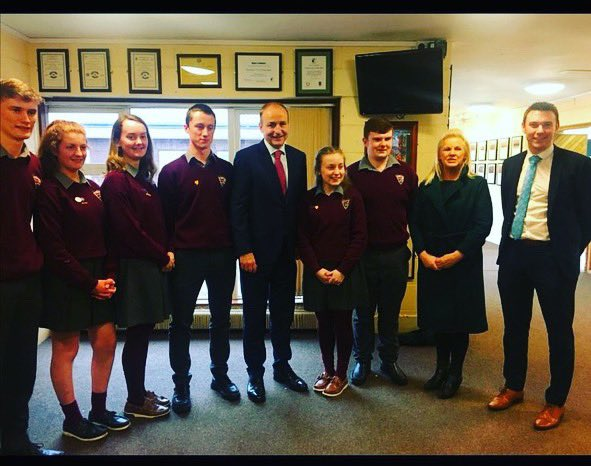 Mr. Martin then opened up the floor for a question and answers session with the assembled students which lasted approximately 45 minutes. The questions were very thought provoking and students used this opportunity to pose questions about Brexit, the health system and environmental issues to name but a few. Mr. Martin was very open with the students and his detailed responses were keenly analysed by all of the students, and resulted in many follow-up questions. The experience may prove to be a very useful training exercise for Mr. Martin given that a General Election has been called in the days after Mr. Martin's visit to the school. It was also evident that many of the students have a great interest in politics and issues at local, national and international level. It's even possible that some future politicians may have been in attendance at this talk!
The students were also keen to highlight to Mr. Martin the plans in conjunction with the Department of Education and Skills, to expand the school buildings further. This development is necessary to cater for the rapidly expanding student cohort that is attending the school from Bagenalstown and all surrounding areas. Work on the school will improve our facilities even further and will benefit students of Presentation De la Salle College and the local community for years to come. For the final part of their visit Mr. Martin and Senator Murnane O' Connor met with some of the staff in the school. Staff were also keen to highlight the need to expand the school buildings to cater for the school's ongoing and consistent development in terms of student numbers, additional staff and additional subjects. Presentation De la Salle College would like to thank Michael Martin, Jennifer Murnane O'Connor and Fianna Fáil for arranging to visit our school.
by Deputy Principal: John Cullinane
JCPA Awards
Our JCPA Awards happened on 23 January, where 144 TY and Fifth year students were presented with their JCPA award. Their parents/guardians for the ceremony joined students.  The JCPA reports on the student's achievement across a broad range of areas in learning in Junior Cycle. One of the Key areas recognised on students JCPA, was students Other Areas of Learning. Other Areas of Learning record student's achievement, involvement and participation across a broad range of areas of learning through in school activities in Junior Cycle. Students were acknowledged for their participation in many areas such as Green Schools, Students Council, school musical and sporting activities. During the awards ceremony two students spoke about their Junior Cycle journey. They mentioned how the experiences and skills that they developed during this period have been invaluable in their participation in the transition year programme.
YSI PROJECTS 2019-2020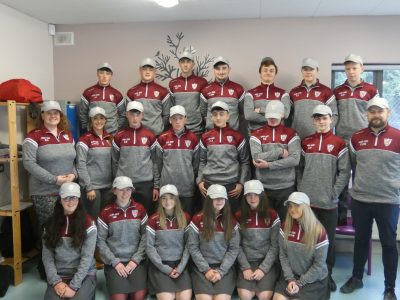 Basic Life Support Group:
As part of our religion class this year we took part in a project called Young Social Innovators (YSI), our group consisted of Kian Hickey, Justin O'Riordan, Jakub Sokal, Micheal Sweeney, Michael McKnight, Eoghan Doyle, Jason Haughney, Ross O'Neill and Eoin Connolly.  We picked our project base on our experience with CPR and First Aid. Two of the members of our group have a qualification in CPR and Basic First Aid from Irish Water Safety and we felt we could use their skills and knowledge to teach other students these valuable skills. We taught 1st and 2nd year students basic life support. We taught them what to do if someone is choking or struggling to breath and we also taught each student the basic skills of CPR. We carried out the project from the 6th to the 30th of January during PE classes in our school. We really enjoyed this project and hope to continue it with next years first year group.
By Kian Hickey & Justin O' Riordan
Exercise Stretches:
 Our YSI Project is called "Every day is Stretch Day". The aim of this project is to get younger children to stretch every day in the hope that they'll carry it throughout life, and to teach them what the importance of stretching is. We try to do this in a fun way by incorporating music and a few games in amongst the stretches. Stretching before and after a sport is extremely important because it prevents injury, regulates blood flow and helps with flexibility. It is especially important for children to do this because their muscles are still developing.
We do this project in the local primary schools during their P.E. classes. The primary schools we have visited to date are; Queen of The Universe N.S, St. Brigid's N.S., and St. Mary's N.S. We taught the stretching to 5th and 6th class in the three of these schools.
We hope to extend our project to other schools around Ireland as we feel this is a very beneficial project.
By James Farell, Shane Cody & Rachel Mc Grath
Caring for the Elderly:
For our Young Social Innovators Project, we focused on the topic of Elder Abuse. The members of this group are Lauren Dunne, Kayla Dunne, Dylan Walsh, Peter Mulleney, Andrea Dooley, Craig Nolan, Leah Galvin and Claudia Mihalcea. We focused on this topic as we believe it is an area that is not spoken about regularly and is left in the dark. We wanted to raise awareness about the seriousness of this issue. Elder abuse may be defined as an act, or failure to act, which results in a breach of a vulnerable person's human rights, physical and mental integrity, dignity or general well-being, whether intended or through negligence, to which the person does not or cannot validly consent, or which are deliberately exploitative. As group, we organised a speaker to come into our school to talk about elder abuse to all Transition Year students. The speaker was a nurse. She briefly introduced her herself and the topic before showing us a video on elder abuse. The day was a great success and we hope to have another speaker come to talk to another year group.
By Lauren & Kayla Dunne
USA Space Camp and STEM Tour 2020
At Presentation De La Salle College, we are very excited to introduce the ultimate experience in STEM education. The USA space camp and STEM tour 2020. The tour is scheduled for this April and is open to students currently in second, third and fourth and fifth year.  Nineteen students have paid a total cost is €3050 paid in instalments since Sept 2017.  The tour organiser Mrs. Bridget Murphy will be accompanied on the trip by Ms. Hanton and Mr. O'Brien. There are many amazing experiences ahead of our students – the trip of a lifetime!
A week in the Marshall NASA Centre in Huntsville, Alabama at the advanced Space Academy Program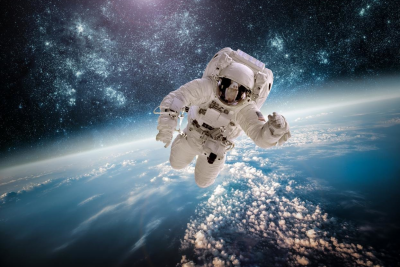 The Advanced Space Academy is fully endorsed by NASA and offers hands-on training aimed at secondary students. The students will participate in a rigorous program that teaches them about the mental, emotional and physical demands astronauts' face and provides leadership training as well as learning the importance of teamwork. They will be able to focus on their own field of interest: Pilot, Mission Specialist and rotate roles in the Orbiter, Space Station and Mission Control. Computer and engineering skills are put to the test as the students design and test a virtual reality Mars rover as well as 1/6 gravity simulations, a Multi-Axis Trainer and a Neutral Buoyancy Trainer. (An Underwater SCUBA Trainer, a smaller version of the Underwater Astronaut Trainer). They will create rockets and launch them as well as experiencing lessons in astrology and robotics.   It promises to be an all-round educational experience.
The Above is followed by Four Nights in Orlando.
We shall visit the Kennedy Space Centre at Cape Canaveral, and see the history of US space travel. They will experience a very realistic simulated shuttle launch and walk through a full-scale space shuttle then be amazed by the Apollo Saturn V moon rocket. Students will meet and have lunch with a NASA astronaut and view an IMAX movie afterwards. The group will have the opportunity to join a site tour, take part in a Shuttle Launch Simulation, and will participate in numerous hands-on activities at the Visitors Center.
Universal Studios – We have a look at how the Engineers use Science and Mathematics in the design of the attractions. You also get to
Experience the Transformers 3D Ride, The Wizarding World of Harry Potter, Despicable Me Minion Mayhem and the hilarious Simpson's Ride
iFly experience – students get to feel what's it's like to jump from a plane and skydive within a wind tunnel.
Everglades Airboat Ride – Travelling at speeds over the swamps amongst the Exotic Birds, Turtles and of course the alligators.
We have 19 excited students ready for launch!
CEIST Bake-Off
It is that time of year again as the students here at PDLS Bagenalstown prepare for the sixth All-Ireland CEIST Bake-Off. The Bake-Off has provided CEIST schools the opportunity to build community and give our students a unique opportunity to develop creative skills through culinary arts. The aim of the 'Bake-Off' is to remind a new generation that baking is not just for experts – it is for absolutely everyone! As well as being great fun, baking also offers a great way to tap into your creative and design skills. Junior students must design, bake and decorate a novelty cake. For senior students, the Bake-Off is centered on the theme of "Community" where students will design, bake and decorate a cake to reflect this theme. Well done to all those who have entered the competition and best of luck!