Vocational Educational Skills Week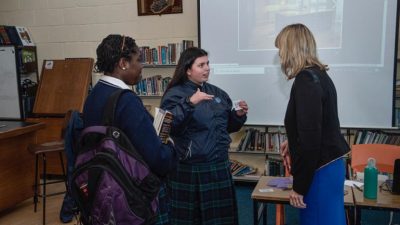 As part of VET (Vocational Educational Skills Week) Margaret Reilly from Grand Designs Kitchens & Bedrooms spoke to students in Our Lady's College. Margaret runs her own company and is the Irish Ambassador for apprenticeships. This talk highlighted excellence in vocational education and training (VET), showing that VET can be as good a route to a quality career and life as any other learning pathway. We would like to thank Margaret for talking to the students.
Rotary Youth Leadership Development Program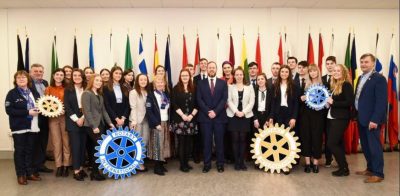 Katie McArdle a 5th year student in Our lady's College Greenhills has just returned from Strasbourg after taking part in the Rotary Youth Leadership Development Program. Katie represented the Rotary Ireland group at Euroscola in the European Parliament along with 23 other participants from Ireland. In the European Parliament they discussed and debated on issues such as Young people and Addiction, The future of Europe, Environment and Renewable energy and Human Rights. Katie also got the chance to speak in front of 80+ people from all over Europe on the topic of Migration & Integration as well as taking part in debates in the European Parliament.
This Rotary Youth Leadership Award also included a trip to the Titanic Museum, a private tour of Stormont where Katie got to meet and discuss issues with politicians, a tour of Dublin Castle and an incredible trip to the amazing city of Strasbourg.
Katie "I enjoyed every minute of it and met so many inspiring young people who I have no doubt will be shaping the world around us for the better in the years to come". Katie would like to thank the Rotary Drogheda Club for giving her the amazing opportunity as well as all the volunteers involved that made this week possible.
Well done Katie.