Two Polish Teachers visit Presentation College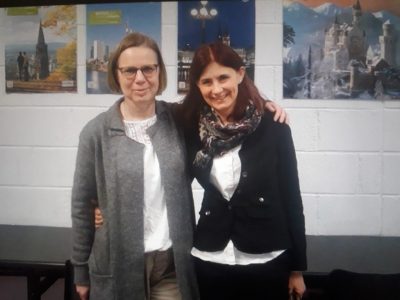 From 27 January to 7 February two dedicated teachers of German in Poland spent their holidays observing classes in Ireland. Anna and Beata come from the town Torun in Poland and came to Ireland on the Erasmus Plus project eager to see how languages are taught in Ireland and to observe classes, participate in professional conversations in the staff room and to see how the school systems are similar and different. Their school in Poland is called:
Zespół Szkół Przemysłu Spożywczego i VIII Liceum Ogólnokształcące.
Our German classes benefitted by having two extra German speakers and students were keen to show off their German and asked and answered questions. The many students with roots in Poland were interested to explain where they came from and on occasion broke into Polish rather than German. In language learning it is always important to use every opportunity to speak and hear the language. The German teachers Ms Malone and Ms Byrne were heard babbling away in German and were delighted that Ms Cumiskey had facilitated this exchange.
Anna and Beata would like to thank the many teachers of various subjects who allowed them into their class. Thanks also to all the students with whom they came into contact with in their two weeks in Presentation College. They found it very interesting and have returned to Poland with new ideas and memories of their wonderful time in Ireland.
Academic Excellence
Congratulations to Doireann Broderick and Emer Flynn who received  an award for Academic Excellence from Department of Economics, Finance and Accountancy Department of Law and School of Business  Maynooth University for their Junior Certificate Results in Business Studies.
Trip To Glendalough by Rebecca Keating
All Transition Years recently went on a trip to Glendalough for our Gaisce Award. We stayed in Glendalough for two days and one night. Day one: We all met at Asked Church were we got the bus to Glendalough. When we got to the hostel, we got our things and put them in our rooms. Then our journey began – we went for a 3 hour walk.
Night time: When we got back to the hostel the students in charge of cooking dinner made spaghetti bolognaise, it was nice. After dinner we played board games and chatted. Then at the end of the night people started playing music and singing. It was great fun.
Day two: We got up at about 8:00. The people in charge of breakfast cooked up a storm. We let our breakfast digest, chatted and around an hour later we started our next leg of our journey – four more hours of walking. We were lucky as the 'chefs' had made a fabulous lunch which kept us going. After the walk we returned to the hostel to pack up and head home. This trip was such good fun. I really enjoyed it. Thanks to all the teachers who organised the trip for us.
JCPA Certificates Awarded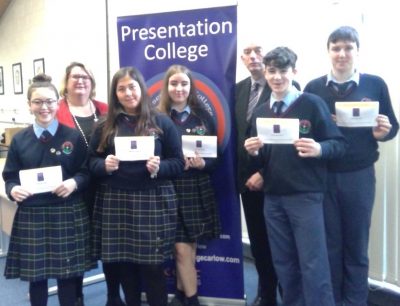 On Wednesday the 23rd of January, a ceremony was held for the Third Year class of 2019. During this ceremony our students were awarded their Junior Cycle Profile of Achievement Certificates (JCPA) in the school library. These certificates not only have the students results of their state examinations that they sat in June but also their descriptors of  Classroom Based Assessments (CBAs) which they took part in while in Second and Third year. The JCPA also contains reports on each students' achievement across a broad range of areas of learning in the Junior Cycle. The JCPA, alongside other reporting arrangements in Junior Cycle, offers students, teachers and parents/guardians a clear, broad picture of a child's learning journey over the three years of Junior Cycle. Also recognised on their JCPAs are their other areas of learning (AOLs). These include any extra-curricular activities the students have been involved in the school. Well done to all these students who received these certificates.

Catholic Schools Week
Catholic Schools Week 2020 ran from 26th January to 2nd February. The theme of this year's Catholic Schools Week was 'Catholic Schools: Living in Harmony with God's Creation'. The theme encourages us to see that we all have a responsibility to care for the earth, not just for our own future, but for the future of every one of God's creatures. We celebrated each day's themes with various events throughout the week. Sixth Year students practiced mindfulness throughout their religion classes to help find some "Harmony" in this time of anticipation for their Mock Examinations. Monday launched the Poster competition to all students to create a poster which reflects the Catholic Schools theme- "living in Harmony."
A Love Heart Challenge was held where staff and students had to guess how many love hearts were in the Jar- to highlight "Love of thy Neighbour". The Green Schools Committee hosted a display in the reception area to highlight their work to help protect the environment, in an attempt to highlight our role to look after God's creations in nature.  The winner of our Love Heart challenge was Goda Stepanova (Second Year). The overall winner of the Poster competition was Abigail Wilkinson (Transition Year). Thanks to all of the members of the religion department who helped facilitate various activities over the week and to the students who participated in the events over the week.
Soccer News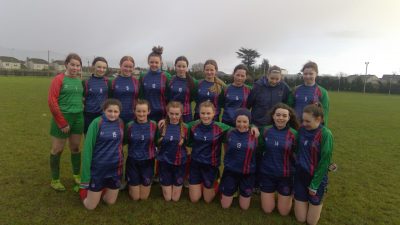 The under 15 girls put up a great performance against Loreto Kilkenny after their return from the Christmas break. The girls went 1-0 up when Sarah Nolan hit the back of the net after a through ball from Gráinne Thompson and some great passing with Lucy Gibson. Before half time the Loreto girls got past Presentation's defence and slotted the ball past Ciara Kelly. The score was 1-1 at half time. Ciara Kelly did well in the second half but a build-up of pressure in the back line saw the girls going 2-1 down within the last 15 minutes of the game. Aoife Kelly and Sarah Nolan were unfortunate not to put the ball into the back of the net with many narrow misses in the remaining minutes.
The girls finished their league campaign with a fantastic win against St. Leo's. The game got off to a great start with the teams level at 0-0 for a long time until Sarah Nolan got in on goal and scored a fantastic goal to set up the goal streak. Sarah punished the St.Leo's keeper 5 minutes before half time with another goal. The girls came out with a fighting spirit in the second half and Aoife Kelly performed very well in mid field by sending 3 goals to the back of the net. Lucy Gibson also added 2 goals to the score sheet. Sinéad Thompson was unfortunate not to score on the day but assisted greatly with the setup of many goals and ensuring the back line were well covered. Clodagh Hendy made a great impact in the second half when she came on and assisted with the creation of the goals. A combination of Maja Brennan and Gráinne Thompson ensured St. Leo's forwards did not get in on Ciara Kelly in the goal. The girls have enjoyed a successful season this year and they hope to progress to the Leisters' in the coming weeks.
First Years and Transition Years Get Rowing
By Rebecca Lynch
Congratulations to the First Year teams from 1AS and 1AR from Presentation College Carlow who recently took part in the rowing competition in Carlow I.T. Everyone had a very enjoyable experience. Thanks also to the teachers who brought us as we wouldn't be able to do it without them.
Solar Powered Water Coolers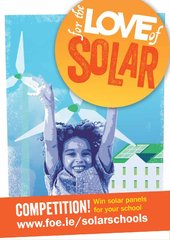 An enterprising group of Transition Years have just entered a competition organised by Friends of the Earth in a bid to win Solar Panels for our school. They began brainstorming several weeks ago and had many ideas, however one which Mr Smyth suggested seemed to resonate. It was to install solar panels in the roof over the water coolers and vending machines and to run these from solar power. This would not only save on electricity but would also raise awareness for solar power. Presentation College is not only used during school time but is also used on Saturdays as a Polish School and is the home of Spotlight Stage School as well as many musical, sporting, scientific and dancing clubs.
The team is comprised of Shauna Murphy Woods, Tegan Sherry, Emily Jane Kendellon and Cyprian Godyn. We are hoping to be shortlisted and if so will need everyone's votes to ensure that "Solar Powered Water Coolers" become a reality for everyone using the College.
International German Olympiad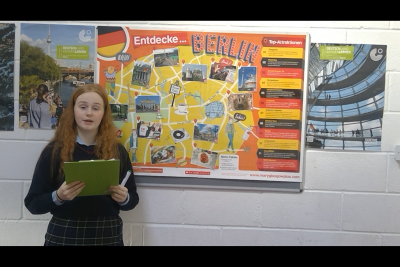 Several students had their work selected and were entered into the biannual German Olympiad which is organised by the 'Goethe-Institut' worldwide. Two years ago Fiona Butler and Meadhbh Broderick from Presentation College were Finalists and Meadhbh took First Place in Ireland. This enabled her to spend three weeks in Freiburg in the south of Germany along with another Irish student and the top two from each of 85 countries worldwide. This year the theme of the competition is "Meine Lieblingsstadt in Deutschland ist.." (My favourite city in Germany is…) We are delighted to have entries from Eva Kavanagh – who made a video about Berlin, Wicktor Pinski who wrote about Frankfurt and Aibha Kiernan who selected Düsseldorf as her favourite city in Germany. We wish all three the best of luck in the competition.
Irish Mathematical Olympiad
Congratulations to Fifth Year Damian Korus who took the Irish Mathematical Olympiad and recently passed a selection test in UCD. This took place on February 8 2020. Damian was delighted to have come in the top forty school-going mathematicians in Ireland. This means that Damian has been invited for more intense training in preparation for the Irish Maths Olympiad on Saturday 09 May 2020. The best six pupils at the Irish Maths Olympiad will represent the country at the International Maths Olympiad which will take place in Russia in July 2020.  While the competition was very keen, he enjoyed solving the various problems and meeting others with similar interests. If you would like to find out more about the competition look up UCD Maths Enrichment. We are very proud of Damian's achievements to date and we wish him every success in this competition.