Library News
Many thanks to PPLI (Post Primary Languages Ireland) who work with Languages Connect in helping schools to avail of a €500 grant to promote modern foreign languages. We are delighted that all of our students who have English as their second language now have access to these wonderful books. The library now has books in Polish, German, French, Lithuanian, Spanish, Russian as well as board games to help these students.
1st Year Basketball
Great start for 1st years defeating Killenaule 28-8 in their first match of 2020, followed by a 50-2 win over CTI Clonmel. And well done to the 1st year B team who played their 1st game this month against Tyndall College Carlow.
Pres Fun Run – 5k Training
Our 5km Training Programme is up and running in preparation for our school Fun Run/Walk which is taking place on the 29th March in Powerstown Racecourse at 12pm. Training will be held every Wednesday at lunch time at 1.20pm.
Engineering at Abbott
Well done to all the girls who presented their projects to a panel of engineers in Abbott as part of our new partnership. Well done ladies you did yourselves and the school proud.
Caoimhe Nolan, Aimee Hogan and Sophie Corcoran for their project on Protein.
Leah Hassett and Eimear Dempsey for their electrical prototype for farmers.
Ella Ryan, Aurora Moore and Martyna Pakieser for their investigation on how a Geomagnetic reversal would impact life on earth.
ESS Trip to the Apple Farm
3rd Year ESS class went on a wonderful educational trip on 20th January to the Apple Farm where owner, Con Traas, gave them a tour of the farm. A wonderful day was had by all. Many thanks to Ms. O' Leary for accompanying the group. The girls will be using the trip to the farm as part of their ESS Project.
Fun Run Poster Competition
Well done to all the 1st years for their fantastic Fun Run Posters. We are delighted to announce the winner is Laura Golden in 1A.
Homework Club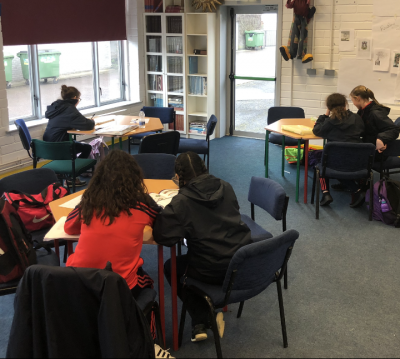 Homework Club is now up and running for 1st years in the library. It's on every Wednesday from 3.30pm to 4.30pm. This is a fantastic service for our students and is free of charge. Application forms available from Ms O Dwyer
Gaelic Football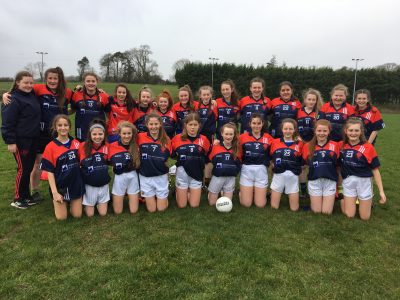 1st/2nd year team played St Anne's on the 29th January and had a great game and a great win! Well done girls!
Catholic Schools Week

East Munster Cross-Country Championships, Carriganore
Laura Cooney, Hazel Brennan and Emily O'Connor combined superbly to take 3rd place in a very competitive Intermediate grade, qualifying for the Munster Championship in the process. Our first years got their first taste of competition at this level. Eimear Heafey, Kody O'Shea, Jamie Whelan and Aoibhe Condon took to their task with relish, and have very bright futures ahead.
Art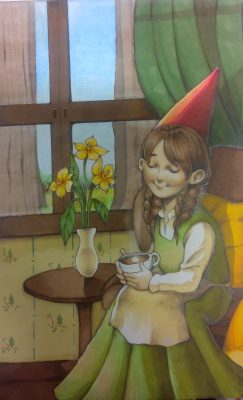 Above is a sample of art work from our very talented student Nene Lonergan.
School Open Night

An Open Night was held recently. Please click below to view slides used for presentation on the night.
PRES Clonmel "Recycled and Ready" for Junk Koture 2020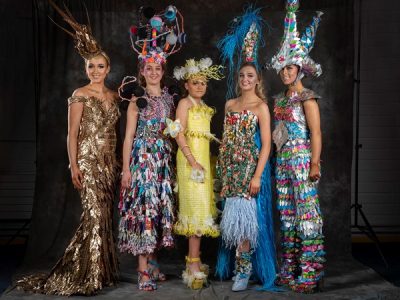 Junk Kouture is a fashion competition using recycled materials, which challenges young people to design, create and model high end couture from everyday junk!
It takes in elements of fashion, design, engineering and environmental sustainability and transforms them into a creative contest like no other! Hitting its tenth year running, Junk Kouture has already captivated over 40,000 students, 8,000 teachers and 100,000 audience members.
This is the 10th year of the competition and following in the footsteps of our ten yearly success winning the first Junk Kouture all Ireland final, our student has been regional winners, and all Ireland finalists yearly.
True to form we have five outstanding designs this year, that show high levels of thought and inspiration and driven the whole school community to re cycling and get involved.
Each of the groups looked at social issues that they felt passionate about, inspired by our past and present students their hard work and attention to detail and high standards they set on their own junk Kouture journey and experience.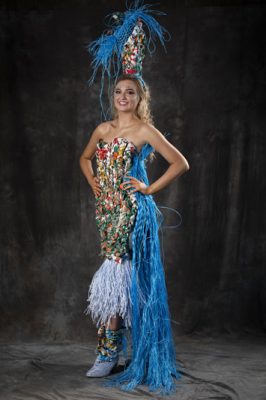 IMPERIUM modelled by Victoria Canty designed by Victoria & Ellen O'Gorman & Saoirse McCarra.
Our inspiration for "Imperium" can from the "Birds of "Paradise" dress by Thierry Mugler. We chose a metal in the form of aluminium cans to create our dress as they can be recycled an infinite number of times to create many things, including wearable art couture, the leaf design represents the power of seasons rejuvenation.
SOCKETTA made entirely from odd socks, modelled by Gabrielle Pranskeviciute, designed by Gabrielle & Aurora Moore & Yasmin Woodlock.
Inspired by being unique and individual, all the varied sizes make shapes colours represent all the different nationalities, races religions and sexes coming together to make something beautiful, positive.
DOCHAS modelled by Caoimhe Nolan designed by Caoimhe, and Aine Ryan & Megan Morris. Inspired by DAFFODIL DAY
Inspired by Daffodil day which is a symbol for the Irish Cancer Society's biggest fundraiser, raising money to support cancer patients and to fund life-saving cancer research.
Cancer is a serious issue; however, the Daffodil is a bright, colourful and an iconic symbol of hope rather than despair showing us that if we work together in a positive way, we can all be stronger. Therefore, we named our dress Dóchas as it means hope in Irish. Cancer has affected nearly every family, including ours, and we need to continue to fight it through research, support and kindness.
BO made from farm materials modelled by Sadhbh O Loughlin designed by Sadhbh & Elanna Walsh & Leah Pyke. BREXIT inspired; this dress reflects the hard work that farmers put into their livestock rearing them. Using feed bags and ropes as a symbol of the push and pull to reach a positive solution.
ARCOIRIS modelled by Lorraine Canty designed by Rachel Lambe, makeup by Sophie Pyke.
Our inspiration for Arcoiris is to spread awareness to the LGBT+ Community with inspiration from RuPauls Drag and Lady Gaga to make this dress. We collected over 500 Pringle cans and found ways to manipulate this material. Using all the colours of the pringle cans we created a powerful and meaningful outfit.
All costumes, concepts and music this year along with sixty-minute interview are uploaded.
Regional finals take place in the university concert hall limerick on the 6th March 2020. All five of our costumes through. Wishing them the very best of luck.
The all-Ireland final at the Three Arena Dublin on the 30th April 2020
We wish all the students the very best of luck and commend their hard work and social awareness.