Below are some pictures of what has been happening in our school over the past month.
Junior Munster Camogie Champions!
A whole school assembly was held in honour of our newly crowned Munster Camogie champions. A tremendous feat from our young Junior team. In very difficult weather conditions, the girls were defeated by St Cuan's of Galway in the All-Ireland semi-finals. Well done to all the suad and their coaches, Mr Ryan and Mr Treacy.
Munster Champions!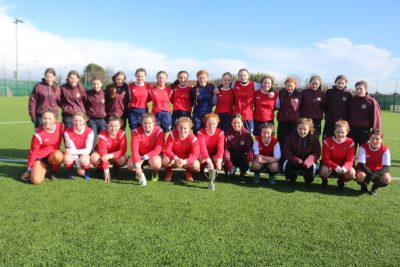 Congratulations to our U17 soccer team who were crowned Munster champions after a 5-1 victory over St Mary's of Newport. A hat trick from Aoibheann Clancy (TY) and goals from Grace Flanagan (1st Year) and Molly O'Dwyer (2nd Year) sealed a convincing victory. Well done to our dedicated coaches, Mr Ryan and Mr Treacy.
Badminton Champions!
Well done to our senior Badminton team who won the Senior Division 1 Tipperary championship. They will ow represent Munster in the All-Ireland championship on March 20th. Well done to Sarah Curran, Emily Phelan, Ciara Treacy and Sarah Doheny (all pictured) and their mentors, Mr Maher and Mr Murphy.
Handball Champions!
Congratulations to our 1st Year student, Úna Duggan (pictured on the right), who won the U14 Handball Doubles Leinster Final and is now a Leinster champion. Well done Úna and to your partner.
Hockey
Well done to our Senior Hockey team who defeated Castletroy College in the Cup. Next fixture for them is the Munster Quarter Finals. Good luck to the girls and their coaches, Ms Flanagan and Ms Hackett.
Basketball
Our 1st and 2nd Year teams have been very busy recently with league matches against Pres Kilkenny, Ursuline Thurles, Pres Ballingarry, Ursuline Waterford and Loreto Kilkenny. Best wishes to the girls for their upcoming matches and their coaches Martin, Courtney, Ms Ryan and Ms Devane.
Soccer
Congratulations to our 1st Year student Grace Flanagan. She has been selected for the upcoming Irish Soccer international games for the U15 team. What an amazing achievement for such a young and talented lady. We are very proud of her. Best of luck in your upcoming international matches.
Green Schools

Members of our Green School's committee from 6th year addressed all 1st, 2nd and 3rd Year students in a recent assembly about effective recycling in our school and raising the awareness of our junior students of reducing single use plastics and reducing the contamination of recycling bins. Many thanks to our diligent Green School's committee and their mentors, Ms Stapleton and Ms C. O'Brien.
Rugby
Huge congratulations to our past pupil, Dorothy Wall, who made her Senior Irish Ladies Rugby debut in the first Six Nations match against Scotland recently. We are very proud of Dorothy's achievements and hard work. Best of luck in the rest of the Six Nations games for Ireland!
Music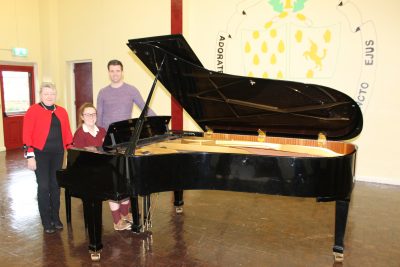 Our Music Department were delighted to unveil our school's new grand piano recently. Pictured here are music teachers Ms Buggy and Mr Conlon with their 6th Year music student, Matilda Magner.
iWish
Our TYs enjoyed a recent trip to Cork City Hall to participate in the IWISH STEM conference. They had the opportunity to listen to many successful female STEM graduates speak about the various different careers in which they now use their STEM qualification.
Show Jumping

Congrats to our TY students who competed in an inter-schools showjumping event recently in Thurles.
Junk Koture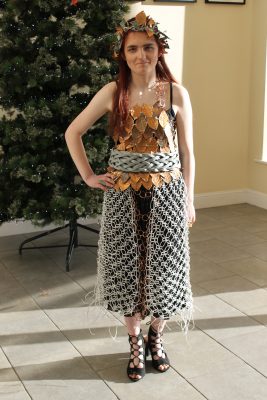 Well done to our three teams (Copper Queen, Pollinator's Picnic and You Say I Farm like a Girl), who have qualified for the southern region of the Junk Kouture competition to be held in the first week in March. Best of luck in the regional finals.
5th Class Visit

On Valentine's Day, our Presentation Primary School 5th Class students were invited up to our school to bake Valentine's treats for their families and friends. They made some very tasty treats! Well done to all involved and Ms Carroll, our Home Economics teacher.