Munster Schools Combined Events Championships
Cailín Napier made a successful debut at the Munster Schools Combined Events Championship in Nenagh on Tuesday October 22nd 2019. Second place finishes in the 60m Hurdles, Long Jump and High Jump, combined with third spot in Shot Put and a convincing win in the 800m saw Cailín amass a total of 2,088 points, to secure a silver medal at her first attempt. She has now qualified for the All Ireland series. Congratulations Cailin.
Maynooth University Entrance Scholarship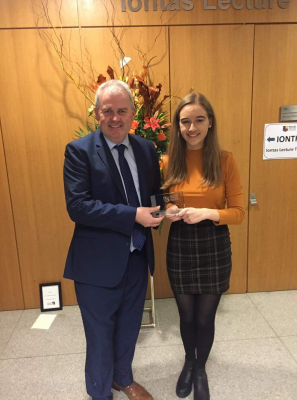 Congratulations to Sine Landers, Leaving Cert 2019, who received an Entrance Scholar Award from Maynooth University for her outstanding Leaving Cert result this summer. The award was presented to Sine last October 23rd 2019. Sine is studying Primary Teaching in Maynooth. All recipients had achieved over 550 points in their Leaving Cert. Congratulations to Sine, we wish her every success in her future studies in Maynooth and her chosen career.
Under 19 Basketball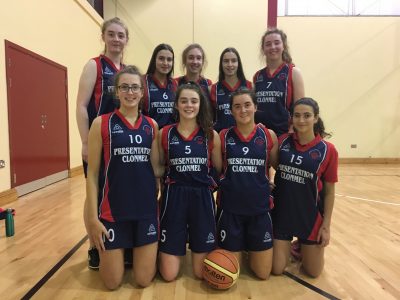 Well done to our U19 basketball team who defeated Comeragh college in the south east regional quarter final on Wednesday 6th November!
Pres Clonmel 27
Comeragh college 15
Visit from the Ireland Intermediate Football Champions
Former Presentation student Courtney Lonergan and Seamus Kennedy visited the school recently bringing with the All Ireland Intermediate Ladies Football Cup. A talk was given to pupils and all students got a chance to have their picture taken with the cup.
LGBTI+ Awareness Week 11th to 15th November
Celebrating LGBTI+ Awareness Week here in the Pres! Every student and staff member will have the opportunity to wear a pride colour ribbon this week to show their support for members of the LGBTI+ Community.
Oireachtas na tSamhain – Comórtas Beo 2019
5th year students, Desiree Haran-McCarthy, Aoife McNamara and Caoimhe Woods travelled with their teachers Ms. Jennifer Williams, Ms. Siobhán Alley and Ms. Aisling Slattery to complete in City West Dublin live on TG4 on the 31st October. The girls, known on stage as "Rhapsodaí" performed their own composition "Bua". The girls performed beautifully and were excellent ambassadors for the Pres Music and Irish departments.
2nd Year Volleyball Blitz
Well done to the 2nd years who participated in a volleyball blitz in Kilkenny today! Thanks to Mr Flynn for accompanying the girls!
Credit Union Art Competition
Congratulations to the winners of the Credit Union Art Competition 2019.
LCMP Community Empathy Project
As part of our LCMP Community Empathy Project, some of our 5th year students spent the afternoon on Tuesday 12th baking delicious treats for the service users of the Day Care Centre in Irishtown!
Public Speaking Competition
Public Speaking Competition in Presentation Secondary School, Waterford today, Thurs 14 November. Congratulations to the speakers Sophie Pyke, Caoimhe Woods and Hannah McCabe who delivered speeches on Climate Change and Gender Equality. Many thanks to Ms Róisín Burke who accompanied the students.
Computer Science
It has been an eventful two terms for the Computer Science Department since September. They started off with a visit from a camera crew from the NCCA and this was followed up in October with a trip to Microsoft DreamSpace in Leopardstown in Dublin. This was an amazing experience for the current 5th and 6th year computer science students. They got to take a tour of 1 Microsoft Place where they gained a valuable insight into careers within the company such as software development, testing, finance, HR and sales & marketing. We also had a visitor from LERO (The Irish Software Research Center), who came to visit us for a day and got to see what goes on inside a Leaving Cert Computer Science classroom.
Currently the 5th years are working on their Applied Task 4 which included some interesting projects such as a door alarm system, a sensory lighting system, a traffic light system and a voice activated alarm. The 6th years sat the first nationwide trial exam for the Computer Science Leaving Cert just before the midterm. All Computer Science students had the opportunity to partake in the Nationawide Bebras challenge during Science week which was both challenging and fun. It has been an exciting year so far and we have a few more visitors planned for the next term which they are looking forward to.
The TY students also visited Microsoft Dream Space recently . Many thanks to TY Coordinator Mr. Noel Buckley for organising the trip.
Science Week
Well done to Ms. Marie Lawlor and the Science Department who organised a great event for Science Week – a visit from the London Science Museum who hosted talks in our school. We were delighted to host other schools at the event including Pres Primary, Sisters of Charity, Powerstown, Loreto and Ballingarry. The event kindly was sponsored by MSD!
Creative Schools Celebration – 4th to 8th November 2019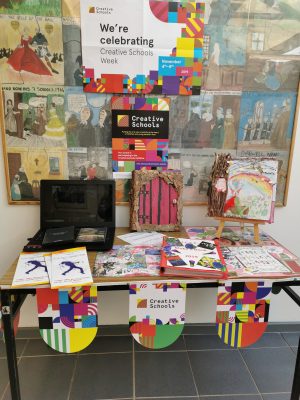 Creative Schools Celebration Week gave us chance to showcase our creative initiatives from last year. These projects were kindly supported by the Arts Council. Many thanks to Ms. Alley who is the Creative School's Coordinator.
Presentation Day Celebrations in the Convent
On 19th November, the Presentation Sisters invited the staff of the school to come up to the convent for a coffee morning to celebrate Presentation Day (21st November). Teachers, who were attending a JCT in-service in the school library, were invited up at 11am break for coffee and cakes. It was a wonderful morning where the Pres staff had the opportunity to speak with the Sisters and talk about being part of the Presentation community.
5th Year LCVP Fundraiser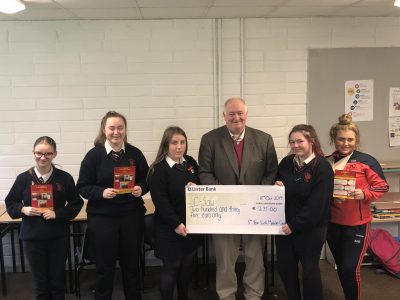 Mr. Joe Leahy, representative from C-Saw, came to the school to collect a cheque to the value of €235 that the 5th year LCVP raised from running a movie day with the 1st years. Many thanks to their teacher Ms. Mary O' Dwyer.
SIOPHIA Project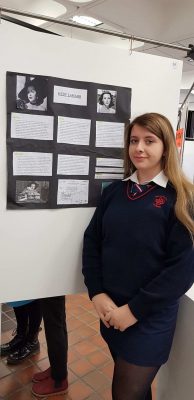 Well done to Zara Whealan who represented our school at the SIOPHia project in UL.
Celebrating Mrs. Ethel Reynolds' Retirement
A very special occasion was held at Hotel Minella in November to celebrate the retirement of Ethel Reynolds, retired Principal from the Presentation Secondary School, Clonmel. Tributes were paid to the retiree by Michael O'Loughlin, Principal. The function was attended by the Presentation Sisters, Board of Management representatives and former and present teaching colleagues. A presentation was also made to Mrs. Reynolds by members of the Student Council. Ethel Reynolds was appointed Principal in September in 1991.She retired from her position this summer. Mrs. Reynolds replied to the speeches. She thanked the Board of Management and her fellow colleagues for their warm tributes. Mrs. Reynolds is wished well in her retirement and may she enjoy many years of happiness as she starts a new journey in her life.
Market Day
Market Day will take place on 12th December as part of the Enterprise Competition. Winners will go forward into the County Final! Many thanks to Ms. Mary O' Dwyer.
Tipp Schools Cross Country
Great news from Tipp Schools Cross Country.
Juniors: Laura Cooney won the intermediate race. Hazel Brennan was second. Emily O'Connor finished 8th.
Seniors: 1st Cailin Napier, 2nd Sarah Ni Cheallaigh, 3rd Orla Barron, 4th Caelainn McGrath, 6th Aoife Barron. We also won Gold in both team events. Also well done to our 1st years & 2nd years who ran in the minor & junior races.
Art Students paint Abbott windows!
Some of the 5th year Art students gave the windows of Abbott a makeover on Wednesday 27th November! Well done girls!
November Remembrance
Students created a Remembrance Garden in their RE classroom to remember those nearest to them whom they have lost. There was a Prayer Service today in our Sacred Space at lunch time where all members of our school community, including our Presentation Sisters, came together to pray for those who we love that have died.
Link Modules News for Christmas Newsletter
The 5th years had a very busy term with both groups organising their enterprise activities. Ms. Hayes' group raised €180 for Aoibheann's Pink Tie by holding a table quiz for the 2nd years and Tys while Ms. O' Dwyer's group raised €235 for C-Saw by having a Movie Day for 1st years. Well done to all involved in helping to raise vital funds for our local charities. Next term the 5th years will be getting ready to go on work experience and will start planning their visits out to Clonmel Park Hotel and Abbot. 6th years are busy putting the final details to their portfolio which is worth 60% of their overall exam. They are currently organising a visit in from Patsy Butler from the Day Care Centre in Irishtown.
Climate Justice Conference
5th Year students Hollie Burke, Kate Leo and Ciara O' Farrell attended the Climate Justice Conference with their teacher Mr. Noel Buckley.
Climate Justice Protest – November 29th
On Friday November 29th students of the Environment Committee organised a peaceful protest to campaign for Climate Justice. At 2pm students, along with their teachers, took the roads outside of the Presentation with the hopes of encouraging people to sit up and listen to the concerns that young people have for their future. We were very proud of our students for speaking out for what they believe in.
Science Engineering Workshops in association with Abbot
Students from local primary schools visited the Presentation during the week of 25th November to work with our TY students, who did a science engineering workshop as part of their Abbot Experience.