New 1st Years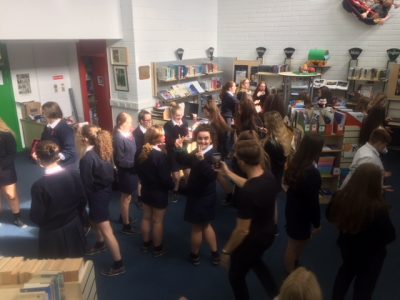 Principal Mr. O' Loughlin and Deputy Principal Mrs. Hennessy were delighted to welcome our new first years to the Presentation Secondary School, Clonmel. 1st year Year Head, Ms. Williams wants to congratulate and thank the 6th year Leaders on doing such a wonderful job in helping the new students find their way around the school and welcoming them to the Pres.
Reusable Water Bottles from Boston Scientific
We want to extend a huge thanks to Boston Scientific Clonmel for donating over 200 reusable water bottles to our students. We are proud to be doing our part for the environment by making the Pres "single-use-plastic" free.
TY Training
Over 60 Transition Year students enjoyed a hike to the cross on their first day back in school with TY Co-Ordinator, Mr. Buckley. The TYs are in training to complete the St. Declan's Way Walk from October 1st to 3rd.
TY Tour to Castlecomer
Prints for Schools
"Prints for Schools" is an art exhibition of 32 contemporary prints by Irish artists which is available on loan from the Tipperary Arts Office for cultural and educational purposes. Art teachers, Ms. Mairead Fennell and Ms. Claire Murphy are delighted to be hosting this exhibition in the front hall of the Presentation until the Halloween mid-term break.
We Will Rock You – School Musical
Music teachers Ms Williams and Ms Alley are delighted to announce that this year's school musical will be "We Will Rock You". There are over 50 fifth year students involved in the production which will take place from 21st to 24th October 2019.