Careers
Visit to the ETB, Letterkenny
A group of 15 JCSP and LCA students from St. Columba's College visited the Educational Training Centre in Letterkenny on Wednesday 28th of November. The students were invited into the boardroom where two ETB presenters informed the students on further education and training pathways to fill the current job market and new apprenticeships (earn and learn).
Letterkenny Institute of Technology
Fiona Kelly from LYIT has visited the college a number of times over the last few weeks to talk to 6th year students about courses at the college ahead of the LYIT open day.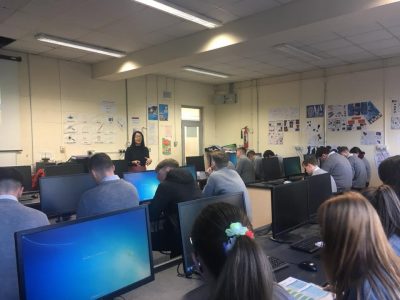 LCVP Class visit Randox
One of our 5th year classes visited Randox in Dungloe as part of their LCVP course.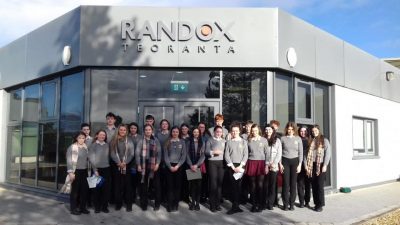 Study Skills Seminar
145 of our LC students attended their Study Skills & Motivational Seminar in Jackson's hotel recently. Ray Langan presented the programme entitled 'Rayse the Game'. It was a lively, informative day where students were introduced to useful tips and strategies to maximise their Study time as well as practical advice on how to minimise stress and cope with the challenges posed by the Leaving Cert exams.. Thanks to Ray for an excellent seminar and to our guidance counsellors Ms. Sproule and Ms. Mc Cullagh for organising the event.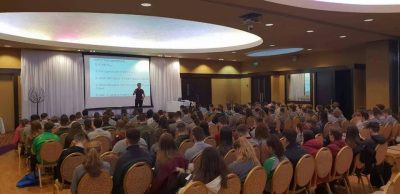 Art
The 'Suile Na nOg' Junior and Leaving Certificate Art exhibition was on during the month of November in the Regional Cultural Centre, Letterkenny. A number of our Transition Year, LCA, 5th year and former Leaving Cert students had their work exhibited. Well done to all the students and to their art teachers Mr O'Donnell and Ms. Mac Grory.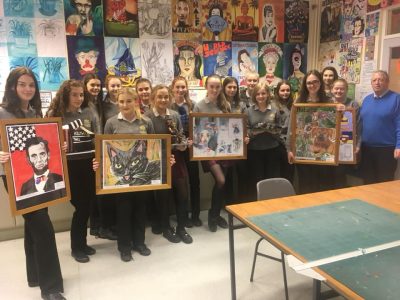 Sport
Basketball
Our U19 girls played in a blitz in Falcarragh recently and although they put in a great performance, unfortunately they were narrowly defeated.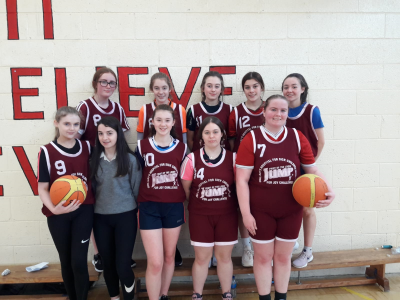 Student Sports Council
Our new sports council was elected at the beginning of the month. The council will be a voice for the student body and aims to increase participation for all students. Their first task involves providing a come and try event for students who don't do any physical activity. They also intend to provide information and guidance for those who play sport in areas such as injury prevention, sports nutrition and strength training.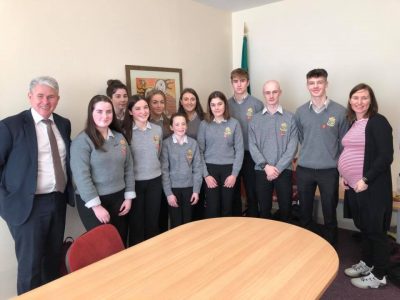 Student Sports Council Training
Our Student Sports Council had a very beneficial training day which involved a visit to Pramerica and to the Donegal Sports partnership. They covered areas such as their council motto, goal setting for 2019-20, planning for student wellbeing and public speaking.
Pentathlon
The 2nd year pentathlon was held in the college on 22nd November. A great day's fun was had by all involved and over €2,500 was raised for school activities fund. Many thanks to the PE teachers Ms. Harris and Mr. O'Reilly for organising the event and to all the parents, friends and neighbours who supported the event through sponsorship.
U20 Girl's Gaelic
Our U-20 girl's Gaelic team were crowned Ulster Champions in their division on Friday 23rd November when they defeated  St.Mary's, Newry with a score line of 5-03 to 1-05. Well done to the girls and to their coaches Ms. Mc Govern and Ms. Mahon.
Sponsorship of Jerseys for 1st year and U14 Gaelic teams
Many thanks to Anthony Conaghan, Anthony Conaghan Cars, who sponsored a set of jerseys for our U14 and 1st Year Gaelic teams. Anthony is a past students of St Columba's and we are very grateful for his generous sponsorship. He presented the jerseys to Mr. Rowan, Mr. O Reilly (team manager), Daithi Mc Mahon and Jack Long (1st Year Gaelic panel).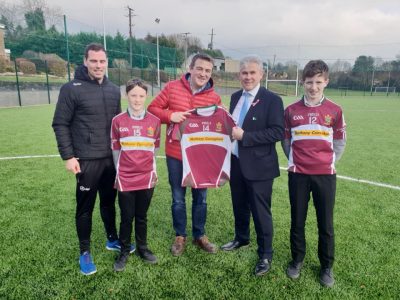 1st year Boys' Futsal Team reach the All Ireland Final
Our 1st year boys futsal team became Ulster champions on 13th November after a three-way penalty shoot-out. The boys will play the All-Ireland final on December 4th in Waterford. Best of luck to the boys and their coach Mr. Cannon.
Sponsorship of Jerseys for the 1st year Boys Futsal Team
Our 1st year boys futsal team were presented with tracksuits sponsored by O'Reilly Sports.  Many thanks to Marty O'Reilly (past pupil and Donegal county player) pictured here with the team and their coach Mr. Cannon, principal Mr. Rowan and teachers Mr. Rodgers and Ms. Harley who are both involved with the FAI.
Official Opening of the Astro Turf pitch
Many thanks to Minister Joe Mc Hugh for officially opening our all-weather pitch recently. The opening was attended by Mr Pat The Cope Gallagher TD, Fr. Kieran Mc Ateer, Councillors Martin Harley and Patrick Mc Gowan, Barry Mc Menamin (Joseph Mc Menamin & Son), Barry Mc Cullagh (Architect), representatives from our Board of Management and Parents' Council along with staff and students from the college. Thanks to Fr. Kieran for blessing the pitch on its opening.
Science
ISTA National Finals
Congratulations to Adam Kielty, Michaela Mc Monagle and Jack Meenan who came 3rd place in the ISTA National Senior Science Quiz held in Trinity College Dublin on Saturday 24th November. Well done to all the students who took part in the Science quiz this year and many thanks to the teachers in the Science department who prepared them so well.
Science week
The 6th Class students from St. Mary's NS, Stranolar, visited the college as part of Science week. Thanks to Mr. O Donoghue and Mr. Byrne who prepared and presented two lessons for the students in the Science labs.
Academic Awards
Trinity College Dublin
Congratulations to David Bonner who received an Entrance Exhibition Award in Trinity College following his excellent results in the Leaving Cert. David is currently studying Pharmacy in Trinity College.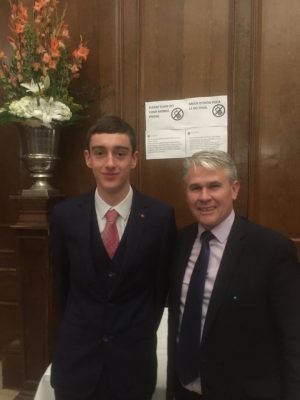 Transition Year
Trip to the European Parliament in Brussels
Our Transition Year students exchanged European Studies for the European Parliament this morning and wasted no time offering an Irish perspective to all discussions. All 16 pupils made very important contributions to the plenary sessions that examined education, health, elections, the environment, culture, heritage, technology and infrastructure. As a result, Isabel Conaghan was selected to present the findings of her committee to the floor of the Parliament. Outlining ways in which to 'Encourage Young People To Stand For Election', Isabel's proposals found favour with the 900 delegates present and had her motion passed with an overwhelming majority. Well done Isabel!
Visit to the Museum of Natural Science in Brussels
They say old friends are the best and the transition year students caught up with a few when they visited the Museum of Natural Science, Brussels.
The transition year students meet with Minister Mc Hugh
The TY class had the opportunity of meeting with Minister for Education Joe Mc Hugh on his recent visit to the college, prior to their visit to the European Parliament in Brussels.
Future leaders award
The school representatives for the new transition year programme 'Future Leadership Award' attended the launch of a partnership of Donegal GAA and Pramerica. Thirteen schools were in attendance in Pramerica, Letterkenny. A team of transition year teachers will deliver the modules during the school year, which are: Sports Journalism, Sports Nutrition, Sports Analysis, Wellbeing, FMS Coaching, Young Whistlers refereeing and Event management.
Newspaper articles
The TY students continued with writing newspaper articles each week for the local paper the Finn Valley Voice. Well done this month to Quintin Quinn who had a poem published, to Mark Sproule on his experience of TY so far.
Mass of Remembrance
A remembrance book was available in the oratory during the month of November for staff and students to write the names of any loved ones who have passed away. A mass of remembrance was then held in the oratory on November 22nd.
Musical
Grease
Click the link for a slideshow of photos from our musical Grease, which was a great success with 67 2nd, TY and 5th year students taking part.
https://youtu.be/ep0aiSd5_B0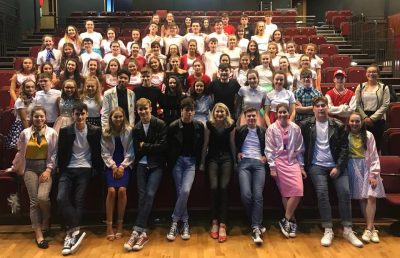 LGBT/Anti-Bullying Week
Our focus for anti-bullying and LGBT awareness week was RESPECT. Students and staff signed the respect posters which are now displayed in school as a sign of our commitment to ensuring St. Columba's is a welcoming and inclusive school for all students. Students and staff also wore a coloured ribbon during the awareness week as a sign of their support. The student council also participated in the LGBT 'chalk it up' initiative through their colourful rainbow display at the entrance to the college and some classes also made posters for display around the college.
Home Economics
Our three Home Economics classes enjoyed a great day out in Harvey's Point Hotel and LYIT College of Tourism, Killybegs. The students enjoyed an extensive tour of the college, followed by a four course meal in the Millennium Restaurant – where they were lucky enough to be looked after by one of our very own, Sharon Mc Glinchey, a former St. Columba's student. Thanks to the Home Economics department Ms. Howard, Ms. Mc Mullin and Ms. Timony for organising the visit.
Debating
Our debating team travelled to Scoil Mhuire, Buncrana to oppose the motion "30 years on the world is no closer to ending the global HIV/AIDS epidemic.". After a very informative and hard fought battle, the St.Columba's team emerged as winner by a majority decision of 3-0. This is the second victory of the season for the team who now have 5 out of a possible 6 points. Well done to Rachel White, Evan Carron Kee, Tristian Whitney and Niamh Doherty, the team members who debated on the night and to their teacher Ms. Wade.
The team also had a match against Thornhill College, Derry but unfortunately were narrowly defeated. Their final outing is in early December in which they will meet with Thornhill College again.
Charity
Class Conor who assisted in the loading of the shoe boxes which have been collected over the last few weeks. Well done to Class Conor and their teacher Ms. K Diver and to all who donated shoeboxes.