St. Brigid's Secondary School, Killarney receive visit for GOAL

John O Shea, founder of GOAL, recently gave a presentation to 5th year students on social entrepreneurship. The students were inspired by his passion, honesty and sense of justice as he recounted his experiences of working in the 'forgotten world'. John shared stories of  some of the many challenges that he faced during a lifetime of service to the poor and outlined practical ways our students can play their part in bringing about a just society.


UCC Law Open Day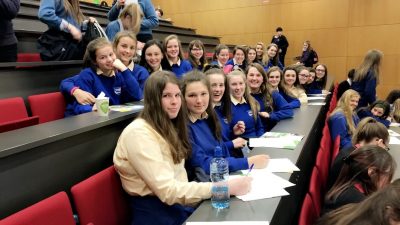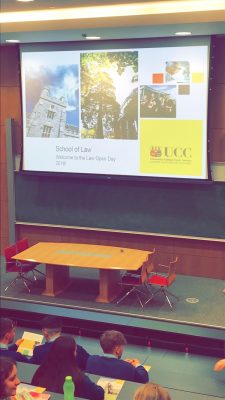 The Law faculty in the University College Cork played host to a group of St. Brigid's Transition Year students for their annual Law open day. They had the opportunity to meet with current students, recent graduates and received a host of very informative and interesting lectures from numerous members of the Law Faculty. Professor Mary Donnelly (the Vice Dean) gave a broad overview of Law, legal matters and the relevance and usefulness of it in our everyday lives; Dr. Sean O'Conaill (The Director of Law and Irish) informed students of the role that law plays in relation to the sporting world and Dr. Lawrence Siry (Director of Law and French) gave an inspiring speech on human rights law.

Students learned about the different pathways and courses available in UCC which included course knowledge and content, career opportunities and the possibilities of placement or studying abroad as part of their law degree. All of the students thoroughly enjoyed their day and found the wealth of knowledge and information offered invaluable as they consider their choices for the future.
School's Regatta 2018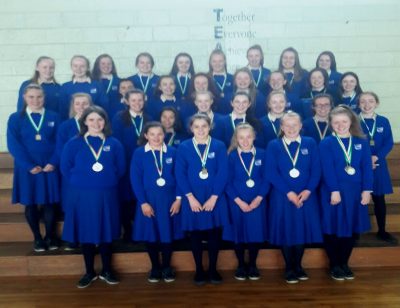 On Sunday April 29th, St. Brigid's was represented in the Irish School's Regatta by a team of 34 oarswomen. This proved to be a most successful day for our athletes, culminating in 2nd place overall, just 3 points off Best School. This was a fantastic achievement for the girls considering they were pitted against Co-Ed schools who can enter more events!
There were many successes for St. Brigid's across the categories, including wins in the U-23 eights, quads & doubles, U-15 single & quads, and U-14 quads & doubles. There were also a number of 2nd and 3rd places, including 2nd in U-16 coxed fours and 3rd in U-16 eights.
Congratulations to all involved on a long but rewarding day on the water.
The Lidl All Ireland football 'Captain's Day'

The Lidl All Ireland football 'Captain's Day' took place on Wednesday 11th April in Croke Park Co. Dublin. Anna Clifford and Ciara Randles represented St. Brigid's on the day. The day was organised by the LGFA and their main sponsor Lidl Ireland.
The Junior and Senior captains who will be playing in the All Ireland schools finals were all present and proudly represented their schools colours. The day began with a photoshoot on the Croke Park pitch with well-known photography agency 'Sportsfile'. This was followed by refreshments in the Hogan Stand Suite and allowed the players and mentors to mingle as the excitement before their respective finals builds. The day was a fitting reward for all the teams hard work so far and the photos from the shoot will be in many of the national and local newspapers.
The day was a massive success and hugely important for publicising these important games while also promoting the ever-growing sport of ladies football.
St. Brigid's Presentation Secondary School will play Coláiste Bhaile Chláir, Claregalway, Galway in the Junior B All Ireland Football final on Saturday 21st April. The game will be on at 1pm in Mick Neville Park, Rathkeale, Limerick."