Carlow Volunteer Expo
Transition Year students from Presentation College recently visited the Volunteer Expo in the Fairgreen Shopping Centre, Carlow. The students had the opportunity to appreciate all of the local charities and organisations that do amazing work in our local community. The Order of Malta Volunteers are Nikola Glowinska, Aoife Mulhall and Natalia Sluzel (Fifth Year students). The students became volunteers after they visited the exhibition last year and were interested in First Aid.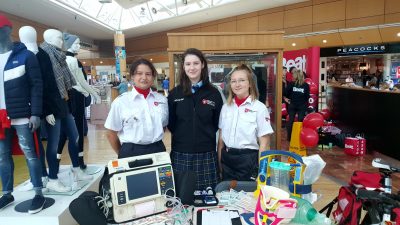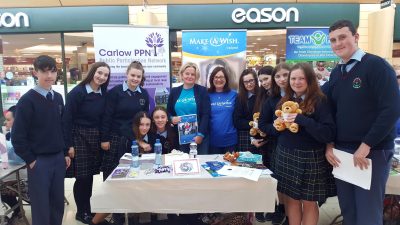 Seachtain na Gaeilge Competition
Well done to Ms. Conway's First and Second Year Irish classes who took part in the 'Seachtain na Gaeilge' Art competition. The competition was run as part of Bliain na Gaeilge 2018 which aims to increase the visibility and usage of Irish language. The following students recently received certificates for the posters they created using old Irish sayings or seanfhocail: Oliwia Dzikwoska, Ciara Farrell, AJ Kane, Emma McNulty, Patrycja Wozniak, Caitlín Wall, Cheuk Hiu Yu, Faye Grogan, Katie Hutton, Raluca Butnaru, Krish Thapa, Francesca Palos and Maja Dolna. Comhghairdeas le gach duine a ghlac páirt!

HEADSTRONG
Presentation College attends launch of programme addressing Ireland's teen suicide rate and mental health illness stigma.Presentation College are among the first in Ireland to implement a new mental health programme  – HEADSTRONG in association with Cycle Against Suicide – to address the stigma of suicide amongst young people.Charlotte Walsh, Petra Aghware, Caragh Geoghegan and Claire Taylor, Transition Year students, attended the launch of the school programme in Dublin on 4th October with their Guidance Counsellor, Ms Marie Cumiskey. They joined other schools from across Ireland for the introduction of the pilot programme, which will be rolled out within the selected schools in the coming months.Caroline Lafferty, CEO of Cycle Against Suicide adds: "We have worked with the Mental Health Commission of Canada to introduce HEADSTRONG to our schools here in Ireland as we believe that this programme is invaluable in helping younger people to be brave and speak up about mental health."It's a powerful, evidence-based programme that has already won international awards, and with the help of our selected schools we're hoping that the pilot programme will be a huge success, with the aim of rolling out HEADSTRONG across all Irish secondary schools within the coming years. This is a core part of our mission in addressing mental health in younger people, which is currently at an alarming level in Ireland."Its introduction to Ireland comes through a partnership between Cycle Against Suicide and the Mental Health Commission of Canada.  At its core, HEADSTRONG works to reduce the painful stigma experienced by children and young people living with mental health problems and illnesses. It will teach students how to reduce stigma, become mental health champions in their schools, and the programme challenges students to examine the dangers of stereotypes and the harm created by stigma.According to UNICEF's latest report card on child well-being "Ireland has the fourth highest teen suicide rate in the EU/OECD region." The report card warns that one in 10,000 Irish youths aged 15-19 will die by suicide. The report further shows that in younger teens, aged 11-15, "more than 22% report having experienced two or more psychological symptoms more than once a week."On Thursday, October 4, 2018, Cycle Against Suicide convened the first HEADSTRONG summit at the Honourable Society of the Kings Inns, Constitution Hill in Dublin which was attended by young people from twenty-one schools across the country, Presentation College being the sole Carlow representative. Summits are the anchor of HEADSTRONG. They educate and empower young people to become mental health champions and mobilizes them to return to their schools and communities and engage and educate their peers to also become mental health champions, driving true change in the area of stigma.To learn more about HEADSTRONG and Cycle Against Suicide's programmes visit cycleagainstsuicide.com. To find information about where you can get help for mental health issues, visit www.cycleagainstsuicide.com/ask-for-help-2/.
Road Safety Authority
Presentation College welcomed the Road Safety Authority (RSA) to the school and all of the senior classes and some junior classes had an opportunity to experience the highly impressive Road Safety Interactive Shuttle. Students tested their speed and capabilities at simulated driving, experienced break-through virtual reality software, digital screens and simulated motorbike, bicycle and cars. The RSA staff gave a very informative and hard-hitting talk to each group on the importance of all aspects of road safety, addressing key issues such as never getting into a car with someone who has been drinking alcohol, never using a mobile phone while driving, and the importance as pedestrians and cyclists of being visible to drivers by wearing high visibility jackets, bag covers, arm bands and bike lights. Senior students experienced the roll over car simulator, allowing them to experience the importance of wearing seat belts at all times, and tightening the belt once fastened in order to minimise injuries in the event of a collision. Students were very impressed with their experience on both the simulator and interactive shuttle and it created valuable learning for all involved. We extend huge thanks to the remarkable RSA staff team – especially Ciarán and Alexandra – and to Ms Gillespie, Deputy Principal, for arranging the RSA visit.